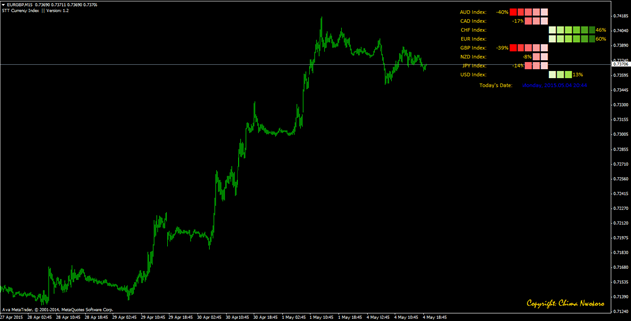 Currency Strength Index is a piece of software that can be found under the indicators section of the MQL5 marketplace. The indicator was first uploaded on the 7th of May 2015 by Chima Nwokoro, it received an update shortly after on the 12th of MAy 2015 and is currently at version 1.3.
Overview
The Currency Strength Index is an indicator for the MetaTrader 4 trading platform, it was created to allow you to determine the short-term strength of any currency. The currencies strength is determined by an index of the currency and the other 7 major currencies, the indicator will constantly look at the price action across 28 currency pairs and will look at the price volatility, short-term price range, and d short-term price action, and candle formation.
The indicator can be used in the following way:
Always trade in the direction of the trend.

More than 3 green bars indicate strength and more than 3 red bars indicate weakness.

Combine weak currencies with strong currencies. This will always be a trending condition. For instance, if AUD has 5 red bars (weakness) and USD has 5 green bars (strength), sell AUDUSD.

Avoid the combination of strong vs strong or weak vs weak pairs. This will be a ranging condition.
There are three parameters that can be changed to slightly alter the way the indicator works, these include the header color, symbol suffix, and whether it shows comments or not.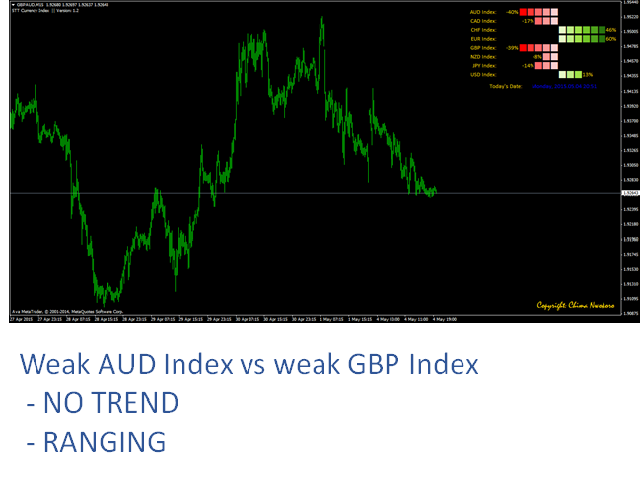 Service Cost
The Currency Strength Index can be purchased for $19.95, this will give you unlimited access to the indicator, many indicators on the MQL5 marketplace also offer rentals, however, this indicator does not and the only option is to purchase it outright. There is a free version available, this will come with some limitations which are, unfortunately, not stated on the site so we are not sure that they are.
Conclusion
There are two reviews available; neither of them has given the indicator a rating though.
"This is very upsetting. Downloaded it already 4 times. Bought the Currency Strength and downloaded it several times but the indicator does not appear. Just a black screen. Why is my screen just black? I am using MetaTrader 4 platform. Your indicator is useless if that is the case. Please refund me because I am just on my ropes end!"

"This indicator doesn't deserve even a one star rating, it's poorly coded and doesn't do what it says in fact if you are not adept this indi will make you blow your account in no time. why on earth should this crap tell me that USD is weak while in reality, USD is actually trending upwards."
Both of those reviews make it quite clear that the indicator is not doing what it is meant to be doing, this would be an indication to maybe look elsewhere. There are a number of comments, the creator seems to be replying to them in a prompt manner which is a positive, however, 90% of the comments are people asking for their money back, so that is a big sign to steer clear.