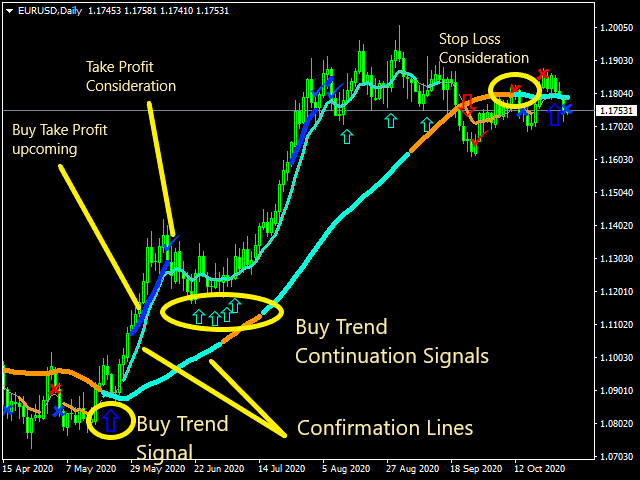 Uploaded on the 20th of April 2018 by Tevin Marshall, the SFO Trend Racer can be found on the MQL5 marketplace. It has had a number of updates, the most recent of its updates being on the 23rd of July 2018 and it is currently on version 2.
Overview
Designed for the MetaTrader 4 trading platform, SFO Trend Racer is an indicator that aims to serve six different functions. The indicator will show you entry signals as well as exit signals, take profits and when to stop losses, it will also use trend filters and signal confirmations to allow you to make better decisions.
The indicator is self-correcting if the markets change and behave differently the indicator will be able to update its signals and will let you know of any changes that have happened.
The indicator will offer you a number of signals that mean different things:
Blue Arrow: Buy Signal

Red Arrow: Sell Signal

Aqua Arrow: Buy Pullback Trend Continuation

Orange Arrow: Sell Pullback Trend Continuation

Aqua Line: Buy Confirmation

Orange Line: Sell Confirmation

Blue Check: Consider profit on a buy position

Red Check: Consider profit on a sell position

Blue X: Consider exit on a buy position

Red X: Consider exiting sell positions

Blue Support: Critical reversal buy area

Red Support: Critical reversal sell area
In terms of parameters, there aren't many of them, just the type of alert that you wish to receive, you can have it as an email, audible, or push notification.
Service Cost
The SFO Trend Racer will currently cost you $279 to purchase it outright, this is a one-off payment and will get you a limitation-free version. If you prefer, there is also the option to rent the indicator, this will cost you $29 per month, or for three months it will cost you $89.
The free demo version is also available, the site does not detail what the limitations are but we know there will be some, in fact, it may only be usable on the strategy tester, we aren't entirely sure. It may be worth downloading and trying out due to the high purchase price of the indicator.
Conclusion
Just one review is available for the SFO Trend Racer.
"I've been using Trend Racer for two weeks now and it has been an excellent indicator that works very well at giving entry and exit signals for trades. I have been using it in one of my live accounts and my success with having winning trades regardless of the market direction has been positive thus far. I would highly recommend this indicator."

– A 5-star review.
So the user review is positive and shows that it is doing what it is meant to do, there is just one comment which is someone saying that they can't download it, we are not sure about the support that you will receive from the developer so it may be a good idea to send any queries to them so ensure that they are still actively supporting the indicator before you make a purchase or a rental.