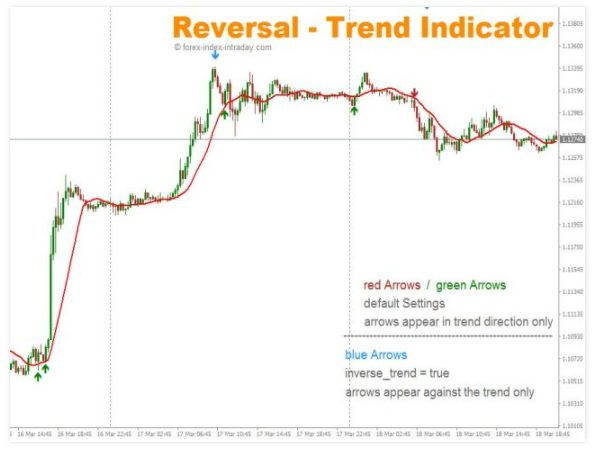 Reversal Trend was first uploaded to the 'Indicator' section of the MQL5 marketplace on the 1st of April 2016 by its creator Claus Dietrich. It was first uploaded as version 16.3 and has not received any further upload, it is still at the same version 16.3.
Overview
Reversal Trend is an indicator for the MetaTrader 4 trading platform, it has been designed to look for trend reversals, it works out of the box and does not require any additional settings. The indicator will work on all major pairs on the M15 chart or higher. It will give you entry signals as well as take profits and stop losses.
There are a number of parameters available too, these include the number of bars to process, to turn alerts on or off, to send emails, push notifications, to show trend direction, inverse trends, ATR percent, and comments.
Service Cost
The Reversal Trend indicator can be purchased outright for $99, this will give you 5 activations of the indicator with no other limitations. If you prefer, you can also rent the indicator on a monthly basis, this will cost you $19 per month and must be paid each month that you wish to use the indicator.
There is a free demo version available, this version will have some limitations which are not currently stated on the site, it may only be usable with the MetaTrader 4 strategy tester.
Conclusion
There are no reviews available for the Reversal Trend indicator so we do not know if people are finding it useful or if it is doing what it is meant to do, there is also only one comment from a user, the developer has not replied to it which is not a positive sign and does not give us confidence in the type of support that you would receive should you decide to purchase it. We would suggest trying out the free version and sending a query to the developer, this way you can make sure that it will work for you and that the developer will in fact be there to support you should you have any issues.