KING of EURUSD can be found on the MQL5 marketplace under the Experts section, it was uploaded by its creator Shang Qian Du on the 14th of March 2020, it received its most recent update on the 16th of March 2020 and is currently at version 2.7.
Overview
The King of EURUSD is an expert advisor that can be used within the MetaTrader 4 trading platform, as the name suggests, the EA only works with the EURUSD currency pair.
The page doesn't actually state how the EA works, or how it manages to find its trades, the only information available is that it will keep the transaction volumes low, it has some automated risk management built-in and a number of settings that can be altered.
In regards tot he parameters that are available, they include things like the automatic risk control mode, the risk percentages, fixed lot sizes, magic numbers for buys and sells, stop losses, take profits, and trailing stop distances.
Service Cost
At the time of writing the expert advisor will cost you $535 as a one-off payment which is rather expensive. This is a one-off payment and will give you up to 5 activations, there is not currently an option to rent it so the one-off payment is the only option at this time.
There is a free demo version available, however, due to the lack of information surrounding it, we suspect that it may only be used with the strategy tester within MetaTrader 4.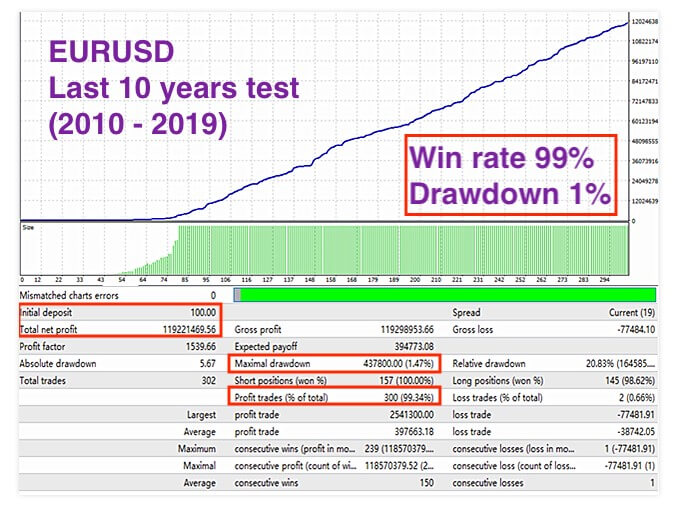 Conclusion
There is only one review and comment which is accusing the creator of trying to scam people.
"Hello, where are the bad reviews of your MT5 version, please explain this? You take out that EA for MT5 and make new again and all the reviews are away. I must honestly say this smells like scams. It is also unbelievable that MQL is working on this. Will the EA still check here !!" – A comment from Albert Kuipers.
The comment is a worrying one, stating that the developer has been creating EAs, uploading them, getting bad reviews, and then uploading again as a new EA, so a great practice to see. Due to the uncertainty within the EA and its developer we would suggest not using this EA for the time being until more information comes to light.
This Forex Indicator is currently available in the MQL5 marketplace: https://www.mql5.com/en/market/product/47274
Update: Shortly after writing this review, the creator of the EA appears to have been debarred from selling products on the MQL5 marketplace. However, the EA seems to still be available for purchase. Proceed with caution.