M15 Trigger Scalping can be found on the MQL5 marketplace under the Indicators category. It was created by Kenneth Parking and was first uploaded on the 29th of June 2016, there have not been any further updates and the indicator is still at version 1.0.
Overview
M15 Trigger Scalping is an indicator for the MetaTrader 4 trading platform, its main purpose is to act as a manual trading indicator. The indicator will apply some trigger lines to the charts when the trigger line becomes blue and a candle closes above the line, a buy order should be placed, when it becomes red and the candle closes below a sell order should be placed.
The main list of features described by the developer:
User-friendly setup, no complicated parameter setups!
Developed ONLY for M15 and comes with predefined values
Easy to understand, no messy chart information!
Works on all Forex currency pairs
Developed to fit booth novice and skilled traders
There are also some parameters and settings available, these include the spread text color, spread text location on the chart, and the spread text size.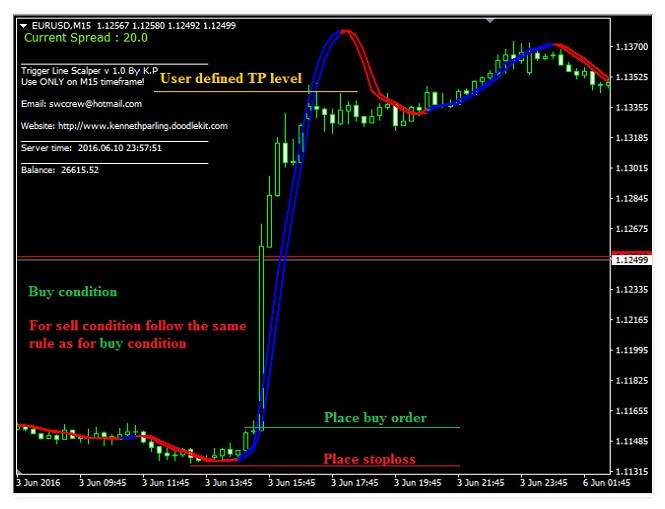 Service Cost
The indicator is relatively cheap at just $10 to purchase it, this will give you up to 5 activations with no further limitations. Due to the low price there is not an additional option to rent the indicator so the outright purchase is the only option available. A free demo version is present, this version is limited to the strategy tester within the MetaTrader 4 trading platform.
Conclusion
There is just the one review is available, giving the indicator a rating of 5 out of 5.
"Works great, good customer support." – A 5-star review.
The singular review is positive but does not give a lot of information, there are also a few comments, the developer has been replying to each one which shows that they are willing t offer support for their indicator, the most recent comment was nearly a year ago so we would still recommend that you send any questions that you may have to the developer before making a purchase, this was you can make sure that the indicator will do what you need it to and that the creator of the indicator is still there to support both the indicator and you as a customer.
This Forex Indicator is currently available in the MQL5 marketplace: https://www.mql5.com/en/market/product/16987