The Relative Strength of Currencies is an indicator that can be found on the MQL5 marketplace. The original software was released back on the 3rd of November 2015, it has been updated since but was last updated on the 24th of December 2015 and is currently on version 4.0.
Overview
The Relative Strength of Currencies is an indicator to be used with the MetaTrader 4 trading platform, it is actually a cluster indicator that calculates the relative strength of the eight major currencies. It allows you to control a number of indicators:
Heatmap, Currencies – dashboards showing the relative strength of currencies.

Pairs – dashboard which indicates the strength of currency pairs.

Speed – dashboard which highlights the speed of change of the relative strength of various currencies.

MuliTF – main dashboard which should be utilized for analysis. This panel displays the price data from all periods.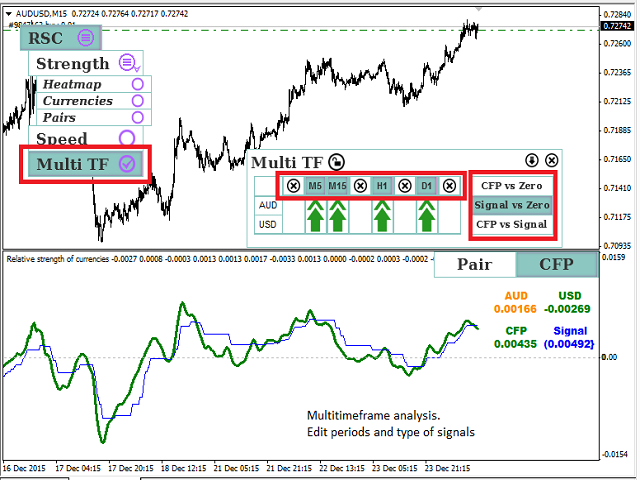 It also has a currency power calculation which is based on the following indicators:
Complex Common Frames percent (CCFp)

Complex Common (CC)
There are plenty of parameters and settings that can be changed to alter the indicator to work the way you need it to. Some of these settings include things like the mode of calculation, the method of moving averages, the type of signal line, the period of calculating momentum, and many more options are available.
Service Cost
The indicator will cost you $40 to purchase outright, there is also an option to rent it for 1 year, this will cost you $15 to do so. There is also a free demo version available, we do not know if there are any limitations to the demo account or if there is a time limit on its use.
Conclusion
There are four different reviews available on this indicator, they are all 5-star reviews which is a good sign.
"

Wow! Why I did not find this tool earlier? This is genius!!!

" – A 5-star review.

"

I confirm the tool is very good. Personally, I find it very informative in terms of recognizing pairs with good potential.

" – A 5-star review.

"

This is a fantastic tool (and I have hundreds of them) to find and evaluate trades. Shows a lot of info and points out the pairs to trade. Been using over a month and it is well worth the money!!!!!

" – A 5-star review.
So the overall opinion is that it works and does what it says it will, we would recommend downloading and trying the free demo version before making a purchase, that was you can be sure that it works the way it is intended and actually suits your needs.