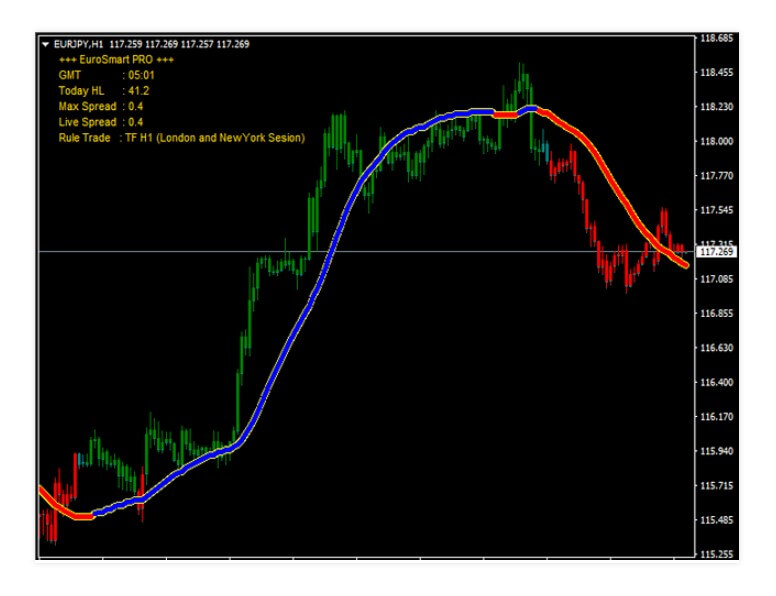 EuroSmart Pro is a trading indicator that is available on the mql5 website. As one of the most recently added products on the site, it was launched in January of 2020 and received its most previous update to version 1.22 in March of 2020. The indicator was created by professional trader Uci Sanusi.
Overview
EuroSmart Pro is a smart trend-detecting indicator with a filter that aims to eliminate false signals for more accurate results. This indicator is suitable for scalping, intraday trading, and swing trading strategies. Here are a few more key facts:
Works on the widely used MetaTrader 4 platform
Recommended pairs EURUSD and EURJPY
Recommended timeframes M15, M30, H1, and H4
Open buy, open sell, exit buy, exit sell indicated by different colors
London market and US market trading sessions

Service Cost
The developer only allows traders to rent this indicator for $10 per month – it cannot be rented for a longer time or purchased at all. While this keeps the price low initially, traders will end up paying more than they would for a typical indicator by month 4 or 5. Perks include 20 total activations and free demo accounts.
Conclusion
EuroSmart Pro is best used for detecting trends with minimalized false signals with scalping, intraday trading, and swing trading strategies. Unfortunately, there are no ratings or reviews that tell us about other's experiences using this product. It's disappointing, as we were curious about how effectively the indicator performed at reducing false signals. When considering EuroSmart Pro, you'll also want to remember that it doesn't work with all strategies and that it is only recommended for use with a couple of pairs and certain timeframes. Another considerable fact is that is it cheap to get started, but the indicator cannot be purchased outright and will run traders $120 per year.
This Forex service can be found at the following web address: https://www.mql5.com/en/market/product/45370