Pivot Points Pro is a trading indicator that was published on the mql5 marketplace in October of 2018. The author, Tsvetan Tsvetanov has never updated it from its original version.
Overview
This indicator is primarily based on the Pivot Points concept, which is centered around calculations that determine the overall trend of the market over different timeframes. This can help to give traders an idea of whether conditions are bullish or bearish and whether the price might experience support or resistance. In order to make this indicator more effective, the developer uses an improved formula that is based on volatility when calculating support & resistance levels, along with a multi-symbol scanner that can be used to detect the best conditions and to monitor a large number of symbols at once, and a built-in alert system that will allow traders to go about their daily lives without spending as much time staring at a computer screen. This indicator also allows traders to customize settings more accurately and to disable certain features that they may not like.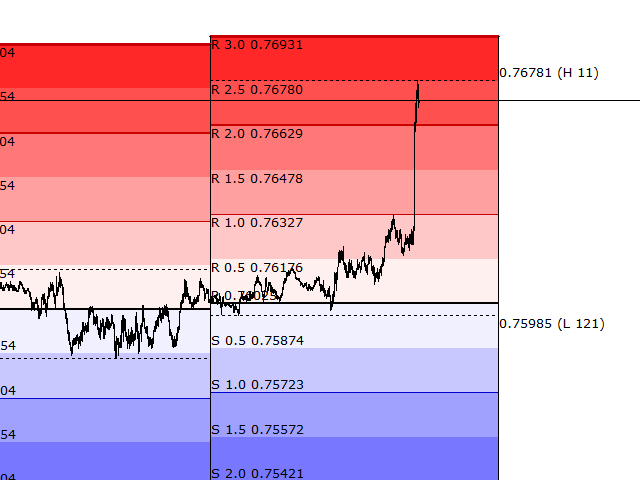 Service Cost
This indicator can be rented for $19 USD per month, or purchased with 6 activations for $49. Trading on the free demo account isn't an effective way to test the indicator, as the author explains that the tester only works with one symbol at a time, making it impossible to switch between symbols or timeframes. However, she does provide a link to a limited free version of the product, which is limited to 5 symbols. The free version was created approximately one month after this product's release, so it seems that the author released the limited version as an alternative to trading from the demo, rather than fixing the issues with the demo version.
Conclusion
This indicator uses tried and tested calculations to provide visual symbols that show traders when prices are reaching their daily highs and lows, making it a useful tool for predicting market trends and conditions. It hasn't gained a lot of popularity. In fact, there isn't a single review or comment, which is odd for a product that has been released for more than a year. When an indicator is good, it seems that traders flock to it, but good indicators can sometimes get lost within the sea of products that are available on the mql5 website.
If the lack of feedback makes you apprehensive, then it might be best to test the free limited version before renting or buying this indicator. If you do buy it, then we would recommend leaving the first comment so that others can read about your experience!
This Forex service can be found at the following web address: https://www.mql5.com/en/market/product/32731