Donchian Safe EA can be found on the JMQL5 marketplace under the Experts category. It was uploaded by its creator Ciprian Ghebanoaei on the 24th of December 2019, it has had its most recent update on the 30th of AMrch 20202 and is currently at version 2.0.
Overview
Donchian Safe EA is an expert advisor that was designed for the MetaTrader 4 trading platform. It has been created as an automated EA that is based on the Donchian Channel indicator.
In order to enter the market, the following must occur:
Long Entry: Donchian Channel
The bar opens above Upper Band after opening below it.
Long Exit:
RVI changes its direction upward
Short Entry: Donchian Channel
The bar opens above Upper Band after opening below it
Short Exit:
RVI changes its direction downward.
It is recommended that you have a balance of at least 500 USD and that you use it on the EURUSD pair within the M15 timeframe.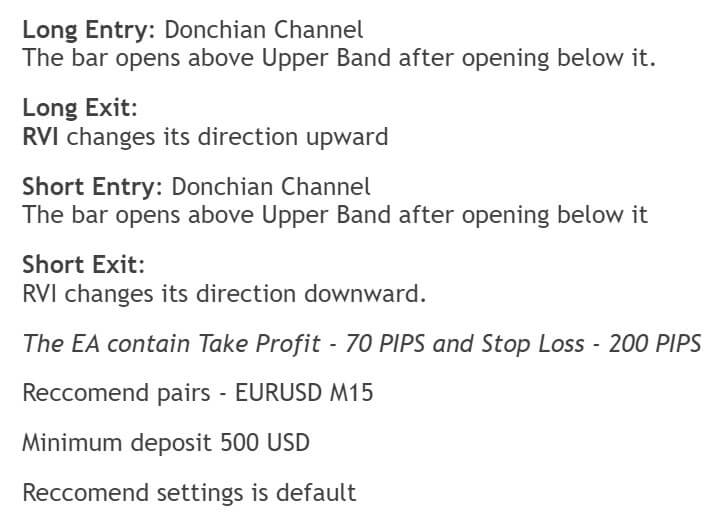 Service Cost
The expert advisor will currently cost you $49 to purchase it outright, this will get you up to 15 activations with no additional limitations. There is also the option to rent the EA, this will cost you $10 for a three month period. A free demo version is also available, this is limited to be ing used with the MetaTrader 4 strategy tester and cannot be used on live accounts.
Conclusion
Unfortunately, there aren't any reviews or ratings for the EA, this means that it is hard for us to know how it is performing for those that have purchased it and whether or not it does, in fact, do hat it is meant to do. There is a comment which has had a reply from the developer so they are still supporting it, we would suggest sending your own queries to the developer so you can make sure that it is the right EA for you before you make a purchase or a rental.
This Forex Indicator is currently available in the MQL5 marketplace: https://www.mql5.com/en/market/product/44766