Enter Use Fibonacci can be found within the MQL5 marketplace, it was first uploaded to the marketplace on the 22nd of March 2020 by its creator Chaiya Srisawat, it received an update on the same date that it was uploaded and is currently at version 1.10.
Overview
Enter Use Fibonacci is an expert advisor that can be used with the MetaTrader 4 trading platform, its main purpose is to use Fibonacci levels to work out the current market conditions. It will wait for the price to reverse to the desired levels in line with the Fibonacci levels. The EA will use ZigZag indicators to help calculate the high and low points which are then used to create the Fibonacci levels.
The parameters of the EA adjust themselves automatically but are limited to the H4 timeframe and D1 timeframes only. When the price is closed above or below the LevelforOpen, the EA will open an order in the opposite direction to the trend, it will also create stop loss and take profit levels
There are some parameters that come with the EA, these include magic numbers, lot sizes, risk management settings, Fibonacci settings, line colors, level colors, and more.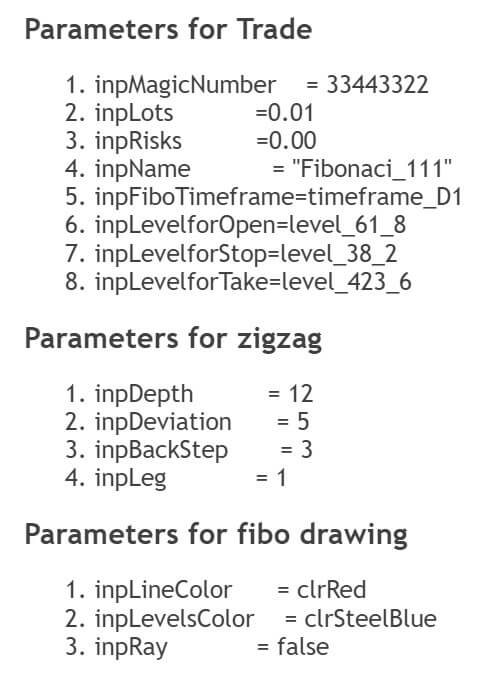 Service Cost
The Enter Use Fibonacci can be purchased with a single payment of $40, this will get you up to 5 activations of the software with no further limitations. Unlike many EAs on the MQL5 marketplace, there is no option to rent the EA, there is a free demo version available, but this can only be used with the strategy tester within the MT4 platform.
Conclusion
There are no reviews or ratings available for his expert advisor which makes it quite hard to work out whether people are finding it useful or profitable, there are also no comments available which also makes it hard to know whether the developer is still providing active support. Due to both of these reasons, we would suggest contacting the developer with any queries that you may have, this is a way to make sure that the EA will function how you need it to, and as a way to find out whether the developer is still around to offer support for those that purchase the EA.
This Forex Indicator is currently available in the MQL5 marketplace: https://www.mql5.com/en/market/product/47506