The cryptocurrency markets are almost in the same spot as they were yesterday. There were no big moves up in the top3 cryptocurrencies. However, XRP had a pretty rough day, as it lost over 4% in the past 24 hours. Even though most cryptocurrencies are in the red, the losses were extremely small. Bitcoin went down 0.73%, and it is now trading at $9,223. Ethereum lost 1.13%, while XRP went down by 4.03%.
Of the top100 cryptocurrencies by market cap, the biggest gainer is DxChain Token, with 43.07% daily gain. The biggest loser of the day was Decred, which lost 8.15% of its value.
Bitcoin's dominance increased slightly as some altcoins decreased in value while Bitcoin pretty much stayed at the same spot. However, the increase is only fractional. Its dominance now sits at 66.73%, which represents an increase of 0.14% when compared to yesterday's value.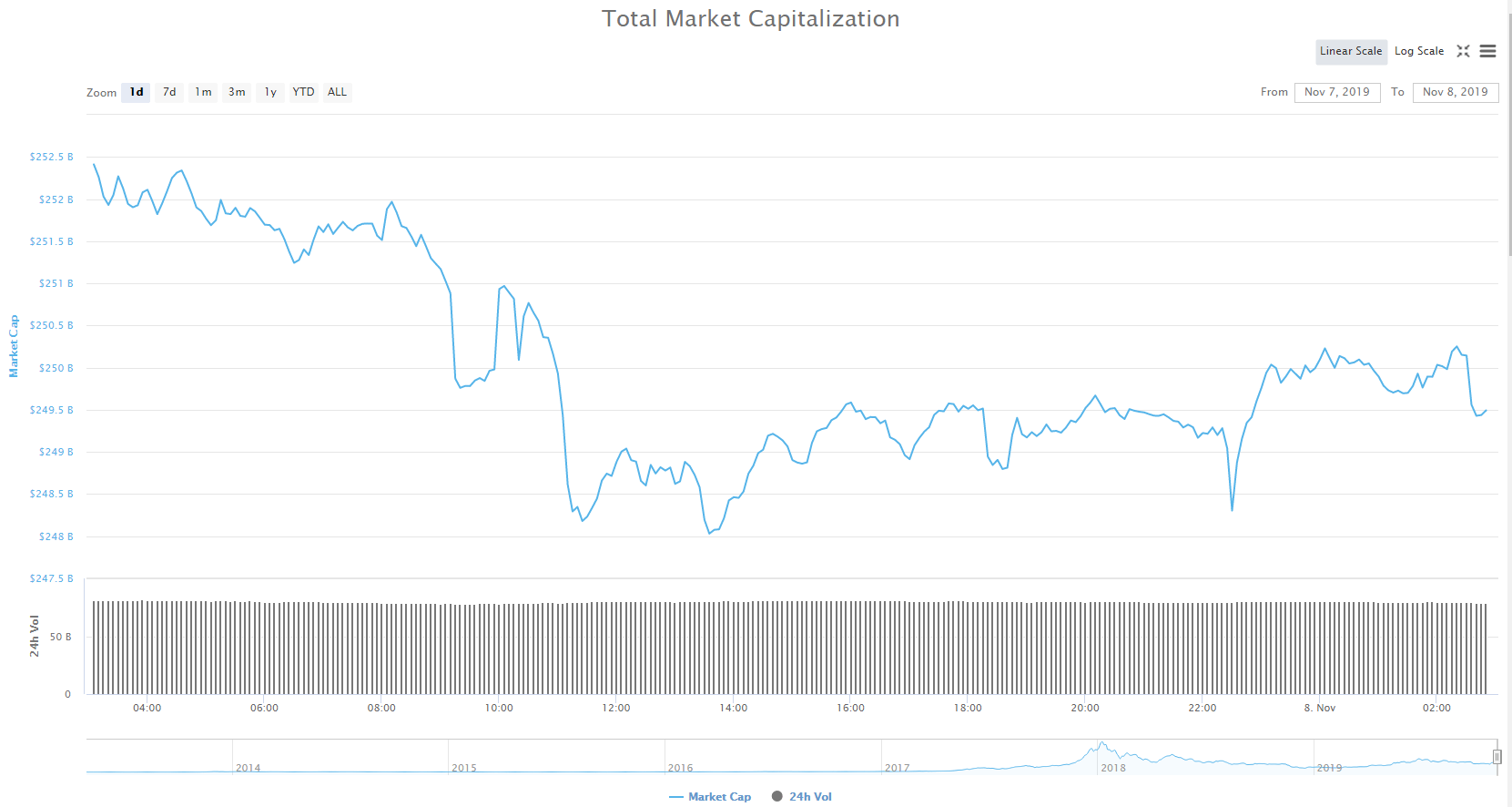 As XRP and some other cryptocurrencies had a slight red day, the cryptocurrency market declined slightly. Cryptocurrencies as a whole now have a market capitalization of $252.6 billion, which represents an almost $1.1 billion decrease when compared to the previous day.
What happened in the past 24 hours
Coinbase announced that they will be introducing staking as an incentive for holding a cryptocurrency. The first cryptocurrency that will be available for staking at Coinbase will be Tezos (XTZ) token.
Coinbase said U.S. customers (excluding residents of Hawaii and New York) can now stake Tezos with an estimated 5% annual return. The estimate of 5 percent is based on Tezos' staking returns in the past three months. One thing to note is that there will be an initial holding period of 35–40 days. After the holding period is done, stakers will earn rewards for holding the cryptocurrency. The rewards will be paid every three days.
_______________________________________________________________________
Technical analysis
_______________________________________________________________________
Bitcoin
Slight decrease in volume was enough to put Bitcoin below the $9,250 support line, which now turned resistance. Once the price went below the line, the momentum tried to push it below the small $9,125 support line. However, bulls rallied and managed to keep the price above that point. Bitcoin is now trading at $9,223 which is just slightly less than how much it was trading for at 24 hours ago.
Bitcoin's volume has decreased slightly in the past 24 hours. One change in the key levels is that the previous support line of $9,250 now acts as resistance.
Key levels to the upside                   Key levels to the downside
1: $9,250                                           1: $9,125
2: $9,580                                           2: $8,820
3: $9,740                                           3: $8,640
---
Ethereum
Ethereum is contained within a range between the resistance line of $193.5 and a support line of $185. After testing the upside on Nov 6 and failing, Ethereum attempted to test the downside. As the price reached $185 line, buyers rallied and brought the price up. Ethereum is now trading for $187.5.
Ethereum's volume is hitting record lows in the past 24 hours. Without buying or selling pressure, ETH might stay in this price range for quite a long time.
Key levels to the upside                   Key levels to the downside
1: $193.5                                          1: $185
2: $198                                             2: $178.6
3: $163.5                                          3: $167.8
---
XRP
XRP has had a wild ride in the past 24 hours. After having a major move that brought the price from $0.295 up to $0.315, XRP crashed. Not only that, the bears have brought the price to its original levels, but they were in control until the price reached $0.274. This major and sudden price drop was quickly nullified when the bulls stepped in. XRP is now trading for $0.289.
XRP is currently trading with a volume that exceeds the average by quite a large margin. Its RSI indicator dropped from overbought to the ~40 range.
Key levels to the upside                   Key levels to the downside
1: $0.31                                            1: $0.285
2: $0.325                                          2: $0.266 (major support)
3: $0.333                                          3: $0.245