Crypto Lending – Where to lend your crypto? (part 2/5)
This part of the Crypto Lending guide will cover Nexo and BlockFi, two of the three platforms that we will show as good examples of how a lending platform should operate.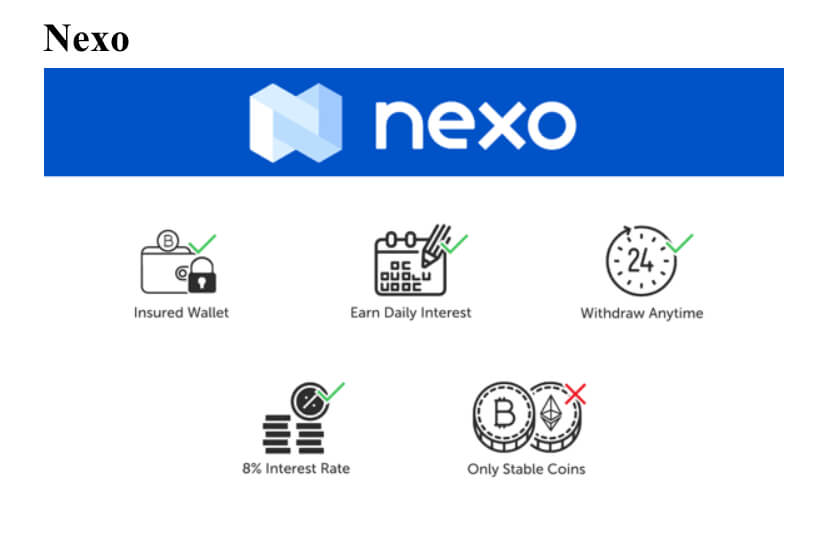 Nexo is a company founded in 2017 and is backed by Michael Arrington, the founder of TechCrunch. It has nearly 200,000 customers and even got covered by Forbes. The platform has back payments in 45 Fiat currencies.
Nexo Wallets are provided by BitGo. Therefore, users who borrow or lend Bitcoin or any other cryptocurrency are insured for up to $100,000,000.00. The insurance is backed by Lloyd's bank. This amount is, however, for the total company in case it gets hacked or goes bankrupt. NEX allows its lenders to have their earnings deposited every single day, rather than having to wait for a week, month or more. They have an interest rate of 8%, with the option to withdraw anytime.
When it comes to user experience, they are top-notch. On top of that, this company constantly strives to get better and makes new beneficial partnerships quite often. When it comes to cons, there aren't many. However, one comes to mind. Even though borrowers can withdraw in any of the supported 45+ fiat currencies, lenders are allowed to deposit only stablecoins and fiat currencies. Nexo is currently working on supporting BTC and ETH deposits, but they didn't make any projection regarding the time of realization of this project.
BlockFi is a company founded by Zac Prince and Flori Marquez. It has raised over $20 million of capital from various firms. The company is young and growing at a fast pace. The company offers a 6.2% interest rate on BTC lending and 3.3% on ETH lending, compounded. Granted, this rate is only for deposits under 10 BTC and 100 ETH. The rates for larger amounts of crypto drop severely. When it comes to borrowers, they get a 4.5% interest rate by using the platform.
There is no minimum deposit, and all your crypto holdings are stored with Gemini. Gemini acts as a 3rd party depository trust that is a licensed custodian with insurance. It has a perfect track record when it comes to preventing hacks and fund losses.
When it comes to cons, there are a couple we can think of. The first one only applies to people that want to lend larger amounts of crypto. BlockFi offers digressive interest rates, meaning that the rates decrease to 2.2% and 0.2% for deposits larger than 10 BTC and 100 ETH. BlockFi also offers fewer choices of cryptocurrencies people can earn interest on as it supports only BTC, ETH, and GUSD. The last con would be that the platform is not FDIC insured (though Gemini – which protects BlockFi user's assets – has a strong track record for security).
Check out part 3 of our Cryptocurrency Lending series, where we will cover Celsius Network as the third good option for crypto lending.