The CCI EA is an expert advisor that can be found on the QUIVOfx website, there are three versions of the expert advisor available, the basic, advanced and pro, each one is currently on version 1.05 of the software. As there are many expert advisors with very similar names, we have added a link to the expert advisor below.
Overview
The CCI expert advisor is designed t use the commodity channel index in order to open up a trade. It uses two different strategies, the break-in, and the breakout. For the break-in strategy, the EA will open up a trade if the CCI levels break into the oversold or overbought level. The break out strategy will open up a trade if the CCI level breaks out of the oversold or overbought level.
The expert advisor only works with MetaTrader 4 and there is mention of a different version (not for MetaTrader 4) but no actual information on this page, the different versions (basic, advanced, and pro) come with slightly different features.
The basic version comes with a money management system, the ability to trade on a new bar, an inverse strategy, and it has two different entry strategies.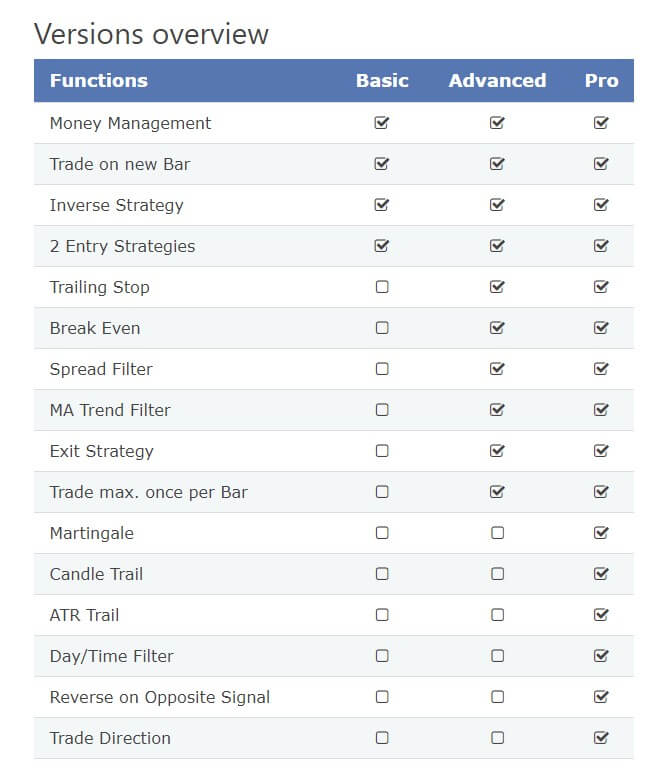 The advanced version comes with everything tat the basic version does, as well as the ability to use a trailing stop, a break-even system, spread filters, an MA trend filter, and the ability to select how many trades per bar, and an exit strategy.
The Pro version comes with everything that the basic and advanced versions do as well as the martingale strategy, candle trail, ATR trails, a day/time filter, the ability to reverse on opposite signals, and a trade direction feature.
Service Cost
The three different versions have slightly different prices, the basic version is actually free to use, and so this can be used as a kind of demo to test out the expert advisor, the advanced version costs CHF 29.90 while the pro version currently costs CHF 39.90. There is not a demo version of the advanced or pro features of the expert advisor.
Conclusion
There aren't any written reviews available for us to loke at, the only information that we have available is a rating system, there are currently 102 different votes and this has given the expert advisor a rating of 3.5/5 stars which is not a terrible score and shows that the expert advisor has been working for the majority of people, however, its effectiveness is not made fully aware to us.
This Forex service can be found at the following web address: https://quivofx.com/expert-advisor/cci-ea