The CAP Internal Copy Trade EA is an Expert Advisor that can be found on the MQL5 website. The current version of this expert advisor is version 5 and was last updated on 21 January 2020.
Overview
The CAP Internal Copy Trade Expert Advisor is an EA designed to work with MetaTrader 5, we do not believe that it is compatible with any other trading platform.
This expert advisor is designed to allow you to copy your trades multiple times within the same account and trading terminal, so when a signal makes a single trade, this expert advisor will make additional trades of the exact same value.
You may ask what the value in this is, many signals on MQL5 or other sites will limit the trade sizes in order to run at safer levels, this expert advisor will allow you to trade higher trade sizes by opening multiple versions of the trade, this lets you get past the size limitations.
The example given is:
When you need to triple your size
0.01 lot get from the original order (got from the initial signal provider)
(Duplicated orders generated by the tool): 0.02 lot copied order.
One needs to create some parameters lot multiplier. 2
Total: 0.01 add to 0.01*2 (lot multiplier) equals to 0.03 lot
Your lot size appreciates from 0.01 to 0.03 lot
There are multiple options available in order to alter the expert advisor to suit your needs, such as magic numbers, lot settings, TP/SL settings, break-even settings, and more.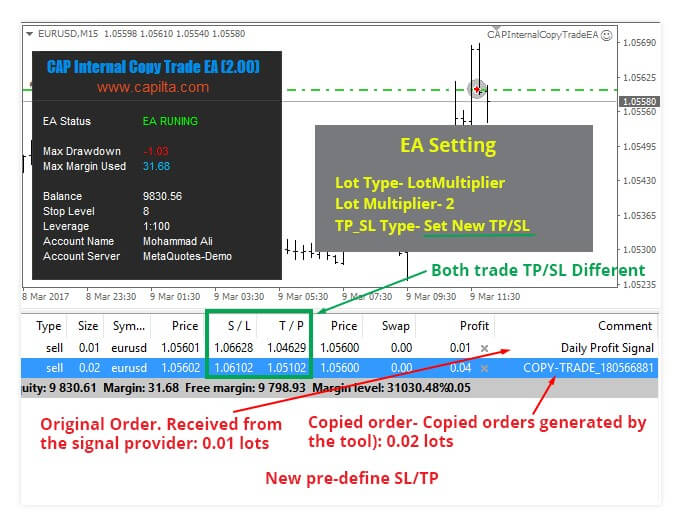 Service Cost
The expert advisor currently costs $30 to buy, it can also be rented for a month which will set you back $10 per month. You can also use the free demo in order to test out the expert advisor, however, we do not know which functions are available or how long the demo will last for.
Conclusion
The only review on the website is a 4-star review which states the following:
"Mohammad updated the EA so that changes to SL and TP levels are reflected in the copied trades. Thanks for the update. The reverse trade function does not work at all."
So you can see that the expert advisor is receiving updates, however, some of the functionality does not seem to be fully there, be sure to test out the demo if you are thinking of using this EA, just to make sure it will work the way you need it to.
This Forex Indicator is currently available in the MQL5 marketplace: https://www.mql5.com/en/market/product/23216