Breakthrough Strategy is available from the MQL5 marketplace and can be found within the Experts section of the site. It was created by Konstantin Kulikov and uploaded to the marketplace on the 25th of May 2017, it has had a number of updates, the most recent update were on the 13th of February 2020 and this brought the EA up to version 1.6.
Overview
Breakthrough Strategy is an expert advisor that was designed for the MetaTrader 4 trading platform, the EA was developed to work with up to 25 currency pairs, it works by looking at trends and trading along with the found trends.
The way that the description has been written has made it quite complicated to work out exactly what the EA will do. We believe that it will filter out certain things in order to look for trends and breakouts in order to initiate trades., IT will use lot sizes based on 0.01 lots per $100 balance and will set stop losses and take profits.
The Ea can use First In First Out for those working from a jurisdiction that requires this, it will also log all information such as spreads, slippage and other useful information to help analyze the trades that it is making.
There is also a long list of parameters that can be altered, these will slightly change the way that the EA functions and works. The list can be accessed from within the MQL5 site itself.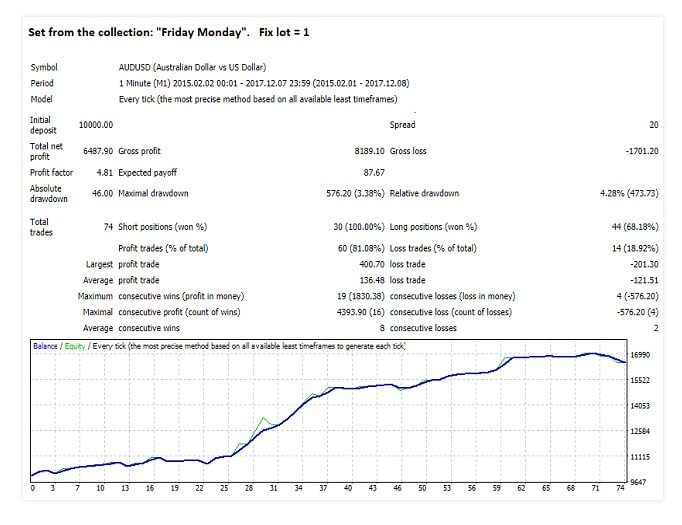 Service Cost
The expert advisor can currently be purchased for ?$250, this is a one-time payment and will give you up to 8 activations of the EA. There is also a rental option, this can be done on a monthly basis which will cost you $30 per month, you can also rent it for 3 months which will cost you $80 for the three month period.
There is also a free demo version of the EA, the limitations of the free version are not stated on the site so we do not know what they are, this may mean that it can only be used with the strategy tester within MT4 but we cannot say for sure.
Conclusion
There are currently 10 reviews available for the Breakthrough Strategy EA, they have given it an overall rating of 4 out of 5.
"Congratulations Konstantin, even in this crashing market your EA is trading very nicely and profitable, great work. It helps me a lot to diversify my trading portfolio." – A 5-star review.
"Okay. After 3 months of testing in my real account, I can say this strategy does not work at all. It has been 3 months of almost – straight – losses. The gaps that sometimes happen during the weekends leave you with huge losses that the system cannot recover with the small winnings it does have. I have been using a 2ms VPS, an ECN account, I've used the sets given by the developer, I've cut down on the currencies that were "bad" as the developer suggested and the losses have been constant. So I believe this is a completely objective review that this system does not work. Maybe it did a year ago (when I did not have it) but it certainly does not work nowadays. That's it. Good day." – A 1-star review.
So there is a mix of reviews, some positive and some negative, the majority are positive though. There are also plenty of comments, the developer has been replying to these comments from customers and also adding their own analysis and tips which shows that there will be some additional support should you decide to purchase the EA.
This Forex Indicator is currently available in the MQL5 marketplace: https://www.mql5.com/en/market/product/23001