The Bermaui Bands indicator can be found within the MQL5 marketplace, there may be others with similar names so we have provided a link to it below. Muhammad Elbermawi is the indicators creator and it was first uploaded on the 10th of May 2016, it has last been updated on the 17th of November and it is currently on version 4.2.
Overview
Bermaui Bands is an indicator that has been designed to work with the MetaTrader 4 trading platform, the way it works is by filtering between ranging and trending price movements. It can work out its system by calculating the standard deviation as an oscillator, depending on the percentage given it will work out whether a buy or sell signal should be given.
How to use the indicator:
-Use Bermaui Bands as a filter to help you identify trend direction.
-If BB lines separate from each other then there is a great probability that price candles will move in a side-way or a ranging movement.
-When BB lines separate from each other and price candles move in between them then trade with a ranging market strategy.
-If BB lines combine like a single line then there is a great probability that price will move in a trending movement.
-When BB lines combine like a single line and price candles move away from them then trade with a trending market strategy.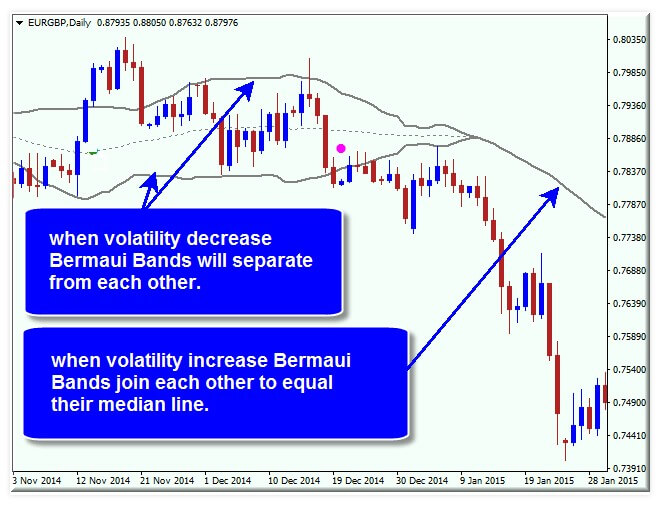 Features of the indicator:
Buy & Sell alert signals when price candles penetrate BB lines.
Suggested Stop loss that depends on a percent from Standard Deviation.
A well-designed style that users can control.
Sound, email alerts depending on user choice.
There are also a number of settings and parameters that you can alter, these include things like the candles, bandwidth, bank colors, whether to show arrows, and whether to send alerts and which alert type to send.
Service Cost
The indicator can currently be purchased for %50, this will give you unlimited access to the indicator, there is also the opportunity to rent the indicator, you can rent it for one month that will cost you $10, or you can rent it for three months which will cost you $30. There is also a free version available, this version will have some limitations, but they are not stated on the site so we do not know what they are.
Conclusion
The indicator currently has 36 reviews in total, these are giving it an overall rating of 5 out of 5, there are a couple of negative ones in there but the vast majority are all 5 stars.
"Meh. It's okay at predicting breakouts. But too many false signals. No alert on buy/sell signal. Not very useful without a scanner and alerts." – A 2-star review.
"You want an indicator that helps with breakouts, well this is it. I use it this in my Algo to help and has made my win rate shoot up to the sky. Use this with his TDO and other indicators and there would be no reason you should not come out ahead in this business at the end of the year. Do not wait around in deciding to get this, you will only be delayed in your abilities to get money out the market." – A 5-star review.
"Day 1: Just purchased based on some test results… let's wait for the more to share… One week later: Initial results are as expected or better to says as explained in Manual..so far so good… Still learning so shall revisit after a month or so" – A 3-star review.
So while it is positive that there are a lot of 5-star reviews, there are also a lot of comments, the good news is that the creator is also replying to them quite promptly which shows that there could be some good support too. We would always recommend that you download the free version to test it out and to ensure that it suits your needs before you make a purchase.
This FX service is currently available in the MQL5 marketplace: https://www.mql5.com/en/market/product/16251