All Hail the Queen GUEU H1 can be found within the Experts category of the MQL5 marketplace. It was first uploaded on the 26th of March 2020 by its creator Marek Kupka, it has not had any updates since being uploaded to the marketplace and so the software is still at version 1.0.
Overview
All Hail the Queen GUEU H1 is an expert advisor that was designed for the MetaTrader 4 trading platform, the EA works by looking for breakouts on the current open bar, it will then filter out the signals using a Bollinger Band indicator. It will enter trades when the price is outside the Bollinger Band after some time of consolidation. It uses stop orders with fixed stop losses and take profits.
The developer has mentioned the following bits of information:
-It is a very simple strategy with only a few parameters.
-At 9:00 pm, we are closing trading every Friday to prevent from weekly gaps.
-For every candle, the pending orders are modified to adapt the market behavior.
-Everything is already set up for the H1 timeframe.
-For every market you want to trade, you need to put the EA to the separate window and set an original magic number.
-You need to set only the lot size depending on the amount of capital in relation to the expected risk.
The main features of the expert advisor:
Each trade is protected by Stop Loss
No martingale, no grid, no scalp, no hedge, no latency, no arbitrage
No excessive consumption of CPU resources
User-friendly settings
All settings optimized
Long-term strategy
In terms of the parameters and settings, the main ones available to alter include the lot sizes, what time to close on Fridays, magic numbers, custom comments, email notifications, and whether to display the information panel.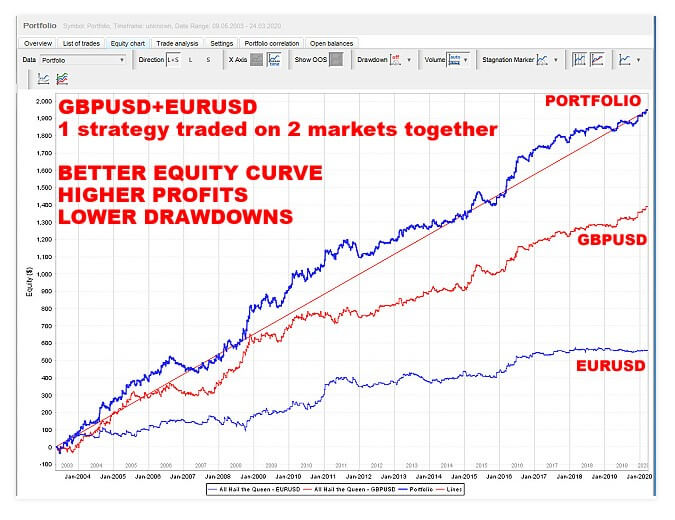 Service Cost
All Hail the Queen GUEU H1 will currently cost you $129 to purchase it outright with a one-time payment, there is no option to rent this expert advisor and when purchasing, you will get up to 10 activations of the software. There is also a free demo version available, this can only be used with the strategy tester within the MT4 trading platform.
Conclusion
At the time of writing this review, there were no reviews or ratings available fro people who have used the EA, this makes it quite hard to gauge whether the EA is doing what it is meant to be doing and how effective it actually is. There are also no comments, what this means is that we do not know whether the developer is still actively supporting the EA, so you should try to get in touch with any questions that you may have, this way you can be sure that they are available should you need any help after you make a purchase of the EA.
This Forex Indicator is currently available in the MQL5 marketplace: https://www.mql5.com/en/market/product/47643