Apogeum Price Action was created by Ivan Pochta, he first uploaded the expert advisor onto the MQL5 marketplace on the 13th of October 2017, there have been a number of updates, the most recent version is version 6.1 which was updated on the 25th of March 2020.
Overview
Designed for the MetaTrader 4 trading platform, Apogeum Price Action is a fully automated expert advisor that will recognize price action as well as the start of a trend. The EA will only open trades in the direction of the trend and will not make reverse trades.
The main difference to other Price Action EAs according to the website is that it will look for creeping trends rather than large impulses on movement.
The expert advisor works best with the following timeframes and currencies:
M15: EURAUD, EURJPY, EURNZD, EURUSD, GBPJPY, GBPUSD, USDCHF, USDJPY, XAUUSD.
M30: EURAUD, EURJPY, EURNZD, EURUSD, GBPJPY, GBPUSD, USDCHF, USDJPY, XAUUSD.
H1: EURAUD, EURJPY, EURNZD, EURUSD, GBPJPY, GBPUSD, USDCHF, USDJPY, XAUUSD.
The expert advisor also comes with a number of settings and parameters, these include the likes of comments, GMT offset, money management settings, fixed lots, risk levels, which instruments to use on which timeframes, special symbols, and more.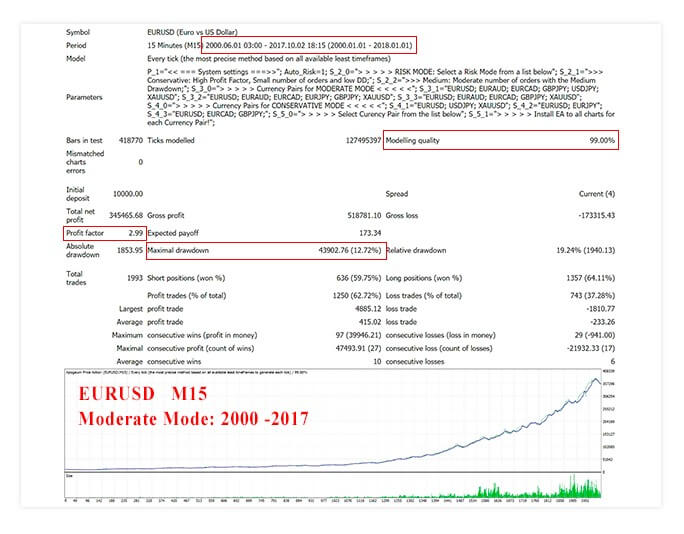 Service Cost
There is currently a promotion going on, this means that you are able to purchase the expert advisor for $375 rather than its usual price of $750. That is a one-off purchase that gives you unlimited access to a limitation free version, unlike many expert advisors, there is no option to rent this one so the one-off purchase is the only option.
There is a free demo version available, unfortunately, the website does not give a lot of information about ti away so we are not sure what the limitations of the free version are. Due to the high price of the product, we would suggest trying out the free version just to make sure that it will do what you need it to do, even if this just allows you to use the strategy tester with it.
Conclusion
The Apogeum Price Action expert advisor currently has 24 user reviews, these have given the EA an overall rating of 4 out of 5.
"There will be relatively long-term losses, but the retracement is not too high, it is relatively stable over the long term, but the price is slightly higher, and the effect is not as good as many cheaper products." – A 4-star review.
"I'm afraid, its time for a review, and it is not a pretty one. I have been testing this EA for nearly 4 months on a real account. The EA made great backtests since 2003. The real results is very different and negative. It's such a shame because I like another product from Ivan, which is making consistent profit. Numerous updates have not made the results look better. I am putting the EA down on my real account and will monitor it from a demo instead. Shame, real shame" – A 1-star review.
"Excellent service from the author always very responsive. Very motivated to help others which goes with his EA performance. I feel like Ivan never sleeps and always answers a question. Great EA so far, I will update in the future. Can't wait to see what he comes out with next." – A 5-star review.
So there is a mix of reviews, the majority are positive but there are certainly a few negatives ones too. In terms of the support you will receive, the developer has been replying to every comment that has been made, showing that they are still dedicated to supporting the product and those that are using it, this is a real positive thing to see. Due to its high price, we would suggest researching and talking with the developer to make sure that the products will do what you need it to do before you make the rather large purchase.
This Forex Indicator is currently available in the MQL5 marketplace: https://www.mql5.com/en/market/product/25724