Created by Thomas Gruening, FoxTrotTWO EA can be found on the MQL5 marketplace under the Experts heading. It was first uploaded to the marketplace on the 25th of March 2016 and it was updated on the 23rd of February 2018 and is currently at version 7.0.
Overview
FoxTrotTWO EA is an expert advisor for the MetaTrader 4 trading platform. It is a scalping EA designed to be used with the EURUSD currency pair, it can also be used with other major currency pairs but may not be as accurate, it was also created to be used on the M15 timeframe.
The EA will trade a narrow range at night, at the top and bottom of a range, it will put in trades in the opposite direction. It will use several indicators to do this and will look at multiple timeframes.
The developer has given some recommendations as to the settings to use:
Trading Time: mainly in the European night time.
Timeframe: M15.
Broker: it is recommended to use an ECN broker and a VPS.
Risk Setting: 20 low risks, 40 middle risks, 60 high risks.
There are also plenty of parameters and settings available, some of these include the trading start and close times, maximum spreads, slippage, take profits, stop losses, risk management, lot sizes, max lot sizes, magic numbers, order comments, filters, and many more.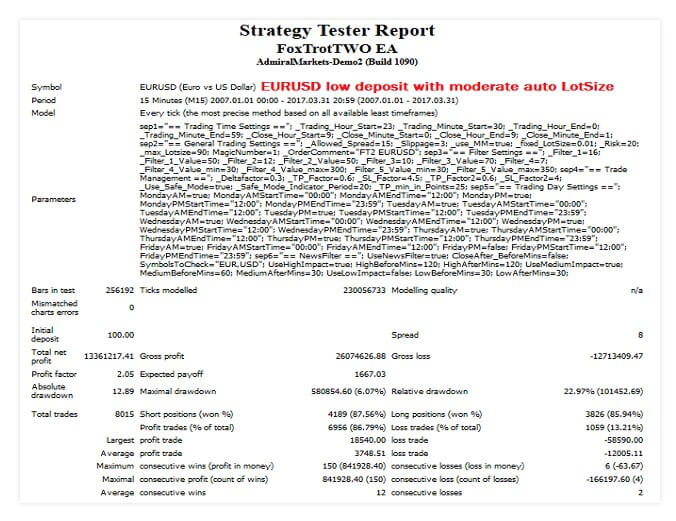 Service Cost
The expert advisor can be purchased outright with a one-off payment of $159, this will give you up to 8 activations and does not come with any additional limitations. If you would prefer, you can also rent the expert advisor on a monthly basis, this will cost you $29 per month to do so.
A free demo version is also available, this does not have its limitations stated on the site, this normally means that it can only be sued with the strategy tester, but this has not been made clear.
Conclusion
The indicator has over 40 user reviews giving it an overall rating of 4 out of 5.,
"Extremely profitable EA with a little caveat – I run it only with my private settings. 9 months live all is OK. Anyone can make his own settings, just purchase TDS, learn hard for one year how to optimize EAs and you will have it all. This EA is one of the very best here. June 28, 2019. Still running strong, still profitable, still five stars from me." – A 5-star review.
"Spent all year doing operations to get a negative balance. This is real junk! And the seller doesn't even care about optimizing." – A 2-star review.
"I have to update my review because despite Thomas's support and Whatsapp channel etc, the EA is absolute rubbish. I have decided to completely stop it. There are quite a lot of series of trades that the EA performs but there comes a day where you have a huge loss and because of that, the drawdown is quite big. His Tickmill ECN signal has a 25% loss for the entire year of 2017. I wish I could have seen that earlier. I am really sorry for buying this EA." – A 1-star review.
"Used for a few weeks together with other Night Trader EA. This EA is clearly a leader." – A 5-star review.
A mix of reviews, while the majority are positive and show that the expert advisor is doing what it claims to do, some have been struggling and making losses with it. The developer has been very active in offering support, over 900 comments and the developer has been replying to a lot of them which is great to see and shows that he is still actively supporting the product. There haven't been any comments in 2020 yet, so it may be worth sending any questions you have to them just to make sure they are still around to support you and the software.
This Forex Indicator is currently available in the MQL5 marketplace: https://www.mql5.com/en/market/product/15390