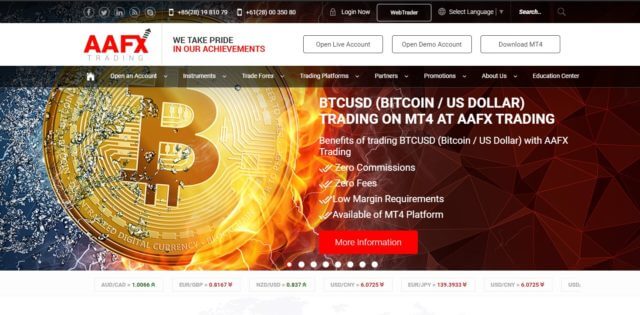 AAFX Trading is a well-established Forex broker offering trading services to clients around the globe. The firm maintains several office locations, including active offices in Hong Kong, Saint Vincent & the Grenadines, and Australia. AAFX offers an assortment of account types, including both fixed and ECN account types. They also offer a wide variety of assets for clients to choose from. The AAFX Trading review that follows will provide complete details of the services provided by this broker.
Account Types
As mentioned above, there are several account types for clients to choose from, including Fixed, ECN, and VIP. Fixed and ECN accounts tend to be the most popular, due to the low minimum deposit requirement and straightforward trading conditions. The VIP account is for serious traders, requiring a minimum deposit in the amount of $20,000.
The 'Fixed' account type is commission and swap-free, offering fixed spreads. Expect the spreads to be on the high side, as spreads will be what the broker profits from when waiving commissions and swap fees. The minimum deposit for this account is $100.
The 'ECN' account is also commission and swap-free, but instead has variable spreads. The minimum deposit for this account is the same as the 'Fixed' account, $100.
The 'VIP' account requires a minimum deposit of $20,000 and is also commission and swap-free. With this account, clients will be allowed to trade on 100% raw spreads. This account type provides the client with three free consultations with a chief market analyst.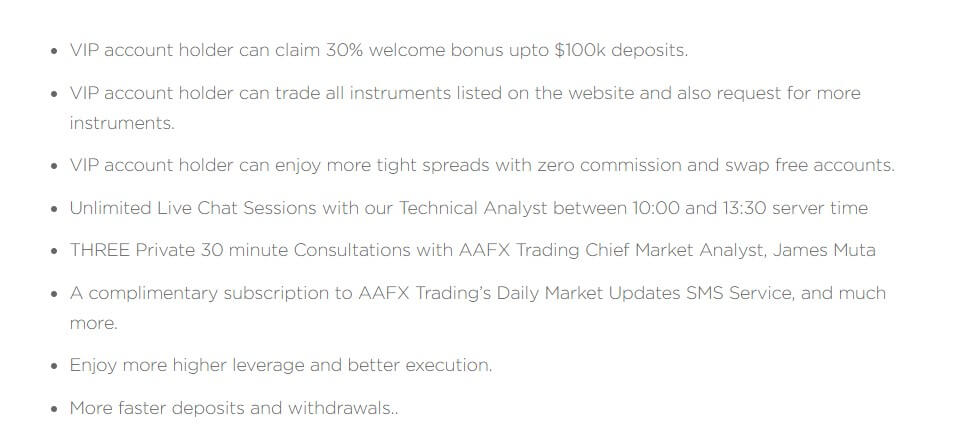 Islamic accounts are available, but technically, all accounts would be considered to be compliant with Shariah Law due to the fact that no swap or rollover fees are charged.
Platforms
AAFX Trading offers the well-known and always popular MetaTrader 4 platform. The platform is offered in it's standard software format for Windows, but is also offered for Mac systems. Clients can also access the platform from within any internet-connected browser using WebTrader, as well as using the provided MT4 apps for smartphones and tablets. It is worth noting that the broker does provide platform video tutorials and that these should prove extremely beneficial for beginner level traders.
Leverage
The lowest leverage option is 1:10, while the highest is an amazing 1:2000. There are limits as to how much leverage can be applied. The 1:2000 ratio is only available on accounts containing $20,000 or less. The available leverage will be decreased on accounts containing more than this, dropping to 1:500 on accounts that contain $50,000 or more. Leverage can also vary by asset and these details are provided on the website. Obviously, it is quite rare to see leverage that is this high being offered and those who choose to use such substantial leverage will want to trade wisely and exercise caution.

Trade Sizes
Micro lot trading is possible on the Fixed and ECN accounts. This is not allowed with the VIP account. The largest allowed single trade size is 1,000 lots, but this trade size can be implemented with no limit regarding the number of actual trades. Margin call will trigger at 50%, while stop loss will be triggered at 20%. Although we're not here to teach trading in this AAFX Trading review, if you're new to Forex trading, it's important to understand what these levels mean. At the 50% margin level, you will no longer be able to open new positions and current positions may be liquidated when the stop loss level is reached. Leverage does play a role, so keep this in mind as well.
Trading Costs
There are no per-trade commission charges and no swap or rollover fees. The cost that you pay to trade with this brokerage is therefore going to be part of the spreads. Check the spreads for your account type carefully. If you find them to be perfectly acceptable, then AAFX Trading may just be a good selection for you. Do note that the trading conditions seen within demo accounts do not always match actual trading conditions, so be sure that your spread information is indeed accurate.
Assets
AAFX is currently offering approximately 100 underlying assets for clients to trade on. Their asset index initially included only Forex, CFDs and Futures, but has now been expanded to include stocks, commodities, indices, metals, and one cryptocurrency (Bitcoin). A comprehensive list of available assets can be found on the company website, as can the specific trading conditions which are linked to each. Simply click on the 'Instruments' tab to open a drop-down list of asset categories. From there, you'll be able to see the specific details for each individual asset.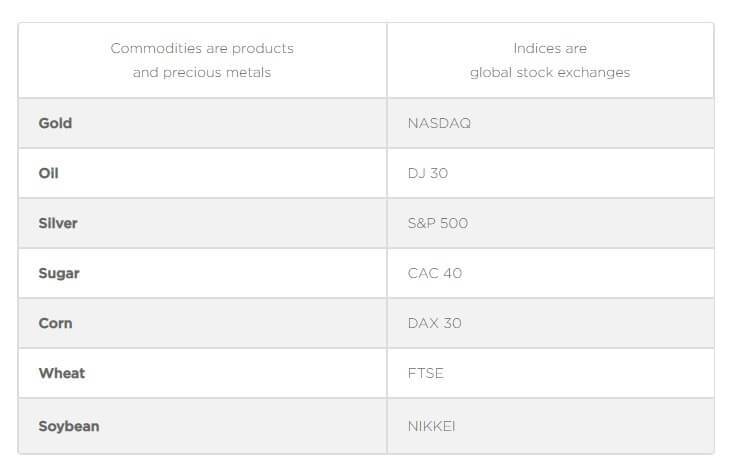 Spreads
As mentioned above, Fixed accounts offer fixed spreads, while ECN accounts offer variable spreads and VIP accounts offer raw spreads. The AAFX Trading website advertises spreads as starting at only 0 pips. While we did not locate any assets with a spread this low, we did note several that were listed at 0.01 pips. Spreads on all majors currency pairs were starting at 2 pips. Variable spreads are of course always changing, and are therefore subject to change.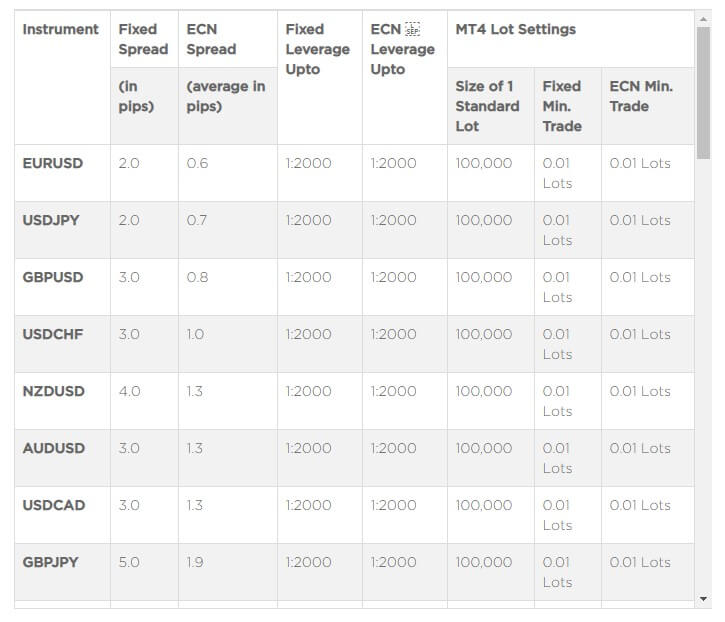 Minimum Deposit
Fixed and ECN accounts require a minimum of $100, but this can be higher, depending on your chosen deposit method. For example, bank wire transfers require a minimum of $1,000. The VIP account requires a minimum deposit of $20,000. Many FX brokers are now accepting minimum deposits of less than $100, but even so, it's unrealistic to expect to actively trade with any amount less than $100. Even with $100 in your account, you will find some trades out of reach, so keep this in mind when making a decision with regards to how much money to deposit into a new account.
Deposit Methods & Costs
AAFX accepts several deposit methods, including credit/debit, bank wire, Bitcoin, Skrill, Neteller, Fasapay, and WebMoney. The only method that requires you to pay a deposit fee is bank wire. All other deposit methods are completely free. Bank wire transfers must be in the amount of at least $1,000 and will carry a $50 transaction fee. No third-party payments are accepted, which is basically standard throughout the industry.

Withdrawal Methods & Costs
Each of the accepted deposit methods can be used to make a withdrawal. Withdrawal requests are reviewed and paid out within three business days. There are no withdrawal fees on any payment method except bank wire, which cost $50 each if they are in amounts less than $2,000. When withdrawing more than $2,000 via bank wire, the fee is waived. Note that your trading account will need to have 250% or more in free margin to be able to successfully request a withdrawal. Should you be struggling with making a request, you may want to check your margin level before reporting a problem.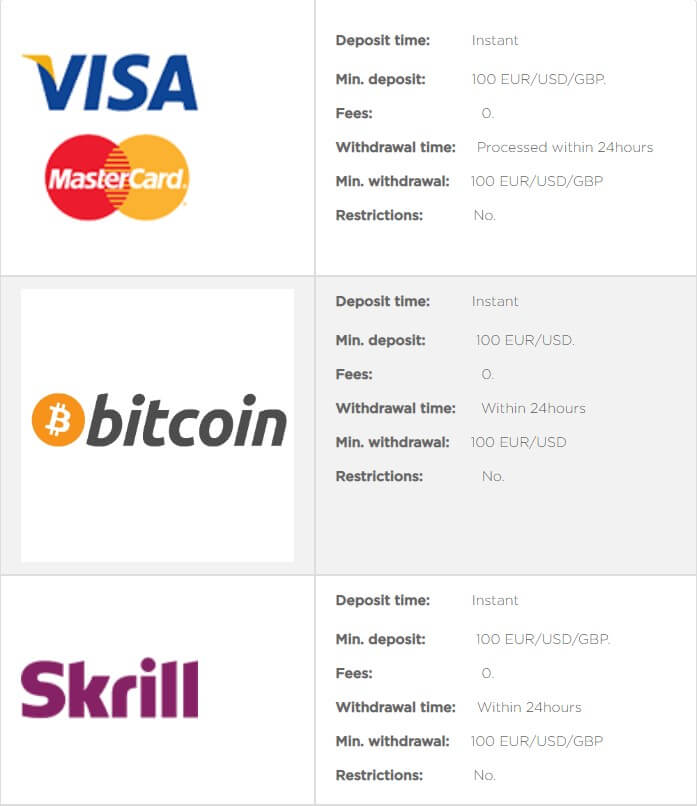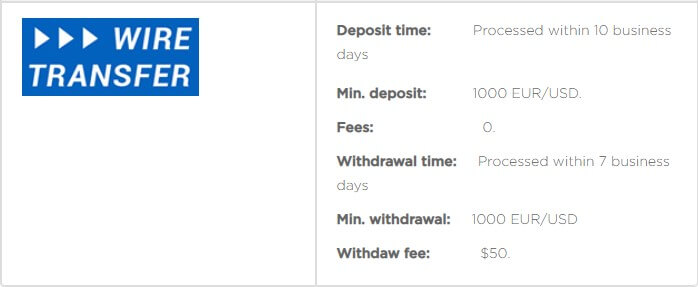 Withdrawal Processing & Wait Time
AAFX states that they will process withdrawals requests within three business days. There are brokers that offer much faster processing, but three days is not horrible. As for wait time, that will always depend on the chosen payment method, regardless of which Forex broker you choose. You can always expect cryptocurrency payments to be fastest, with card payments second fastest and bank wire transfers coming in last. The financial institution or payment processor will also play a role in this, as each will have their own specific turnaround time for payments processing.
Bonuses & Promotions
At this time, AAFX Trading is offering several bonuses. On first-time deposits of $500 or more, a 35% welcome bonus is being offered. Detailed terms and conditions for how to receive the bonus are provided on the broker's website. In addition, they are currently offering a Re-Deposit Bonus and have an active promotion in place which provides a free iPad Pro or iPhone 6S to those who meet specific deposit and trade requirements. Again, complete details can be found on the company website.
Educational & Trading Tools
AAFX does offer an educational video library that is available in both English and Arabic. These videos cover a broad range of trading related topics, including MT4, trade strategies, cryptocurrencies, and more. These can be accessed by clicking on the 'Education Center' link from the main navigation banner. A video tutorial which teaches traders how to use the MetaTrader 4 platform correctly is also provided. As for tools, there is noting above and beyond those which are built into the platform.
Customer Service
The AAFX support team can be reached via Live Chat, phone, Skype, and email. Help is available throughout the standard business week, 24/5. The company does provide several division specific email addresses, along with several contact numbers for their various offices. Support is offered in several languages, which is extremely helpful.
Hong Kong: +85281981079
St. Vincent & the Grenadines: +19142335216
Australia: +61280035080

Demo Accounts
AAFX Trading does offer demo accounts. Even better, these accounts are said to closely mimic real life trading conditions. When creating a new demo account, you'll be able to make your own selections for deposit amount, leverage setting, and more. A demo account can be created on their website by filling out a short form. There are also additional options for creating a demo account via Google and Facebook.
Countries Accepted
AAFX Trading is able to cater to traders from around the globe by having headquarters in several locations. By setting up shop in more than one country, they are able to essentially offer several versions of their services, each of which meet the requirement of a specific location. For example, the St. Vincent and the Grenadines branch will be allowed to accept U.S. traders, while the Australian branch would not. This is actually quite the intelligent business move and may be one which is copied by other FX brokers in the future.
Conclusion
During the course of composing this AAFX Trading review, we learned quite a lot about this broker. We discovered many strong points and only a few weaknesses. Clearly, each trader will need to decide what is most important to them, but we feel confident in stating that AAFX is worthy of consideration by all who are searching for a FX broker.