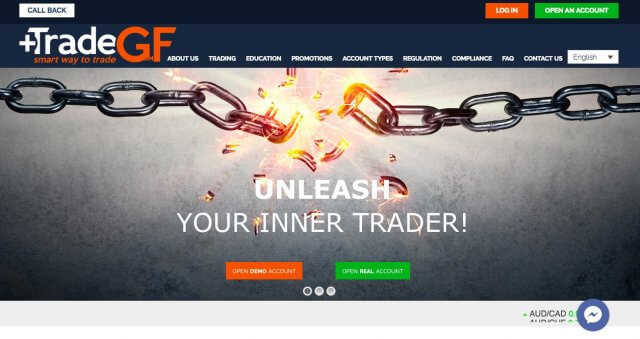 TradeGF is a forex and CFD broker and is situated in Saint Vincent and the Grenadines. TradeGF claims that their clients benefit from intensive training, dedicated service, and a 24/7 professional customer service team. With TradeGF you can fully manage your account over mobile or web. Both platforms support immediate deposits, fast withdrawals, and uploading of documents. Throughout this review, we will be looking at the services on offer to see if they live up to the expectations put on themselves and so you can decide if they are the right broker to satisfy your trading needs.
Account Types
There are four different accounts available as well as four saving accounts but we won't be looking at them, let's see what the trading account offers.
Beginner Account:
The beginner account requires a deposit of $250, it comes with variable (floating) spreads starting at 1.2 pips and a minimum trade size of 0.01 lots. The account comes with daily analysis, 24-hour support, an account manager, and access to mobile trading.
Trader Account:
This account has a minimum deposit requirement of $1000, it has floating spreads starting from around 1 pip and trade sizes starting from 0.01 lots. The account has access to daily analysis, the 24-hour support team, and mobile trading.
Expert Account:
This account increases the minimum deposit of up to $5,000. It comes with fixed spreads starting at 0.8 pips and the minimum trade size of 0.01 lots. It has access to daily analysis, the 24-hour support team, an account manager, mobile treading, and also get free bank wire transfers.
VIP Account:
This account requires a minimum deposit of $50,000. The trading conditions and features are unknown as you need to get in contact with them prior to opening this account.
Platforms
TradeGF uses its own online trading platform that they designed for themselves. We have seen web-based platforms with other brokers and they are normally a good thing as they allow for accessibility wherever you are. Unfortunately, the platform being offered by TradeGF is very sluggish and basic. There is a small level of customization but it is not anything compared to what we are used to trading on such as MetaTrader 4 or 5. The user interface is basic and can sometimes be quite hard to navigate and to find exactly what you are looking for. We feel it would be a big advantage to TradeGF to bring on another trading platform alongside the one they are currently using.
Leverage
The maximum leverage available is 1:1000. Leverage can be selected anywhere between 1:1 and 1:1000 going up in increments of 1:100. We would recommend not going higher than 1:500 as the risk to your capital increases exponentially the higher you go, 1:500 offers a good balance of risk and reward.
Leverage can be changed by getting in contact with the customer service team, be sure to include your trading account number, telephone password, and requested leverage in the request.
Trade Sizes
Trade sizes on all accounts start from 0.01 lots (this is known as a micro lot) and go up in increments of 0.01 lots so the next trade would be 0.02 lots and then 0.03 lots. We do not know what the maximum trade size is but we would recommend not trading over 50 lots in a single trade as it can become harder to execute the trades quickly and without slippage. We also do not currently know what the maximum number of open trades or orders you can have at any one time.
Trading Costs
There does not appear to be any additional commissions on any of the accounts as they all seem to use a spread based system that we will look at later in this review. The accounts do have swap fees attached to them, these are charges for holding trades overnight, they can be both positive or negative and can normally be viewed within the trading platform you are using, in this case, the online web trader.
Assets
Sadly there isn't a full breakdown of the available assets and instruments. Looking through the web there is an indication that there are a lot of tradable assets, more than most brokers, especially when it comes to CFDs, unfortunately without a list or access to them we are not able to confirm this fact. TradeGF should look at adding product specifications or breakdowns to their site so new and potential customers can know what is there to be traded.
Spreads
There are two different spread types available at TradeGF.
Variable Spreads:
The Beginner and Trader accounts both have variable spreads, also known as floating spreads. These are spreads that move with the markets, when there is a lot of volatility then the spreads will often be seen higher, they are constantly fluctuating. The Beginner account has spread starting at 1.2 pips and the Trader account has spreads starting at 1 pip.
Fixed Spreads:
The Expert account has fixed spreads, these are different to variable spreads as they do not move, if an instrument has a fixed spread of 0.8 pips then they will remain at 0.8 pips no matter what happens in the markets. The Expert account has fixed spreads starting from 0.8 pip.
Different instruments will also have different starting spreads, so while EURUSD may start at .12 pips, a different pair such as EURAUD will start slightly higher.
Minimum Deposit
The minimum deposit to open up an account is $250, this will get you access to the Beginner account, if you want a different account you will need to deposit at least $1,000. It is not clear if the minimum deposit reduces after an account is already open.
Deposit Methods & Costs
At the bottom of the page are some images of payment providers, the images show Wire Transfer, WebMoney, Visa, and MasterCard. There isn't anything mentioned by name on the site apart from a bit about withdrawals in the FAQ. There are no added fees from TradeGF, however, be sure to check with your own bank or processor to see if they add any transfer fees of their own.
Withdrawal Methods & Costs
Methods mentioned for withdrawals are Bank Wire, Bank Cards and electronic payment providers, none mentioned by name. It seems that there is added commission/fees when withdrawing however what they are is not stated, what we do know is that if you have the Expert account, then there are no fees for withdrawing using Bank Wire, but there will be for other accounts. It would be helpful to have this information present and clear on the site.
Withdrawal Processing & Wait Time
Processing time is unfortunately not known, however depending on the method used it could be anywhere between 1 to 7 business days.
Bonuses & Promotions
There seems to be three different bonuses and promotions available at the time of writing this review, we will outline them so you have an idea of what sort of bonuses will be on offer.
First Deposit Bonus:
Receive up to a 100% welcome bonus, you can get between $1,000 and $5,000 bonus. Only new customers are eligible and you can only claim the offer once. It is a little confusing as to how you turn this into real funds, it seems that you need to trade a certain volume, for every $5 profit it is transferred into another account as real funds. That is what we understood, maybe wrong, either way, it is a strange way of doing it.
Refer A Friend:
Simple, refer your friend and receive a $100 deposit into your accounts, the terms are not exact such as how much they need to deposit or trade. It will of course only count if your friend funds the account
Risk-Free trades:
If you deposit $500 or more you can receive some risk-free trades, this means that if you win you keep the money, if you lose your balance is restored. We do not fully know the terms such as how much and what lot size.
Educational & Trading Tools
The education section of the site has a few different subsections, we will briefly explore them. The first is Market News, however, the page is not loading anything so it appears like it may be blank. In fact, looking at all the sections, none of them are loading for us, we do not know if it is just us or we just chose a based time to look but the MArket News, Economic Calendar, Signals, Glossary, EBooks, and Videos are all not loading for us and so we cannot comment on the suitability or quality of them.
Customer Service
If you need to get in contact with the customer support team, you can do so 24 hours a day 7 days a week. There is an online contact form to fill in, this will then get a reply via email. There is also a postal address along with telephone numbers and an email address to use.
Address:
Get Financial LTD
Suite 305, Griffith Corporate Center
P.O Box 1510. Beachmont, Kingstown,
St. Vincent and the Grenadines.
Tel:
Customer service : +44 203 1500376
Support : +44 203 1500376
Email:
Support Services: support@tradegf.com
Demo Account
As far as we could see there weren't any demo accounts available, this is a real shame because demo accounts allow new traders to test out the markets and trading conditions and it also allows existing clients to test out new strategies without risking their own capital. It would be great to see demo accounts added. If they are available we may have just missed them and signing up may, in fact, give access to them.
Countries Accepted
TradeGF states that they do not accept clients from the USA, there may also be other countries so if you are interested in joining and signing up for an account, you should contact the customer service team first to ensure that you are eligible for an account.
Conclusion
The trading conditions do not seem unreasonable at face value, the spreads are appropriate on paper, but we were not able to view them live or to have individual asset spreads, so we do not know where they actually sit. The trading platform used is also a letdown, it is sluggish and hard to navigate, TradeGF should look to bring in a more established trading platform. The final point is based around the deposits and withdrawals, there needs to be more information about them, methods and fees are important to know when looking to sign up with a new broker. These things, especially the trading platform can make it hard for us to recommend TradeGF as a broker to use at this point in time.