The Tipu Candles Pattern was made available by Kaleem Haider in January 2016. This product is built on the Japanese technique of charting that has been around since the 17th Century. Haider has a number of successful products available such as the Tipu Trend Dashboard and Tipu Heikin Ashi Panel, which have been very well received by traders in the past. At this moment, traders can purchase or rent version 1.10 of this Tipu Candles Pattern Indicator.
Overview
The Tipu Candles Pattern Indicator uses the candlestick pattern class by Metaquotes however it has been re-written to suit MQL4 and it has been combined with the panel class written for the Tipu Panel. Some of the main features of this indicator include; a visual display of the last candle of the pattern as well as the age of the pattern, a number of alerts that are customizable such as; push alerts, email alerts, on-screen alerts and Buy/Sell alerts and its supports Multi Time Frame Candle Patterns.
The main task of this product as a pattern recognition indicator is to visually mark patterns, along with their age, on a chart to make it easier for traders to take notice and act upon specific indications.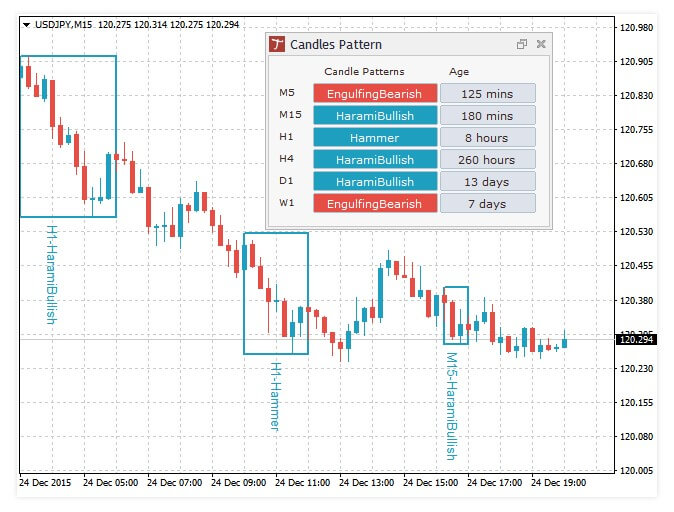 This product is very customizable with a number of parameters to set such as; Bearish/Bullish/Neutral Pattern colors – allows traders to choose the color that will be used to mark the chart, Box Line Style/Width, Max Candles to Check, Signal Setting, time frame setting and also a number of alerts that can help traders stay on top of all the market movements that might affect their trades.
Service Cost
Traders can purchase this Indicator for $30 and it is also available for rent at an affordable $10 per year. If you want to test this product out without spending any money, there is a free demo available to all traders that would like to see the product in action.
Conclusion
From what we could see, the overall feedback for this indicator is quite positive and it seems to work very well with the Tipu Trend Indicator when this is combined with high probability patterns such as Englulfing. A common disadvantage that seems to be limiting customers from purchasing and using this product is the fact that it is only available in English for the time being. If you're interested in finding out more about what this indicator has to offer, download the Demo Version and test it out for yourself.
This Forex Indicator is currently available in the MQL5 marketplace: https://www.mql5.com/en/market/product/13428