The Correlation Table of 28 Currency Pairs is an Indicator created by Sayed Eshan Razavi back in April 2017. Razavi has another Correlation indicator available for traders and both products have been received very well by users around the globe. The Indicator we are reviewing today continually being updated and improved, with the most recent update being made on the 21st March 2020 which released version 1.7 of this indicator. Read through this review to get a better idea of what this Indicator has to offer.
Overview
This indicator calculates the correlation among different currency pairs that are selected by the trader. The correlation available ranges from -100% (representing the currencies that are moving in opposite directions, aka negative correlation) to +100% (represents the currencies moving in the same direction).
Users can choose their own preferred 28 currency pairs to monitor as well as the Calculation Time Frame which sets the time frame in which the users want the calculation to be done. This indicator was created to be used on the MT4 platform, however, in December 2019, an MT5 version of this indicator was added on the market.
The Indicator is quite customizable and users can choose to change the High Positive or High Negative Colors and also the Calculation Mode which can be either Range Mode, which calculates the correlation based on ranges in the past bars (Range = High –Low) or Class Mode, where the correlation is calculated on the closes of the past bars.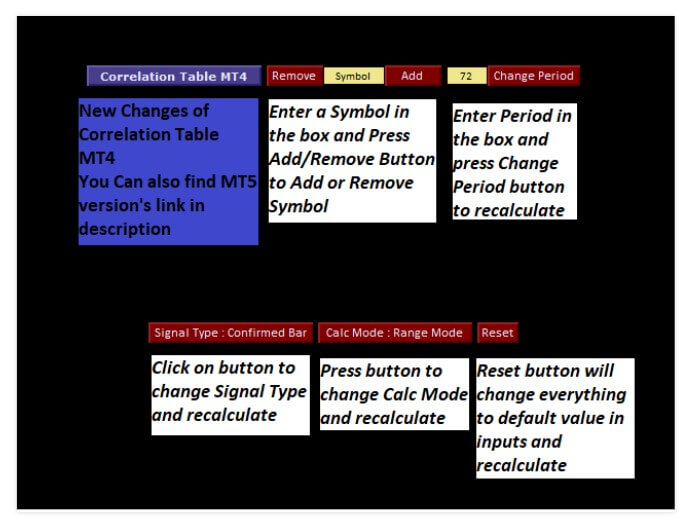 Service Cost
Traders wanting to make use of this indicator can do so by purchasing it for $40 or renting it for three months for $25. The positive reviews and comments found online suggest that this indicator is definitely worth the money. For those wanting to test out the indicator without actually spending money on it can do so by downloading the free demo that is available.
Conclusion
As we've mentioned, the reviews for this indicator are very positive with one user stating that this tool is "Indispensable for day to day operations". Other users stated that this tool saves them a good 15 minutes of analysis for every pair and in the trading business, time is literally money. Another very positive point is that the creator, Sayed Ehsan Razavi, is constantly changing and updating the indicator based on the user reviews that he receives, which means the indicator is continually improving. Apart from this, the creator also uploads videos so that users can fully understand the updates being made and how they can incorporate them into their daily trading.
Based on the reviews and the fair price of this indicator, we highly suggest that you check out the Demo version to see if being able to see and monitor all currencies (to a max of 28 at a time) and how they correlate will help you to yield the best results from your trading activities.
This Forex Indicator is currently available in the MQL5 marketplace: https://www.mql5.com/en/market/product/22548