Spike Trader can be found within the Experts category if the MQL5 marketplace, it was created and uploaded to the marketplace by Tomas Kremen on the 15th of March 2020, it has not had any updates and so the software is still at version 1.0.
Overview
SpikeTrader is an expert advisor that Tomas Kremen developed for the MetaTrader 4 trading platform, the EA was developed o find spikes in the market prices and then to follow their direction to find even bigger spikes in prices. It uses the HTF filter (which is used to calculate the main trends on the higher timeframes by using multiple indicators) to help filter out spikes that are not in the direction of the main trend in the market. Once all conditions have been satisfied, the EA will open up a grid of pending orders in the direction of the discovered price spike.
Looking through the settings, it appears that the EA uses a grid-based system which can be a little risky, this will continue to open up trades in one direction if the price is moving against it, it will open up an unlimited number of trades if it is continuing to move against the trades, this can lead to very large drawdowns and can even blow smaller accounts, it is a strategy that you should use with caution and to continually monitor.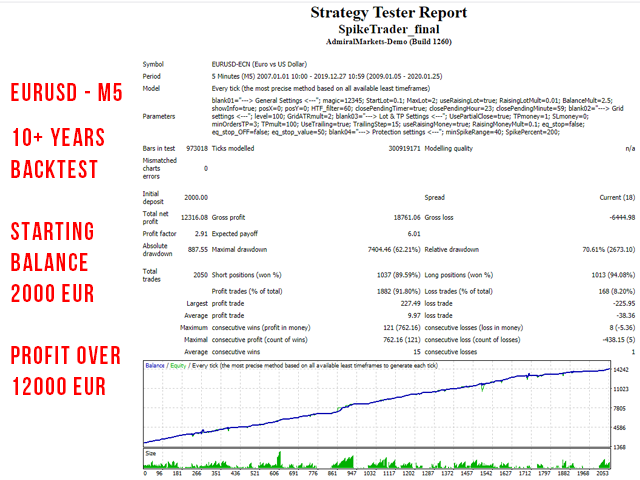 The EA is recommended to be used with the EURUSD currency pair and on the M5 chart, it has not bee optimized for any other options, but may still work. It is also recommended that you have at least 2000 EUR as a starting account balance.
Some settings come with the EA which can be altered. Some of these include magic numbers, base lot sizes, maximum lot sizes, option to raise lot sizes, trailing stops, take profits, stop losses, max spike size to use, max number of open positions, and many more options.
Service Cost
The SpikeTrader EA can be purchased with a single payment of $99, this will get you up to 5 activations of the software with no other limitations added to it. If you would prefer to ren the EA, this can be done on a three-month basis and will cost you $49 for that period, for six months it will cost you $69 and for a one-year rental, it will cost you $89 for the year.
There is also a free demo version available, this version is limited to only being used with the strategy tester within the MT4 trading platform and cannot be used on a live account.
Conclusion
There aren't any user reviews or ratings which is a shame as these are often a great way to find out whether the EA functions how it is meant to and whether people are finding it profitable or not. There is one comment, this is from the developer who is providing some additional settings files, this is great as it shows that they are still actively supporting the EA and should be round to offer support should you need it after making a purchase or a rental.
This Forex service is currently available in the MQL5 marketplace: https://www.mql5.com/en/market/product/47303