Molecule can be found on the MQL5 marketplace under the expert advisor section, it was first uploaded on the 27th of December 2019 by its creator Andrey Kolmogorov, it has received an update since its original upload on the 24th of February 2020 and is currently at version 1.1.
Overview
Molecule is an expert advisor that was crated for the MetaTrader 4 trading platform, it is an advisor that will analyze the markets to place trades. There isn't actually a lot of information on its functioning or how it actually finds its trades which is strange to see.
Some of the key advantages of the expert advisor:
The EA does not use Martingale (Default sets)
The minimum starting deposit is $100
No need to close the robot during news releases
It works with 4 and 5-digit quotes
A constructor of unique strategies
Adaptive algorithm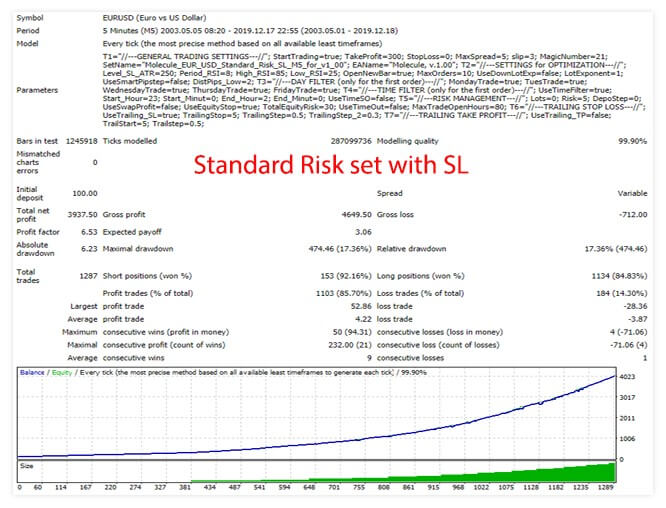 In terms of parameters and setting,s there are a fair few available, they include when to start trading, take profit levels, stop loss levels, maximum spreads, slippage, magic numbers, RSI periods, the maximum number of orders, lot sizes, the risk to use, to use trailing stops, and many more.
Service Cost
It is quite an expensive expert advisor, it will cost you $890 to purchase it outright, this will give you up to 10 activations with no added limitations. There is also the option to rent it, you can do this for three months at a time and it will cost you $200 to rent it for the three months.
A free demo version is available but the limitations are not stated on the site so we are not sure what they are. Due to the high costs, we would strongly recommend trying the free version just to make sure that it will do what you need it to do before making the large purchase or rental.
Conclusion
There are three reviews available form its users, they have given it an overall rating of 3 out of 5.
"With this EA you earn very little if you don't use martingale and therefore don't take a big risk on your budget. Its price is also too high." – A 1-star review.
"I've bought a robot" – No rating given.
"Profit!" – A 5-star review.
With only three reviews there is a full range of opinions, however, the positive reviews are not giving much information while the negative review looks at the strategies being used and makes it seem quite risky. There are over 40 comments from people who have purchased or rented the expert advisor, the developer has been replying to them quite quickly and the most recent reply was March 2020 so it seems like it is still being actively supported. Due to the high price, we would recommend trying the free demo version, also send any queries that you to the expert advisors creator so you can be sure that it will work for you and that you will be supported, do this prior to making a purchase or rental.
This Forex service is currently available in the MQL5 marketplace: https://www.mql5.com/en/market/product/34838