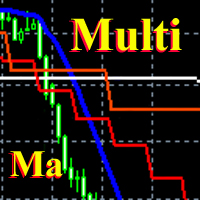 MA Multi stands for Moving Average Multi Timeframe indicator that is useful in many ways and for many strategies. The developer of this indicator is Dmitriy Susloparov from Russia having 16 products offered on the MQL5 marketplace. None of them have received much attention and only MA Multi and one more indicator have ratings. Most of the indicators published are similar, they are basic indicators made multi-timeframe on a single chart. MA Multi also exists for the MetaTrader 5 platform. The first appearance on the MQL5 market is on the 3rd of May 2017 and updated on 31st, a few days later on request by one user. The developer responded quickly and made the additional option to turn off redrawing on closing each candle, updating the indicator to version 1.1.
Overview
MA Multi will work with any combination of timeframes on a chart, thus plotting several lines for each timeframe you turn on. As the Moving average has a multitude of uses, having a combination of default MT4 indicators, and this one can result in having a completely new indicator generating unique signals. It can even mean a whole new trading system. As you add channels, ATR, and other indicators on the same chart, technical analysis, and interpretation open a plethora of possible signals. Therefore, this indicator does a simple job, this is basic coding, and that are many free versions of such indicators, but, having this one customized to your liking is a nice gesture. MA Multi will be displayed as a Step MA for higher timeframes as this is how it looks like when you switch. Each line has its color, width, or whatever visuals you like.
In the settings you can set the Period, Method for calculation of the MA, the new Redraw option, and a list of timeframes to show or disable on the chart. The developer has uploaded a video showing a practical example of how the indicator can be used in trend following strategies, still, as we have mentioned, the possibilities on how you can use this are endless. The video is in Russian but it is not necessary to understand the use of multi-timeframe MA.
Service Cost
The price of this simple indicator is $10 to buy and having 5 activations. There is no possibility to rent this one but a demo is offered.
Conclusion
The developer is very open to additional updates. It seems, so if you have a special request to adapt the tool, you can send a message in the Comments section. Unfortunately, the price of $10 is low, but the indicator is very popular and has wide availability on the internet and forums for free, from other coders. It that sense, purchasing this one may be a good idea if you plan to ask the developer about updating with your needed features.
This Forex service can be found at the following web address: https://www.mql5.com/en/market/product/22642