Welcome to our iWIN broker review, iWIN FX is a Forex broker based in Belize and was started in 2018 so is still a very young brokerage firm. As far as we could discover, iWIN FX is not regulated in any jurisdictions, however that should not immediately put you off as many unregulated brokers are just as trustworthy as regulated ones. iWIN FX welcome you to "win with us" so let's explore and see what they offer and how they perform.
Account Types
It would appear that iWIN offers three different account types, the Classic, Professional, Platinum and Instrument accounts, let's take a little look at exactly what those mean.
Classic Account:
iWIN market this account as their "standard" account, meant for beginners who just want to get trading, it does not charge any commissions but instead has a spread markup which starts from 3 pips, which is relatively high. There is also a $1,000 minimum deposit, which for a starter account is quite high and may price out a lot of newer customers or people new to forex trading. Leverage can go as high as 1:500 and order volumes are from between 0.01 lots (microlot) and 50 lots. A pretty standard account, however rather high spreads.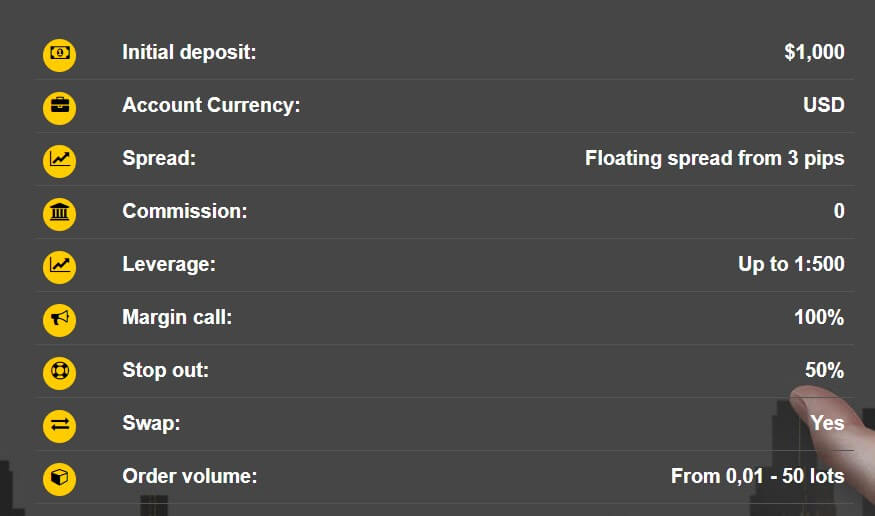 Professional Account:
The Professional account is marketed towards the "experienced" trader, this can be seen straight away with the $10,000 minimum deposit which will price out anyone that doesnt have any experience with trading forex. This account also does not take any commissions and their spread has been reduced to a starting figure of 1.5 pips, which isn't too unreasonable for an account that does not take commissions. This account charges for swaps and order volume is similar to the Classic account in which you can place trades from between 0.01 (microlots) and 50 lots. The leverage on this account however is reduced and the maximum allowed is 1:100.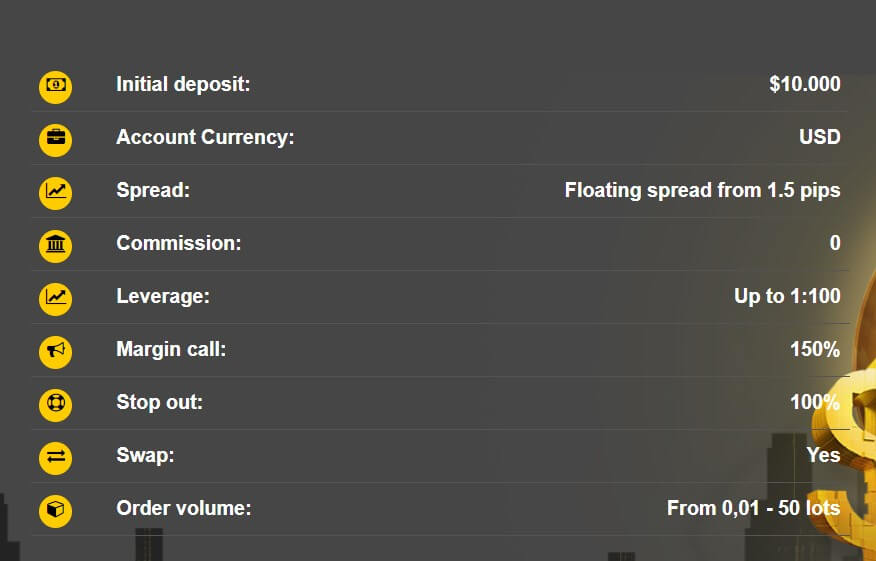 Platinum Account:
iWIN state that this is their best account, of course any company would if the initial deposit is $30,000, so this account is intended only for those truly serious about Forex and that have extensive experience of it already. Account currency must be in USD and different from the previous accounts, there is a commission charge of $6 per lot and the spreads start from around 0.5pips, this is relatively high for an account alsop charging a commission. Leverage remains with a maximum of 1:100 and order volumes have increased offering a minimum of 0.01 lots (microlot) and a maximum of 100 lots, still lower than a lot of other brokers, but very few people would ever go that high anyway.
Overall the accounts are pretty standard when it comes to Forex brokers, however the higher than normal opening balances along with the higher than average spreads mean that there needs to be something else that this broker is offering in order to bring in customers as the account choices are not the most desirable that we have seen.
Platforms
iWIN offer two different platforms to trade on, the ever popular MetaTrader 4 (MT4) and a WebTrader.
MetaTrader 4 (MT4):
If you have traded Forex before, then I am sure you have traded with MetaTrader 4 (MT4), it is the world's most popular trading platform and for good reason, it offers unparalleled customisation options and boasts hundreds of thousands of expert advisors and indicators. MetaTrader 4 (MT4) is also available for your computer and for mobile devices running iOS or Android.
WebTrader:
The webtrader that iWIN offer is the standard affair when it comes to WebTraders, giving you similar functionality to MT4 just with slightly less options and less support for third part applications such as expert advisors and indicators. WebTraders are good for when you ar eon the move or want to quickly check something, however there are no bells and whistles with this version of the WebTrader.
We are slightly disappointed with the selection offered, very standard equipment and nothing to really make iWIJN stand out from the crowd.
Leverage
The leverage being offered by iWIN is dependant on the account that you trade, as we discussed in the accounts section, the Classic account allows leverage between 1:1 and 1:500, which the Professional and Platinum accounts reduce the maximum leverage down to 1:100. It would have been nice to be able to hold on to the 1:500 leverage on the higher tier accounts, however this is most likely iWIN trying to reduce their own liabilities in case things go wrong with larger amounts of money.
Trade Sizes
We mentioned that the trade sizes or lot sizes are also dependant on the account type that is being used. The Classic account and the Professional account allow you to make small trades of 0.01 (microlots) and to go as high as 50 lots. The Platinum account also allows small trades of 0.01 (microlots) but increases the maximum trade size to 100 lots. The maximum of 100 lots is lower than the majority of other Forex brokers who often allow up to 1,000 lots, however we do not know anyone that trades at over 100 lots, so we are sure that there won't be any issues with this reduced limit.
Trading Costs
Trading costs, as well as the majority of other things are based on your account type. iWIN uses both a commission based system as well as an increased spread system.
Classic and Professional accounts offer an increase in spreads instead of a commission. The Classic account has spreads starting at 3.0 pips which is incredibly high compared to most other brokers, including those that also use an increased spread system. The Professional account is slightly better at 1.5 pips, which is more in line with a lot of other standard accounts, but it is not anything to sing and dance about and wouldn't tempt you away from another broker.
The Platinum account uses a commission based system and charges $6 per lot while still maintaining a minimum spread of around 0.5 pips, which is relatively high for a commission based account.
Comparing them to other forex brokers, the fees are relatively high, as mentioned above, there is nothing on offer here that would make you jump up and change forex brokers.
iWIN also have an inactivity fee, meaning that after 3 months of no activity, if there is a balance in the account they will charge you $25 per month out of that balance, this is a practice that we do not like at all and can be a real turn off for potential customers.
Assets
Looking around the iWINFX website, they do display the current spreads and also all assets that are currently tradable with them, they are as follows:
Forex: 29
Commodities: 7
Shares: 43
Indices: 7
As you can see from the numbers above, there are very limited assets to trade, we are most surprised with the fact that there are only 29 Forex pairs to trade, the majority of other Forex brokers that we have looked at offer a minimum of 50+. This means that unless you are wanting to trade the specific pairs that are on offer then you may be left a little disappointed with the selection.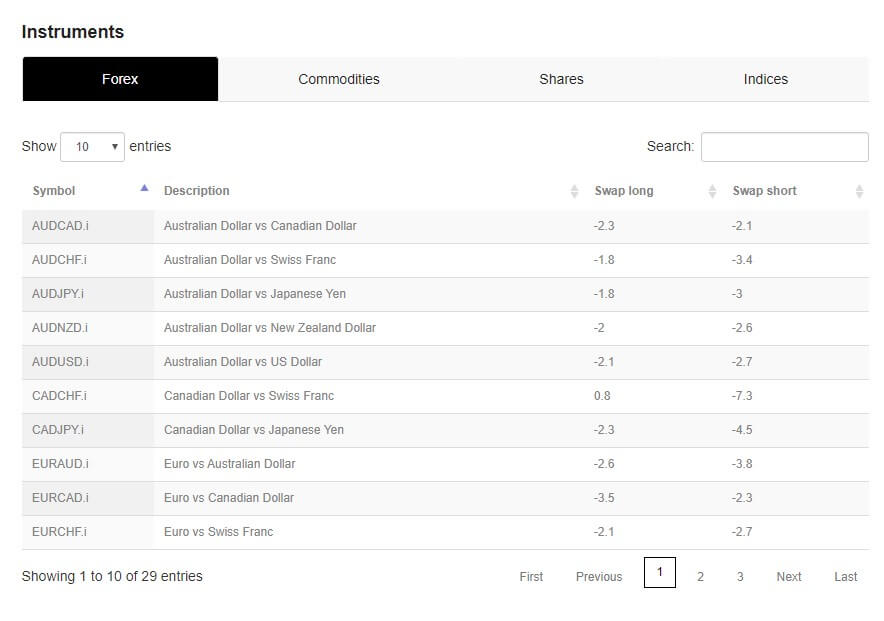 It is also important to note that there are no cryptocurrencies on offer to trade, cryptocurrency trading is becoming a major part in a lot of peoples trading lives due to the growing popularity and opportunity for large profits, so it is disappointing to see that they are not on offer with iWINFX.
Spreads
We had a little look at the spreads in the trading costs section of this review, however, we will go into a little more detail about them here.
The Classic account has spreads starting at 3 pips, which is incredibly high, we compared this number with a number of other brokers who are also using an increased spread system and the average between the five brokers was 2.2 pips. It may not look like a lot, but that is nearly 1 pip on average which over a large number of trades will cost quite a lot.
The Professional account offers slightly better spreads starting at 1.5 pips which is lower than the average of 2.2 pips, however the starting balance of $10,000 will price a lot of people out of this account.
The Platinum account offers a commission based system at $6 per lot, which seems to be the industry standard when it comes to commission based systems, along with this commission however, is the 0.5 minimum spread, a lot of other commission based systems try to remove the spread, with many going as low as 0 pips or 0.1 pips. The additional spread adds to the cost of this account.
If you are looking to squeeze every penny that you can out of your trades, the spreads here at iWIN may be a little too high for your liking. They are by no means the worst we have seen, but with the competition being so high, there may be a struggle to pull traders away from their current brokerage firms.
Minimum Deposit
The minimum deposit once again depends on the type of account, if you are just looking to get trading with iWIN, then the minimum deposit is $1,000 for their Classic account. If you want slightly more favourable trading conditions then you are going to have to fork out $10,000 for their Professional account or $30,000 minimum for their Platinum accounts. Starting at $1,000 is slightly higher than the competition and may price out a lot of newer or less experienced traders.
Deposit Methods & Costs
iWIN offer a number of different ways to deposit which are the standard methods within the Forex industry.They have the usual Visa / Mastercard, internet banking, Netweller, Skrill, 2Checkout Perfect Money, Web Money and PayPal.
All deposits must be in USD, Visa, Mastercard and internet banking offer instant processing times which the other methods are processed within 15 minutes. We could not find any information regarding fees on their site however the Terms and Conditions state that there may be charges for bank transfers, it does not however state what they are..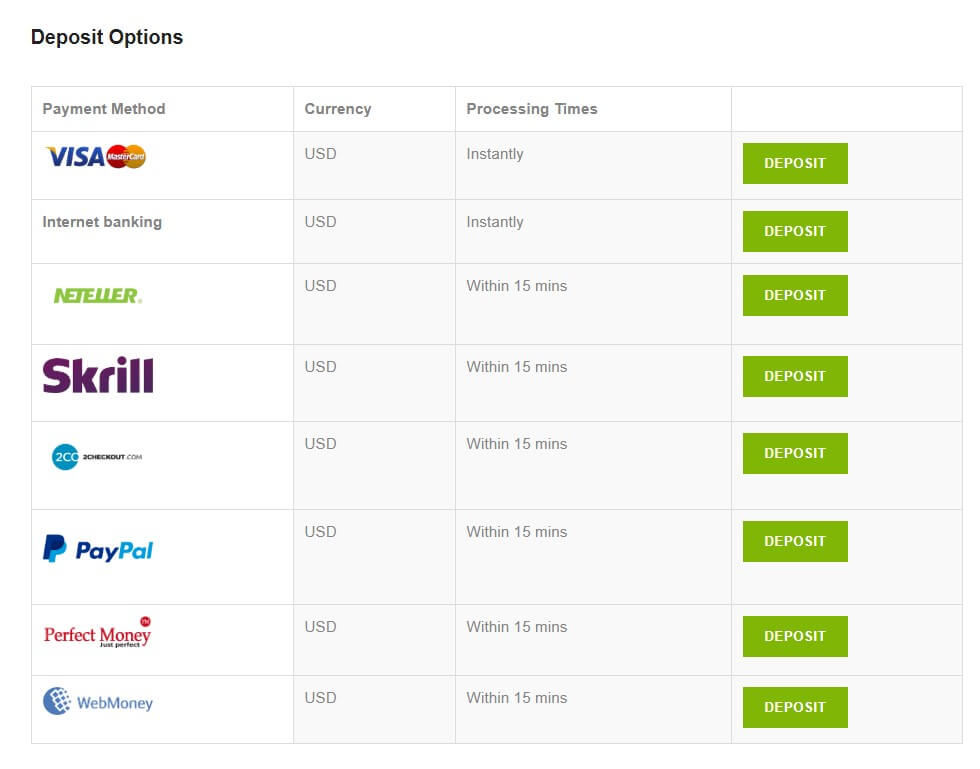 Withdrawal Methods & Costs
Withdrawals use the same providers as depositing, Visa / Mastercard, internet banking, Netweller, Skrill, 2Checkout Perfect Money, Web Money and PayPal. All withdrawals must be in USD so you may be charged a currency conversion charge by your bank. There does not appear to be any fees on withdrawals and there are none mentioned on their site or within their Terms & Conditions, however it does not state that there will be no fees either.
Withdrawal Processing & Wait Time
iWiN's site indicates that withdrawals will be processed within 24 hours, we were not able to test this and we could not find any evidence on the internet from customers regarding withdrawals. So we need to take them at their word on this one.
Bonuses & Promotions
The meta description of iWIN's website mentioned plenty of bonuses and special offers, however looking through the site we could not locate any of these bonuses, so we can only assume that in the past there were bonuses available but they have now expired. Our advice is to keep checking back to see if a new one has come up.
Educational & Trading Tools
iWIN offers a 7 book series which is available to anyone on their site which foes over the basics of Forex trading, it won't make you an expert, but it is nice to have the basics available for their traders. Apart from this, there doesn't appear to be any other benefits or teaching available through he iWIN site.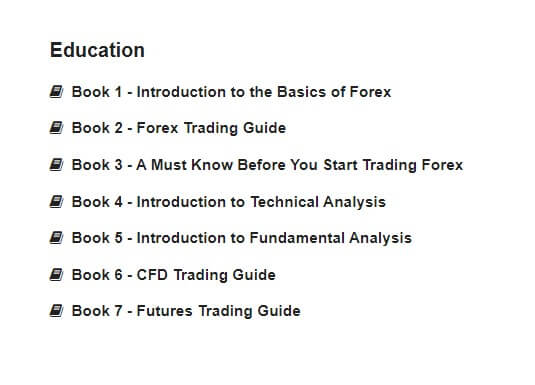 Customer Service
iWIN offer a few different ways to get in contact with them, there is the standard online contact us form, where you fill in your question and they will get back to you, we tested this and had a reply within 24 hours. They also have their email address made public so you can email them directly and we assume you will get a similar response as our reply was from the same email address.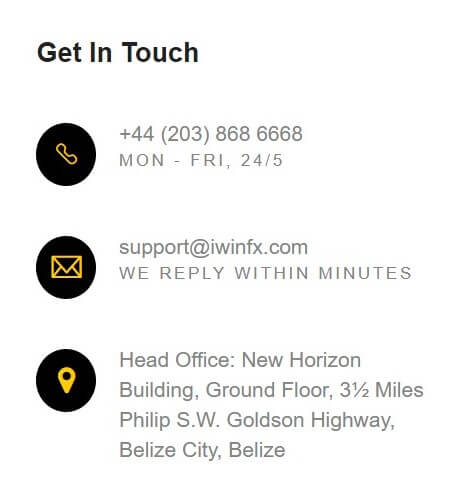 They offer a phone number to call, however we tried this number at 9:48am and did not have anyone pick up for 10 minutes so we gave up, at times I am sure that their service is available, but at the time of trying, no one was available.
Their postal address is also available should you wish to visit or send a letter, however as they are based in Belize, it would be easier to use the other available contact methods.
Demo Account
We could not see an option to create a demo account which is quite strange these days, nearly every broker offers demo accounts but it appears that iWIN do not. This again concretes the idea that they are not looking for newer traders and instead want people who have been trading before.
Countries Accepted
We could not find anything regarding country restrictions, so we believe that they are accepting all clients.
Conclusion
iWIN is a bit of an enigma, there is very little information about them on the internet with very few reviews. Their website often gives half the information that you need and it is clear that they are not looking for newer traders as the majority of their accounts is focused on larger deposits and the fact that there are no demo accounts available cements this idea.
iWIN's fees are higher than normal and due to the very little information about them available, we cannot endorse signing up to this broker unless you have a personal tie with it in some way. Be sure to check out some of our other broker reviews so you can be sure you choose the right forex broker for you.