Welcome to our GIFX Prime broker preview, GIFX Prime is a UK based and regulated forex broker established in 2013. GIFX Prime claim to offer their users a first-class trading experience, join us as we explore and find out if they live up to their promises.
Account Types
GIFX Prime currently offer three different types of account. The mini account, the classic account and the premium account, let's take a little look at them in some more detail.

Mini Account:
The mini account is GIFX Prime's entry level account, it has a $100 minimum deposit, and offers a variable spread of around 1.2 pips. Has a minimum trade volume of 0.01 (micro lots) and is also available as an Islamic account should you not be able to accept or pay swaps.
Classic Account:
The classic account is GIFX Prime's mid range account, it has a minimum deposit of $1,000 and has a slightly lower variable spread of around 1 pip. Similar to the mini account, it also has a minimum trade volume of 0.01 (micro lot) and is also available as an Islamic account.
Premium Account:
This is GIFX Prime's top level account, it requires a minimum deposit of $5,000 and has a further reduced variable spread of 0.8 pips. All other details are identical to the other two accounts.
Each account is available in 5 base currencies and all funds are protected in Tier 1 bank facilities. There Are also additional accounts for VIP and corporate clients, however the details of these are not available apart from the fact that you need to actively trade larger volumes.
Platforms
There is only one trading platform available with GIFX Prime, and that is MetaTrader 5 (MT5). MT5 is the younger brother of the mega popular MEtaTrader 4 (MT4) and has yet to take off as MT4 did, it is however slowly being picked up by more and more traders and brokers alike.
MetaTrader 5 (MT5) is a solid platform and allows for a lot of freedom and customisation and is able to handle hundreds of indicators and expert advisors. MT5 is available as a desktop download or as an app for your iOS or Android devices.
It would be nice for there to be more options when it comes to trading platforms as many people may want to use a different platform or some form of WebTrader.
Leverage
GIFX Prime offer a maximum leverage of 1:1000, this can be tempting for many new traders, however trading with a leverage that is too high can cause you to quickly lose your account. It is nice that GIFX Prime allow you to use such a high leverage, however we recommend that you do not go any higher than 1:500 or even start at around 1:200 until you are used to how trading and leverage works.
The break down of maximum available leverage is as follows:
Forex: 1:1000

Stocks: 1:20

Indices: 1:200

Cryptocurrencies: 1:10

Commodities: 1:67
Trade Sizes
All accounts have a minimum lot size of 0.01 lots (micro lot) however there is no information on the website in regards to the maximum lot size. These often range between 100 lots and 1,000 lots however we can not give an exact figure as to how many lots GIFX Prime allow.
Trading Costs
GIFX Prime operate on a spread based system and so do not take any commission while trading, instead they add a small amount of spread to each trade. The amount of spread is decided by which account type you have, on their mini account it is 1.2 pips, their classic account 1.0 pip and on their premium account 0.8 pips. This does not mean that the spreads will be this low, you can expect them to be higher than the stated amount as there will be the usual spread added on top of these additional spreads.
Assets
There are a number of different assets that can be traded, we have broken these down for you below:
Forex: 47

Stocks: 10

Indices: 16

Cryptocurrencies: 5

Commodities: 15
It is nice to see a range of different tradable assets, including cryptocurrencies which is a new and growing market in terms of trading.
Spreads
The spreads that GIFX Prime offer were mentioned in the trading costs section of this review, they are based on the account type that you have. The higher tier account that you have the lower the spread. We are unable to locate exact spreads, but we know that a certain amount is added to each trade in order for GIFX Prime to make profits.
Minimum Deposit
There is a minimum deposit of $100 for GIFX Prime's mini account, $1,000 for their classic account and $5,000 for their premium accounts.
Deposit Methods & Costs
GIFX Prime offer a number of different deposit methods from bank wire, Visa / Mastercard, WebMoney, Neteller and Skrill. There are no additional fees when depositing.
Withdrawal Methods & Costs
The withdrawal methods provided by GIFX Prime are the same as their deposit methods. There are also no fees when withdrawing your funds. Each withdrawal method has an individual minimum amount, so be sure to check the bale below to see what the minimum is for your prefered withdrawal method.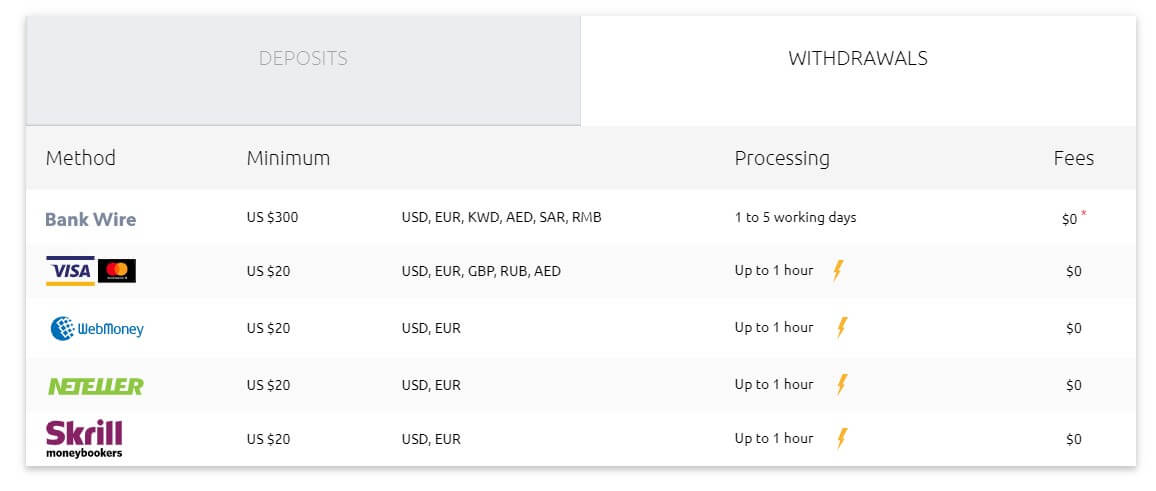 Withdrawal Processing & Wait Time
The processing time for withdrawals depend on the method of withdrawal, bank wire takes between 1 day and 7 days, all other methods are processed within 1 hour, there may be additional length based on the system used by your selected method.
Bonuses & Promotions
As far as we can tell, there are no current bonuses or promotions, there may be some in the future so make sure to check back onto their site in case a new promotion comes up.
Educational & Trading Tools
GIFX Prime do not offer any educational services, however there are a couple tools on their site to help you. There is a calculator for converting currencies, an economic calculator with some basic information about upcoming news events, and finally, a technical indicator showing if different indicators are signalling a buy, sell or are neutral.

Customer Service
There are a number of different ways to get in touch with GIFX Prime, they offer a live chat to talk to a person on live chat, we tested this method and got through to someone within 2 minutes, they were helpful and answered our questions without much delay.
There are also phone numbers and emails for different departments within GIFX Prime such as client support, account opening, general enquiries and complaints. The physical postal address is also available should you wish to send a physical letter.

Demo Account
It would appear that GIFX Prime currently do not offer demo accounts, as once we had signed up, there were only options to open live accounts. So at this point in time, demo accounts are not available.
Countries Accepted
GIFX Prime does not offer trading services to to residents of certain jurisdictions such as Afghanistan, Hong Kong, Belgium, Japan, the United States of America and some other regions. Should you have any questions regarding the provision of services to your specific area, please contact the broker's support team.
Conclusion
GIFX Prime offer a solid platform, they have a range of account, with a lower starting deposit of $100 it makes it easier for newer traders to start trading with them. The trading costs are acceptable however it would be nice to have demo accounts available to test the waters for new traders. With only MetaTrader 5 available to trade with, it could limit some traders out of their service.
We hope you liked this review, be sure to check out our other forex broker reviews to find out which broker is the best match for you.