MM Financial Experts is an FX and CFD broker that is also a binary options provider. The company is owned by Elit Property Vision LTD, a Bulgaria-based company that also owns other brokerages, including GrahamFE and WellingtonInv. These providers don't loudly advertise their affiliation with the company, which is never a good sign. Taking a look at this specific brokerage's offers on its own, we see a diverse range of asset classes that can be traded from 8 different live accounts. With so many options to choose from, opening an account can quickly become a tricky process. We've gathered all the information we could to bring our readers a comprehensive review that can help with the decision of which account to open, or answer the question of whether this broker is a suitable candidate.
Account Types
MM Financial offers a diverse range of accounts, including Test and Micro accounts, along with Standard, Silver, Platinum, Sapphire, Trader, and Business accounts. As one reaches higher account tiers, then extra benefits will be unlocked. Some of those advantages include expedited withdrawals, spread discounts, earned interest on profits, and risk-free trades. This is a common tactic used by brokerages that push for traders to make larger deposits. Traders will find that this broker's website can be vague where it counts, especially when describing trading conditions and prices. We were able to determine that spreads start at 4 pips with discounts given once one reaches the Silver account or higher, but we couldn't find any mention of commission charges at all. Traders will notice that those spreads are much higher than average, and potential commission charges could quickly raise the trading cost to an alarming rate. A quick overview of each account has been provided below.
Test Account
Minimum Deposit: $1,000 USD
Leverage: Up to 1:200
Spread: From 4 pips
Commission: NA
Micro Account
Minimum Deposit: $5,000 USD
Leverage: Up to 1:200
Spread: From 4 pips
Commission: NA
Standard Account
Minimum Deposit: $10,000 USD
Leverage: Up to 1:200
Spread: From 4 pips
Commission: NA
Silver Account
Minimum Deposit: $25,000 USD
Leverage: Up to 1:200
Spread: From 3.6 pips
Commission: NA

Platinum Account
Minimum Deposit: $50,000 USD
Leverage: Up to 1:300
Spread: From 3.4 pips
Commission: NA
Sapphire Account
Minimum Deposit: $75,000 USD
Leverage: Up to 1:400
Spread: From 3.2 pips
Commission: NA
Trader Account
Minimum Deposit: $100,000 USD
Leverage: Up to 1:500
Spread: From 2 pips
Commission: NA
Business Account
Minimum Deposit: $750,000 USD
Leverage: Up to 1:500
Spread: From 1.2 pips
Commission: NA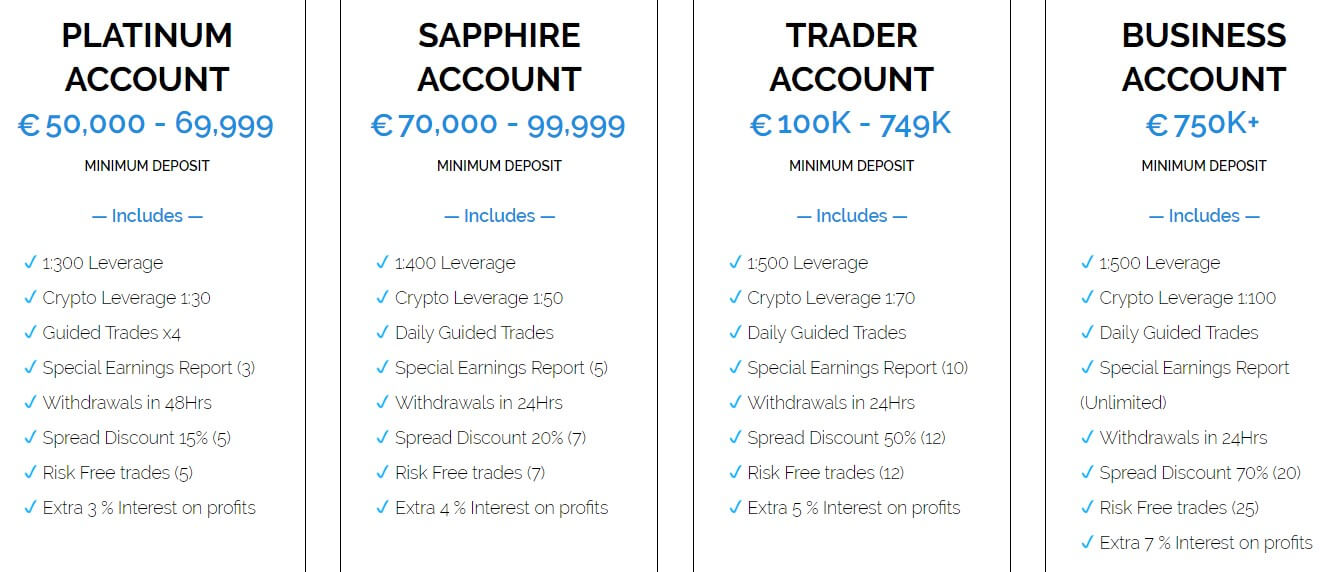 Platform
The broker offers a simple web-based platform named "Trading Platform" in place of a more popular option like MetaTrader 4 or 5. Beginners may find the registration process to be simpler through this option since one only has to go to the "Trade" tab on the website to register and access the platform. However, more seasoned traders will likely suffer at the hands of the bland platform that doesn't quite stand alongside MT4 in terms of accessibility, functions, and overall attractiveness. It's disappointing that MM Financial isn't willing to pay the licensing fees for a better platform, considering that they are a more expensive brokerage that is owned by an even larger company.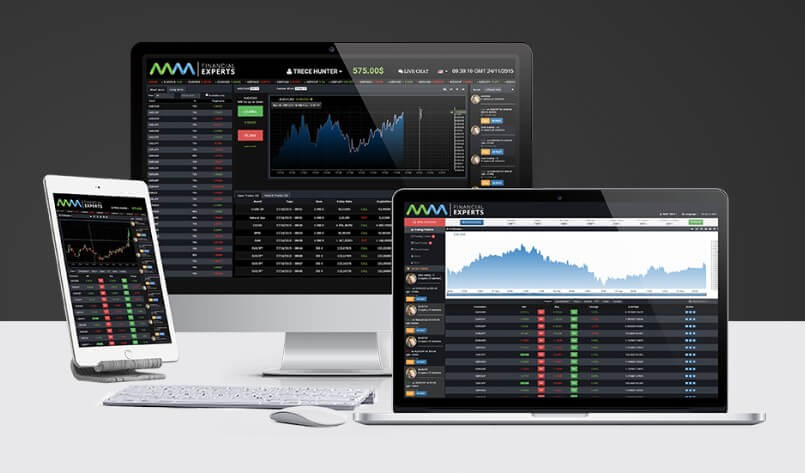 Leverage
The broker offers a leverage of up to 1:200 on their first four account types, pushes the cap to 1:300 on the Platinum account, and up to 1:400 on the Sapphire account. The maximum leverage ratio tops out at a flexible 1:500 maximum on the Trader and Business accounts, providing another advantage to the top-tier account holders. In a similar fashion, certain leverages are assigned to each account when trading cryptocurrencies. Take a look at those options below:
Test Account: 1:10
Micro Account: 1:10
Standard Account: 1:15
Silver Account: 1:20
Platinum Account: 1:30
Sapphire Account: 1:50
Trader Account: 1:70
Business Account: 1:100
Traders will notice that some of the crypto leverages are much higher than those offered by the competitors. However, one should always remember the risks associated with using high leverage. We wouldn't recommend using higher options like those featured here without gaining a great deal of experience. Fortunately, traders can start at a lower level and work their way up.
Trade Sizes
When it comes to trading conditions, the broker's website is very vague. This isn't the only category where we felt that the website could have done a better job providing us with information. Common sense tells us that the smallest trade sizes would be one micro lot on the Micro account and this is likely the starting option on the Test account as well. However, we can't say whether the Standard account adopts the same minimum trade size, or raises the requirement. Often times separate account types do come with different trade sizes, with around one lot being required on more expensive accounts.
Trading Costs
This broker is one of many that don't advertise their costs in a transparent way. The website spends a lot of time boasting about their account's special offers and spread discounts, which is actually just a fancy way of advertising spreads that are more than double the average amount on most of their accounts. We would hope that this is a sign that commissions aren't charged, considering that those charges would put the cost of trading at an insane amount. However, we're left with more questions than answers when it comes to the overall charges applied by the broker, including withdrawal fees. This is another red flag that MM Financial may not be a straightforward option.
Assets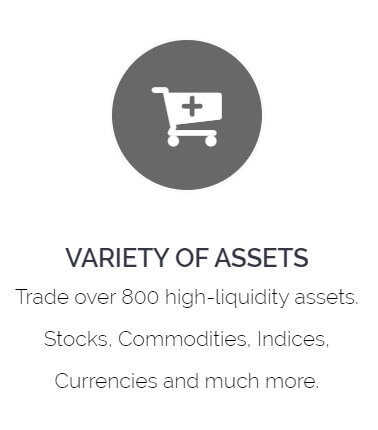 Although MM Financial doesn't provide a comprehensive list of their available instruments, they do advertise currency pairs, indices, commodities, and stocks as being among their offers. The broker also offers currency pairs, which aren't offered nearly as common among their competitors. In total, MM Financial claims to offer more than 800 liquid assets for trading, but traders shouldn't be surprised if this statement doesn't hold up entirely.
Spreads
When it comes to spreads, the broker's website doesn't throw out any exact numbers and instead lists the discount one will receive based on account type. This makes it sound like a great deal when it isn't. After checking the platform, we found spreads to be around 4 pips. Following that math, we were able to determine the average spreads one would likely see on each account type once discounts have been applied. Those figures can be viewed below.
Test Account: 4 pips
Micro Account: 4 pips
Standard Account: 4 pips
Silver Account: 3.6 pips
Platinum Account: 3.4 pips
Sapphire Account: 3.2 pips
Trader Account: 2 pips
Business Account: 1.2 pips
Do keep in mind that spreads may deviate from the above numbers since the website isn't clear about the figures. Judging by what we found, it seems that MM Financial expects one to make a $750K deposit to access less than average spreads. Otherwise, traders will be subject to spreads that are up to more than twice the industry average amount. At those rates, it would be difficult to turn a profit.
Minimum Deposit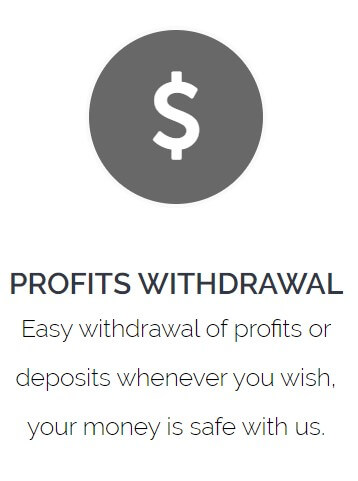 MM Financial starts off with an expensive $1,000 entry-level deposit on their Test account, which is much higher than the $100 (or less) entry-level deposits offered by many other brokers. From there, the asking amounts keep climbing, up to $5,000 on the Micro account, $10,000 on the Standard account, $25,000 on the Silver account, $50,000 on the Platinum account, $70,000 on the Sapphire account, $100,000 on the Trader account, and $750,000 on the Business account. Traders should also note that each account holds a maximum balance that tops out at $1 below the funding amount for the next account. For example, the Test out tops out at $4,999, which is just $1 below the Micro account's $5,000 deposit requirement. Costs with this broker aren't exactly beginner-friendly and it may take some time to save up to open a simple Test account.
Deposit Methods & Costs
Accounts can seemingly be funded through Visa, MasterCard, bank wire transfer, WebMoney, and Yandex. The website is rather vague when it comes down to describing specific funding information, so we can't say for sure whether deposits are fee-free or not. If you're making a deposit through bank wire, then you should expect to see a charge from the bank's side.
Withdrawal Methods & Costs
MM Financial follows standard guidelines that state withdrawals must be made back to the originating payment method in order to prevent money laundering. Any profits would be withdrawn through bank wire transfer. Note that there is a $50 withdrawal minimum, which could cause a headache later on, especially if one's luck goes south and they decide to pull out remaining funds. Traders can request a withdrawal online, by phone, email, or in person. Once again, fees aren't listed on the website, so the broker leaves their clients blindly hoping that charges won't climb too high.
Withdrawal Processing & Wait Time
The actual timeframe that it can take for the company to process your withdrawal will depend on your chosen account type. Those that can afford one of the better accounts will benefit from this procedure, with 48-hour withdrawals on the Silver & Platinum accounts and 24-hour withdrawals on the Trader & Business accounts. Everyone else will have to wait 1-5 business days for their withdrawals to even be processed. Many other brokers offer 24 to 48-hour processing, regardless of one's account status, so the wait time is rather extended here.
Bonuses & Promotions
MM Financial offers a Welcome bonus of up to 100% and other trading bonuses, along with a certain number of risk-free trades on each account, plus earned interest on profits for certain accounts. Note that some of these offers are reserved for accounts of the Silver status and up. Take a look at each account's special offers below:
Silver Account: 3 risk-free trades
Platinum Account: Extra 3% interest on profits & 5 risk-free trades
Sapphire Account: Extra 4% interest on profits & 7 risk-free trades
Trader Account: Extra 5% interest on profits & 12 risk-free trades
Business Account: Extra 7% interest on profits & 25 risk-free trades
Some additional offers include a certain number of guided trades or daily guided trades (depending on account type) and special earnings reports.
Educational & Trading Tools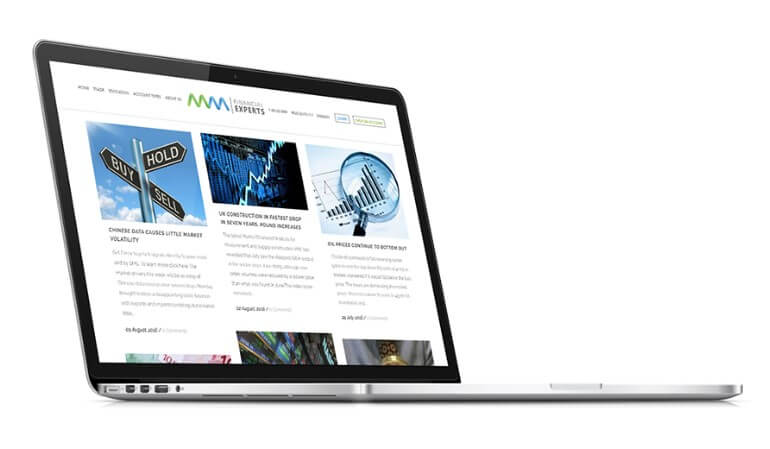 Traders won't find a wide variety of resources available on the broker's website, instead, MM Financial focuses on providing some articles about forex basics, analysis, trading plans, and market volatility. While those articles can be helpful, beginners will likely benefit from searching elsewhere on the web for more in-depth information and better learning tools, like video tutorials, e-books, and other sources. MM Financial seems to provide services for more experienced traders that can make larger deposits, which is likely the reason why they haven't invested much of an effort in this category.
Demo Account
Unfortunately, the broker does not seem to see the benefits associated with offering risk-free demo accounts to their clients. Most brokers offer these accounts at the bare minimum, so it's always a bit surprising when demo accounts aren't featured alongside other educational resources. The absence of these accounts might seem minor to some, but beginners might suffer without the chance to trade in a simulated environment before opening a live account.
Customer Service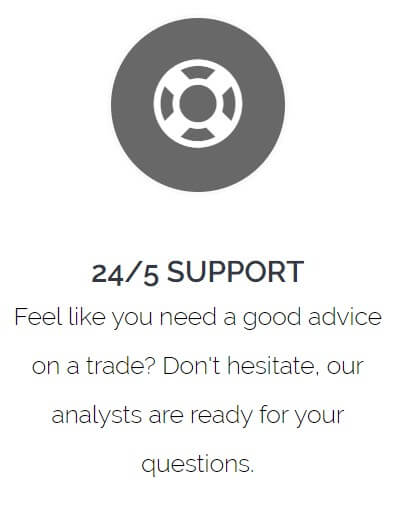 MM Financial doesn't exactly make it easy to reach out to support – the website doesn't offer any instant option like LiveChat and it also fails to list a contacts page. In fact, we couldn't even find a listed email address on the site, so traders will have to reach out to an agent through a form that is provided at the bottom of the website. 24/5 support is advertised, but we wouldn't expect to see quick responses with all things considered.
Countries Accepted
If you check out the broker's registration page, you'll find that the United States is missing from the sign-up list entirely. This isn't surprising, considering that the country is governed by strict regulation laws. The good news is that Japan, North Korea, and other commonly blacklisted countries can be selected.
Conclusion
Like many others that follow a similar account system, MM Financial places more of an importance on those that can afford to deposit a significant amount of money. It's understandable for those clients to receive some benefits, but lower status accounts suffer in some ways, such as being pushed to the back of the line for withdrawal processing, not having access to any promotional offers, and etc. Sure, there are some benefits, like high leverage options and a diverse range of assets to choose from, but is this enough when such options are readily available elsewhere? The broker's website is vague about funding and doesn't offer much in the ways of education.
Contacting support could be a nightmare, considering that the broker doesn't even offer a phone line or instant chat option. In a nutshell, MM Financial is an expensive broker that has the audacity to offer spreads from 4 pips on an account for deposits of up to $24,000, while offering common benefits on a vague and unhelpful website. This brokerage is better suited for experienced traders that can afford a better account type, and even then, those traders could likely do better elsewhere.