PSS Forex is an investment bad that is also acting as a forex broker, based in a number of different countries including, Norway, Denmark, Sweden, Germany, Hong Kong, and Singapore, it has been up and running since 2003. PSS Forex has an aim to help their clients become financially independent through their guidance and tools. We will be taking a look at what is being offered in a little more detail to see if they can achieve this goal.
Account Types
PSS Forex keeps things simple, there is only one account available which caters for everyone. A lot of reading is required to work out exactly what hew trading conditions are for these accounts, we have managed to find the following. Spreads currently start from around 0.1 pips however there is a volume-based discount, the more you trade, the lower the spread will become. Access to all available assets including forex, crypto, and commodities. In order to find out any additional information, we are required to sign in to an account, the information is not readily available on the website. Swap-free accounts are available upon request should you not be able to pay or accept swap charges due to your beliefs.
Platforms
Just like the account types, PSS Forex keeps things simple for their clients, there is only one trading platform available. It is MetaTrader 5 (MT5), MT5 is one of the most advanced trading platforms for retail traders, offering a whole host of features such as one-click trading, compatibility to thousands of indicators and expert advisors and a dedicated signal and auto trading community. There is a huge amount of customization available and the platform is easily accessible through a desktop download, iOS, and Android devices, and as a WebTrader to trade directly from your internet browser.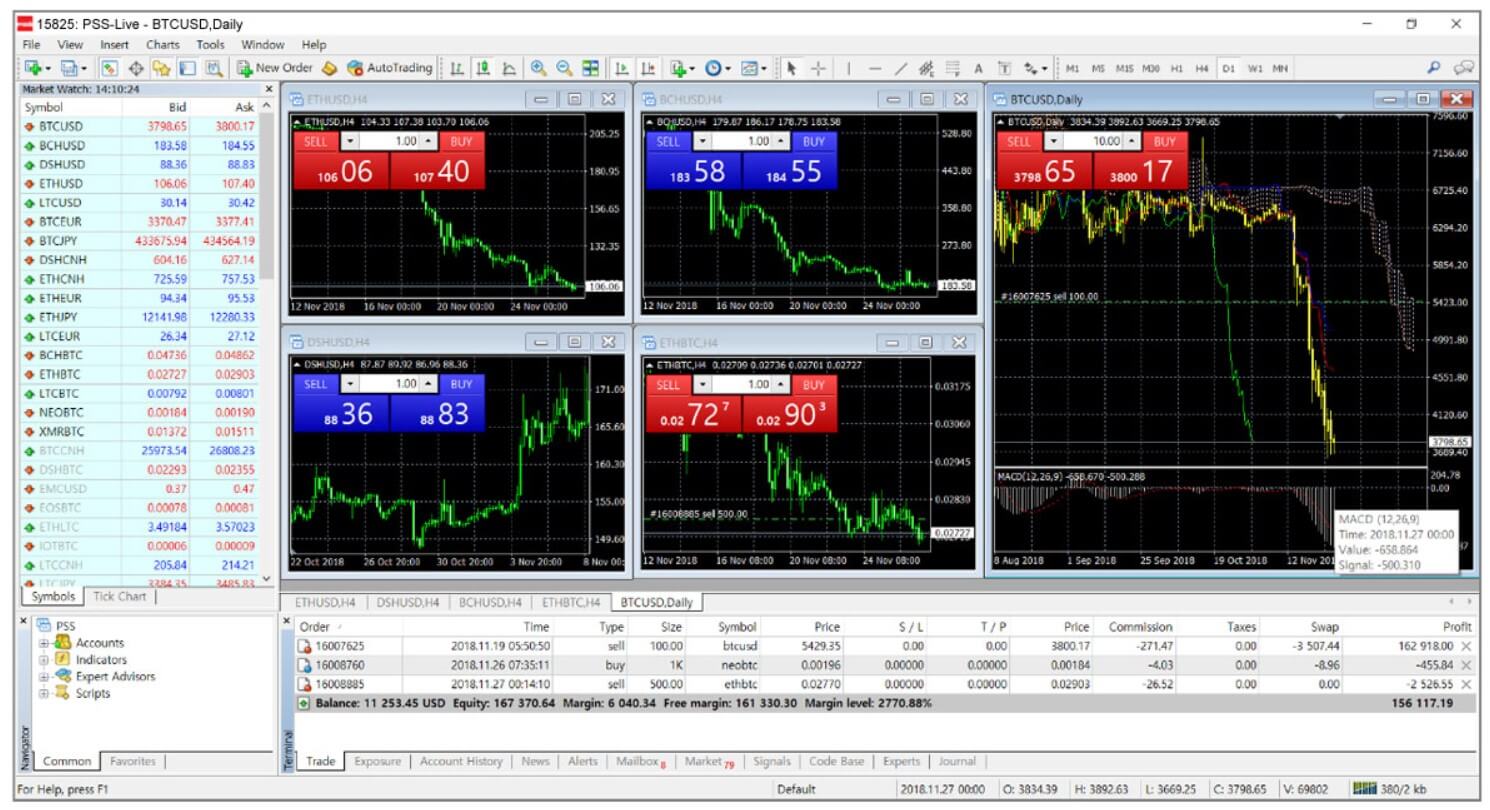 Leverage
We had a look through the website and terms of use but could not locate any information regarding the leverage levels provided, so we are unable to provide you with the minimum or maximum leverage levels for PSS Forex.
Trade Sizes
The minimum trade size being offered by PSS Forex is currently set at 0.01 lots which are also known as a micro lot. There is, unfortunately, no information available in regards to the maximum trade sizes.
Trading Costs
PSS Forex does not charge a commission on their trades, the only cost comes in the form of a spread, these are still quite low and can be seen with a minimum of 0.1 pips, although these are often slightly higher and some pairs naturally have higher spreads than others. It is quite rare to see such potentially low spreads on accounts that don't have any commission added to them.
There is also a dormancy fee, so if you do not use your account for 6 months, there will be a charge of $10 per month until either trade is executed or the account balance reaches $0.
Assets
There are a number of different tradable assets available with PSS Forex, these include over 180 currency pairs, over 300 different EFTs, Bont trading, more than 19 different cryptocurrency pairs including Bitcoin and the opportunity to trade over 20,000 different stocks. There is a huge selection to choose from and we are particularly happy to see cryptocurrencies making the grade as they are quickly becoming the go-to asset for both new and experienced traders.
Spreads
There is no definitive answer to what the spreads are like with PSS Forex, however we can see that the minimum spread is stated as 0.1 pips, however, due to the nature of spreads, these will often be seen higher and some currency pairs naturally have a higher spread and so will always be above this figure.
Minimum Deposit
We were not actually able to find this information located on the PSS Forex website. Some other sites have stated that the minimum deposit is $100, however, there is no confirmation of this on the PSS Forex website.
Deposit Methods & Costs
There are a number of different ways to deposit with PSS Forex, these include things like credit/debit cards, bank transfers and a number of different e-wallets. There is no indication on the site of exactly which wallets are available. Recently in 2019 PSS Forex added a number of cryptocurrencies as a deposit method, it is nice to see the adoption of cryptocurrency as it is an ever increasingly used money transfer method.

All funds are held in a segregated account for protection and there is no indication of any added fees to deposits.
Withdrawal Methods & Costs
The same transfer methods are available for withdrawal, again there is no indication of which e-wallets are available. Similarly to the deposits, there are no added fees to withdrawals.
Withdrawal Processing & Wait Time
Processing time is currently not stated on the website, the usual wait for bank transfers is 3 to 5 business days, credit/debit cards are 1 to 5 business days and e-wallets are often processed between 24 and 48 hours. These are just estimates though, as no solid information is currently provided by PSS Forex.
Bonuses & Promotions
Currently, it does not appear that there are any bonuses or promotions available with PSS Forex, they indicate certain benefits but these come as standard with the accounts. If you are interested in opening an account with PSS Forex, then be sure to check back regularly to see if any promotions have come up.
Educational & Trading Tools
There are some basic tools and information available from PSS Forex, there is an economic calendar allowing you to see any upcoming major news events, there is also an Analyst Room which can give some detailed analysis on certain markets to help you decide what to trade. Finally, there is some market data available, to use alongside your own analysis, there is no formal education of any kind.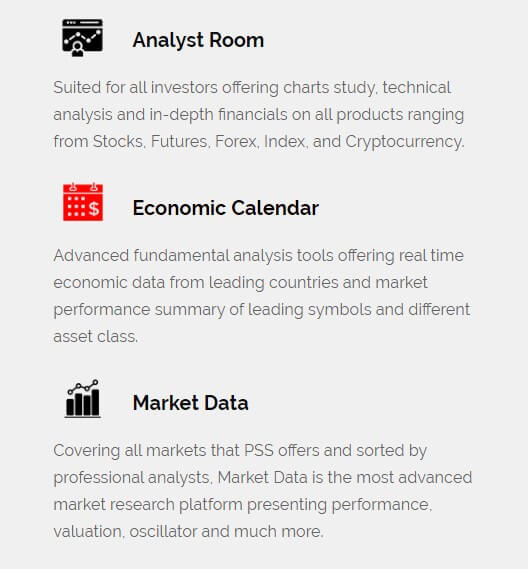 PSS Forex does also offer some trading signals to use within MT5, should you wish to trade using their expert advisor robots and signals.
Customer Service
PSS Forex offers a few different ways to get in contact with them, through their online form, you can send your queries and get a reply via email. There are also offices in Norway, Denmark, Sweden, Germany, Hong Kong, and Singapore, each with their own phone number to get in touch with the branch that you want. Each branch also has its physical postal address available.
We tested out the Norway branch, they had an English speaker and were able to answer most of our questions, we did ask about the minimum deposit amount, but the response left us no closer to knowing the minimum deposit which was a little disappointing.
The customer support team is available 24 hours a day, however, they are closed over the weekend when the markets are also closed.
Demo Account
A demo account is available, however, the demo account simply uses the web trader in your internet browser. This allows you to trade and practice on your internet browser, but does not show off the main trading terminal and makes it hard to test out any advanced strategies. The account comes with $100,000 practice funds for your testing needs.
Countries Accepted
There is an indication in the PSS Forex terms and conditions that certain countries will be excluded from using then service, however, there is no list of countries present, so be aware that than signing up, it may be indicated that your country of residence is not accepted at PSS Forex.
Conclusion
PSS Forex offers a lot of different services, focusing on the trading side of their operation, they make it very simple by offering a single account and single trading platform (although available on multiple devices). There is a slight lack of information regarding some of the trading conditions such as deposit limits, and also the details on the deposit and withdrawal methods. Customer service was quick to respond but failed to answer one of our questions. Trading conditions seemed good, no commission and low spreads, however, the spreads that we did see were considerably higher than the stated 0.1 pips, however, fluctuations do happen.
PSS Forex seem competent, if you decide to join them, just be aware that your country may not be accepted, so if in doubt, contact their customer services to check.
We hope you like this review, if you did, be sure to check out some of the other reviews to help find the broker that is right for you.