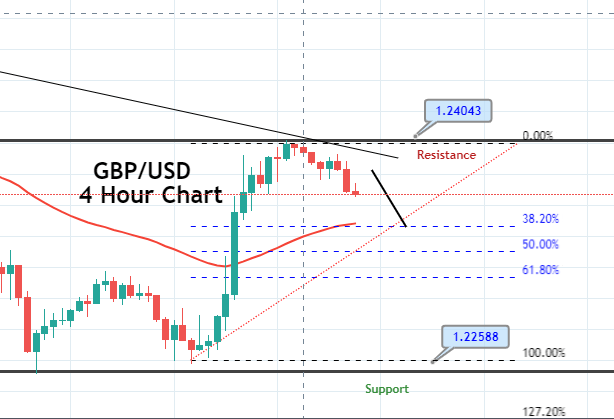 The GBP/USD extended its previous bullish moves and dropped to 1.2375 from the 1.2402 level while represented 0.17% losses on the day mainly due to the broad-based U.S. dollar strength due to risk-off market sentiment. On the other hand, the reason for the pair's downside momentum could also be the fresh tension regarding the EU-UK Brexit talks, which eventually undermined the cable currency and contributed to the currency pair declines.
It is worth recalling that the currency pair was also burdened by the release of the final gross domestic product figure, suggesting that the first quarter's contraction was deeper than initially estimated. At the data front, the U.K.'s GDP dropped 2.2% in the first quarter of 2020, mainly due to the Covid-19 outbreak, as per the revised estimate released by the Office of National Statistics Tuesday.
Afterward, the UK PM Johnson's efforts (via infrastructure spending) to balance the worst GDP in 41 years gave some breath to the pair's downside bias. Whereas, the currency pair buyers might not wait further as the departure talks between Britain and the European Union (E.U.) are not showing any progress. In the meantime, the updates suggest the old neighbors might again fail to deliver any trade deal when they bid adieu on December 31, 2020.
As per the E.U. Chief Brexit negotiator Michel Barnier, the United Kingdom has not completed necessary equivalence assessments by today's deadline, signaling a shock to the U.K.'s efforts to determine the City's access to E.U. Markets after Brexit.
Elsewhere, the Conservative Member of Parliament (M.P.) from the UK, Lia Nici, exerted some pressure on the E.U. while handling the controversial fishing access as no deal will finish off the fishing industries some of the key regional economies, as per the U.K. Express.
The GBP/USD is trading at 1.2375 level, and it's finding immediate support at 1.2358 level. Closing of candles below 1.2404 level can open further room for selling until 38.2% Fibo level of 1.2340. But the bullish breakout of 1.2400 level can drive buying in Cable and can lead its prices towards the next target level of 1.2504 level. Unfortunately, the GBP/USD didn't trade in line with our forecast and already hit the stop loss.
Entry Price – Sell 1.23654
Stop Loss – 1.24054
Take Profit – 1.23254
Risk to Reward – 1
Profit & Loss Per Standard Lot = -$400/ +$400
Profit & Loss Per Micro Lot = -$400/ +$400