Forex24 is a broker you can trade with a wide variety of assets, 68+ currency pairs: majors, minors, and exotics, 11 commodities, 12 indices, 57 stocks, and 20 cryptocurrencies.
It offers several types of accounts and has a very complete website, and it is available in several languages, such as English, German, French, Italian, Spanish, Polish, Finnish, Greek, and Arabic.
But one of the most critical factors when comparing brokers is the regulatory aspect. Forex24 is a trademark owned by Lydya Financial Ltd. and is supervised by the Cyprus Securities and Exchange Commission (Cysec), licensed HE334292. This is a very reputable regulatory body within the EU, which monitors and enforces high standards for companies offering financial services under its license.
Forex24 is also a broker with an STP business model, that is, a broker that processes transactions directly with the market, not being the counterpart of its customers. This aspect is not so important when we talk about a broker with proper regulation, but many traders prefer this business model to the "Market Makers," whose brokers earn money when their clients lose it.
ACCOUNT TYPES
Forex24 has three different accounts. You can access them from a minimum deposit of USD 250 (Mini Bronze account), and access a wide variety of trading assets. The following are the characteristics of each account:
PLATFORMS
Forex24 offers two trading platforms, and both are available for use on computers, mobile devices, iOS, or Android. We talked about the popular MT4 platform and the Forex24 Webtrader platform.
The MT4 platform does not need a presentation, as it is the tool most used by traders. It has a great rapidity in the execution of orders. It offers the user a multitude of technical indicators. It has a very advanced graphics package and provides the possibility to automate your trading, through the EA's (Expert Advisors).
On the other hand, the Webtrader platform has a high-quality design and is based on MT4. It allows excellent customization, is simple and easy to use. It can analyze up to 10 charts simultaneously and has up to 5 different chart types.
In summary, two excellent trading platforms that Forex24 makes available to its customers.
LEVERAGE
Leverages vary depending on the type of account you have. In Bronze and Classic accounts, the leverage is the same. In the Pro Gold account, you can have larger leverage. Keep in mind that trading with greater leverage does not guarantee better results, in fact, it is often said that leverage is the main reason why beginners lose money in markets.
TRADE SIZES
The minimum trade sizes are 0.01 lots (micro lot), and the maximum trade size is 50 lots, here is an extract from a table on the broker's website:
Symbols – Min Position Size – Max Position Size
EURUSD

–

0.01 Lots

–

500 Lots

GBPUSD

–

0.01 Lots

–

500 Lots

USDCAD

–

0.01 Lots

–

500 Lots

USDJPY

–

0.01 Lots

–

500 Lots

USDCHF

–

0.01 Lots

–

500 Lots
TRADING COSTS
In addition to the costs for the spread (the difference between the purchase price and sale price), there are costs per lot traded, depending on the type of account are the following:
Commissions per Account Type:                     
Bronze:

0.0029 % Per Side    

Silver:

0.0025 % Per Side         

Gold: 0.0020 % Per Side
To these costs must be added the cost of the swap, that is, any position held overnight, which will incur a maintenance cost (interest). This amount can be negative or positive depending on the instrument and the direction of the position, and its amount is fixed by the central banks of the base currency of the open position.
In the event of not engaging in any commercial activity, the broker has the right to charge customers for all fees related to incoming and outgoing transactions, at least 10 units of the base currency, and not more than 2.5% of the total amount deposited.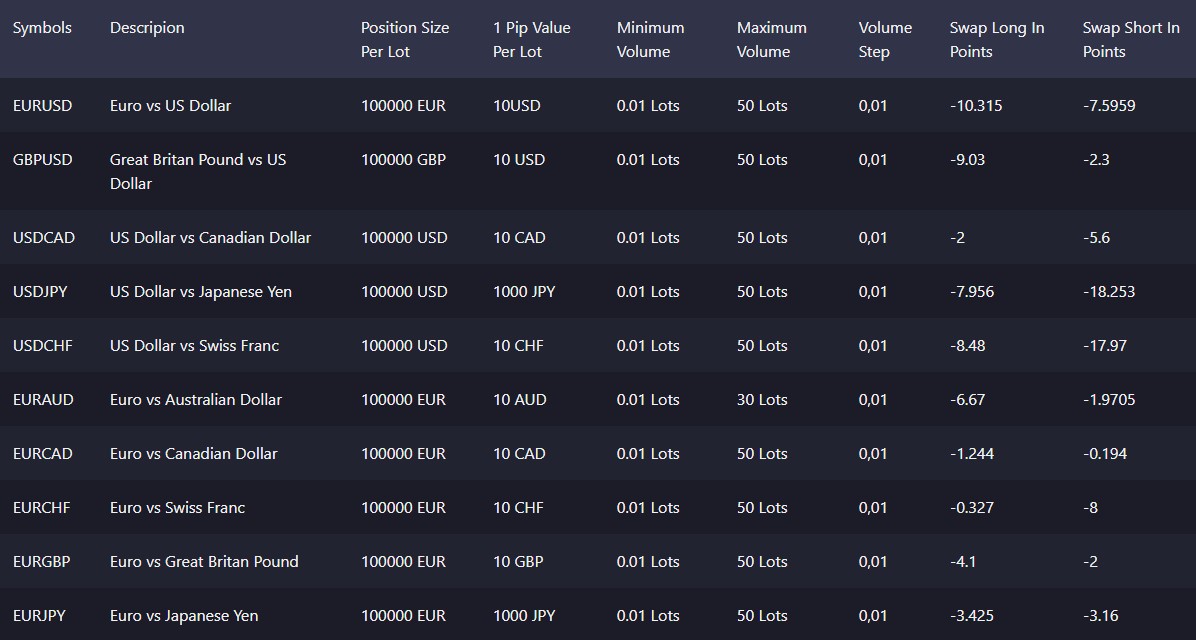 ASSETS
Forex24 has a wide variety of assets to trade with. You can trade 68+ currency pairs: majors, minors, and exotics, 11 commodities, 12 indices, 57 stocks, and 20 cryptocurrencies.
SPREADS
We have detected that spreads are based on account type. Below, we have provided the lowest possible spreads for each account type.
Bronze: Floating Low Spreads from 2.8 pips
Silver: Floating Ultra Low Spreads from 1.7 pips
Gold: Floating Ultra Low Spreads from 1.2 pips
MINIMUM DEPOSIT
The minimum deposit depends on each account; we show the different accounts with the minimum deposit required for each of them:
Mini Bronze account:

Minimum: $ / £ / € / 250 

Classic Silver account:

Minimum: $ / £ / € / 500       

Pro Gold account: Minimum: $ / £ / € / 1000

 

 

                  
DEPOSIT METHODS & COSTS
The deposit methods of the broker, and its costs, are as follows:
Credit or Debit card: Covered by the bróker. Deposit Time, 1 hour

Bank Transfer: Covered by the bróker. Deposit Time, 2-5 working days

Skrill: Covered by the bróker. Deposit Time, 1 hour

Neteller: Covered by the bróker. Deposit Time, 1 hour

WITHDRAWAL METHODS & COSTS
The withdrawal methods and their costs are as follows:
Credit or Debit card: 1 unit of the base currency of your account

Bank Transfer: Dependent on amount & banks involved

Skrill: Withdrawal Fee, 1%

Neteller: Withdrawal Fee, 0.15 EUR

WITHDRAWAL PROCESSING & WAIT TIME
Withdrawal Processing Time is 1 working day for all withdrawal methods after you must add the time that each withdrawal method entails, which usually ranges from 1 to 5 working days.
BONUSES & PROMOTIONS
Forex24 does not currently have any Bonuses or promotions, and we don't even know he's had them in the past.
EDUCATIONAL & TRADING TOOLS
Forex24 offers its clients a very complete glossary of terms. In this glossary, we find words related to trading and terms of economy in general, really very instructive. On the broker's website, we also have an economic calendar. We consider this tool to be fundamental, and it should be consulted daily, as it includes all the essential events of the day that can affect the different assets we trade.
CUSTOMER SERVICE
There are basically 3 ways to get in touch with Forex24 customer service, are phone, email, and a contact form that you will find on their website. The data are as follows:
Email: support@forex24.com

Phone: +357 25 26 20 49

Fax: +357 25 25 13 93

155 Ayias Fylaxeos, Ersi Court Suite 202, 3083 Limassol, Cyprus.
You can also contact the broker through their social networks, Facebook, Linked In, Google Plus, and Twitter.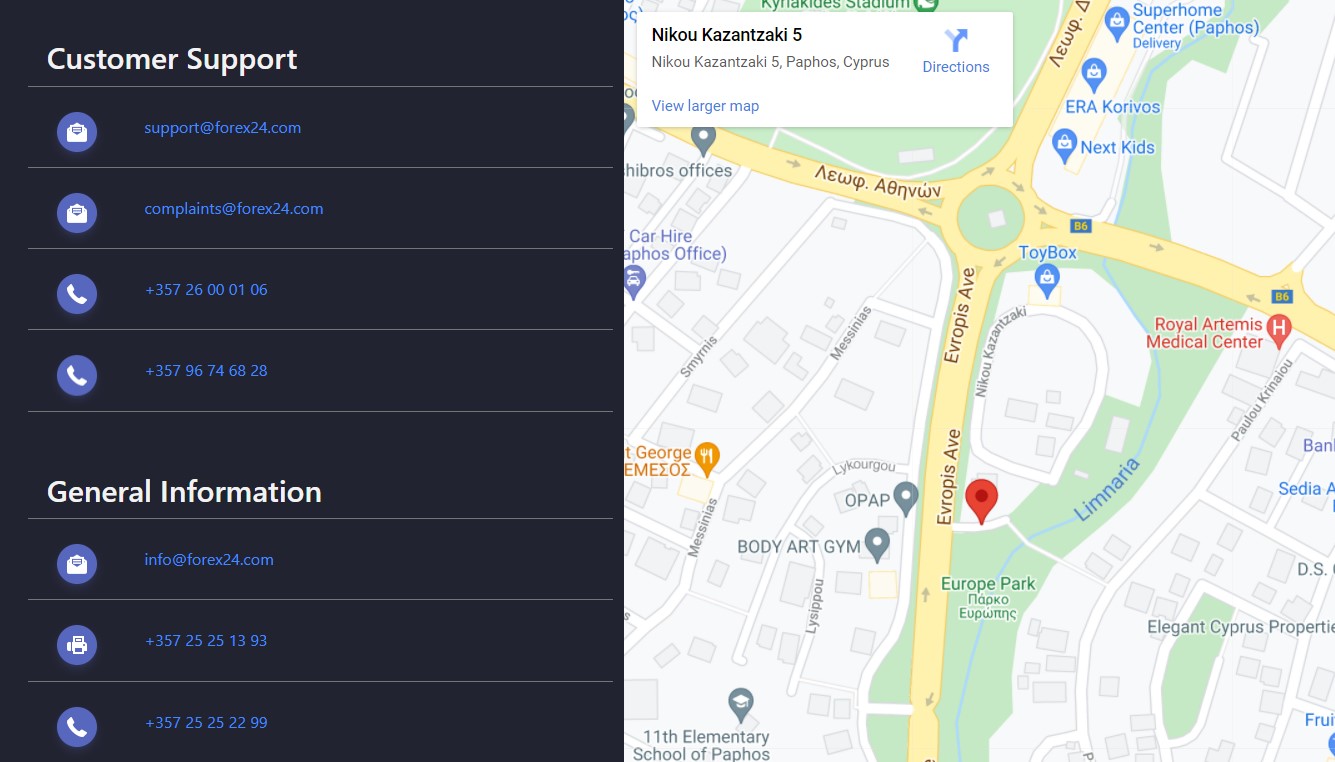 DEMO ACCOUNT
With Forex24, to have a demo account, you must fill out a questionnaire with your personal data, and wait for manual approval with the instructions for installation. It cannot be created automatically as on the pages of other brokers. We believe that this is an aspect that can be improved.
COUNTRIES ACCEPTED
Forex24 does not offer its services to U.S. residents, Canada, Japan, North Korea, Iran, Belgium, and some other regions. For more information, please contact customer service.
CONCLUSION
Forex24 is a Cysec regulated foreign exchange and CFD broker. The spreads offered by this broker are not up to the average of the rest of the industry. We cannot say that they are very high, but they will have an impact on our accounts if we trade with them for a long time.
There are several reasons why Cypriot brokers can be considered serious brokers. The local Commission is under the European umbrella MIFID, which is one of the most active agencies that implemented rules for financial companies that it oversees.
Let's just mention below two of the principles that guarantee the safety of your funds:
– Customer account segregation: this is a common rule in the EU, meaning that Forex24 cannot touch your deposits. This is done through segregated bank accounts. Your funds will be in one account, and the broker's operating account will be a different one.
– There is insurance against the insolvency or bankruptcy of your broker. All companies regulated by Cysec participate in a clearing fund. This system guarantees that your funds will be refunded if the broker goes bankrupt, up to a limit of 20,000 euros.
Advantages:
Regulated broker offering guarantees to its customers (CySec regulation)

STP model (broker earns commissions, not on the losses of his clients)

Available 2 excellent trading platforms, MT4 and Webtrader

Variety in deposit methods

Minimum deposit available. 250 USD

High leverage, possible with the Pro Gold account
Disadvantages:
High spreads, even in the Pro Gold account

We can find many brokers cheaper than a spread of 1.2 pips + commission