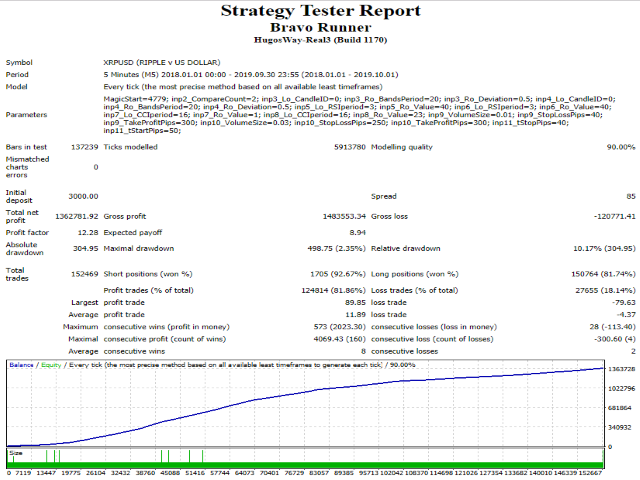 Bravo Runner is an automated system (EA), created in October 2019 by developer Gabriel Beaird, who has us accustomed to creating low-cost Eas for users of the MQL platform. We know very little about this tool, as there is limited information available, but can say that it has been designed to trade with cryptocurrencies, specifically with XRPUSD and BTCUSD.
Overview
Apparently, the best results are given using a time frame of M5, and the creator also recommends, as in most Eas a low latency broker to make the execution of orders as fast as possible. The leverage used by this system is 1:5. This strategy uses RSI, KIC, and some other indicators when they meet certain levels.
Bravo Runner system is very easy to use and learn. You don't need any previous experience to trade. Just invest in buying this EA and then just watch this Robot Trading do its job.
Unlike us humans, the Bravo Runner EA is not extinguished from emotions. Bravo Runner is available instantly at a very reasonable price for the results it provides, according to its developer. To be able to trade with this robot it is necessary to have hired a virtual server (VPS) or to keep the computer on 24/7.
Current features used by Bravo Runner: RSI, CCI, Stop loss (Trails profits), and a few more indicators that are not revealed by the system creator.
Service Cost
You can try this EA, and if the results are of your interest you can buy it on the MQL market for a price of 30 USD, which for an EA seems to us a very reasonable price. Even better, a free demo version is available for full testing prior to making a purchase.
Conclusion
It is highly recommended to try this EA on the Demo account for at least 2 weeks to see and understand how everything works. You should be comfortable with MT4 if you are going to use this EA.
We have little data on this tool, which also lacks user opinions that have tried it, given the short time it takes in the market. The creator provides us with some data of the operation of the robot in a real account, and certainly, the results are amazing, but we have to say that it is a screenshot, so we must be careful when validating this information.