Limit Order Hedging strategy
This video continues in the series showing you how you can make money by using hedging strategies to take advantage of breakouts and reversals in the market, no matter what direction. And while there are many different styles of hedging strategies, in this series, we are focussing on a simple way to maximize opportunities while increasing the chance of profitability, no matter which way the market moves and if used correctly, you will be able to utilize this in your own methodology.
While the following is risky – just like all trading, we will show you how to keep setups tight, while implementing clear and precise technical analysis that professional traders use every day in the Forex market. This strategy consists of two parts, the initial trade, and a backup trade. We have eyed an opportunity with multi-month lows for the EURCHF pair.
Example A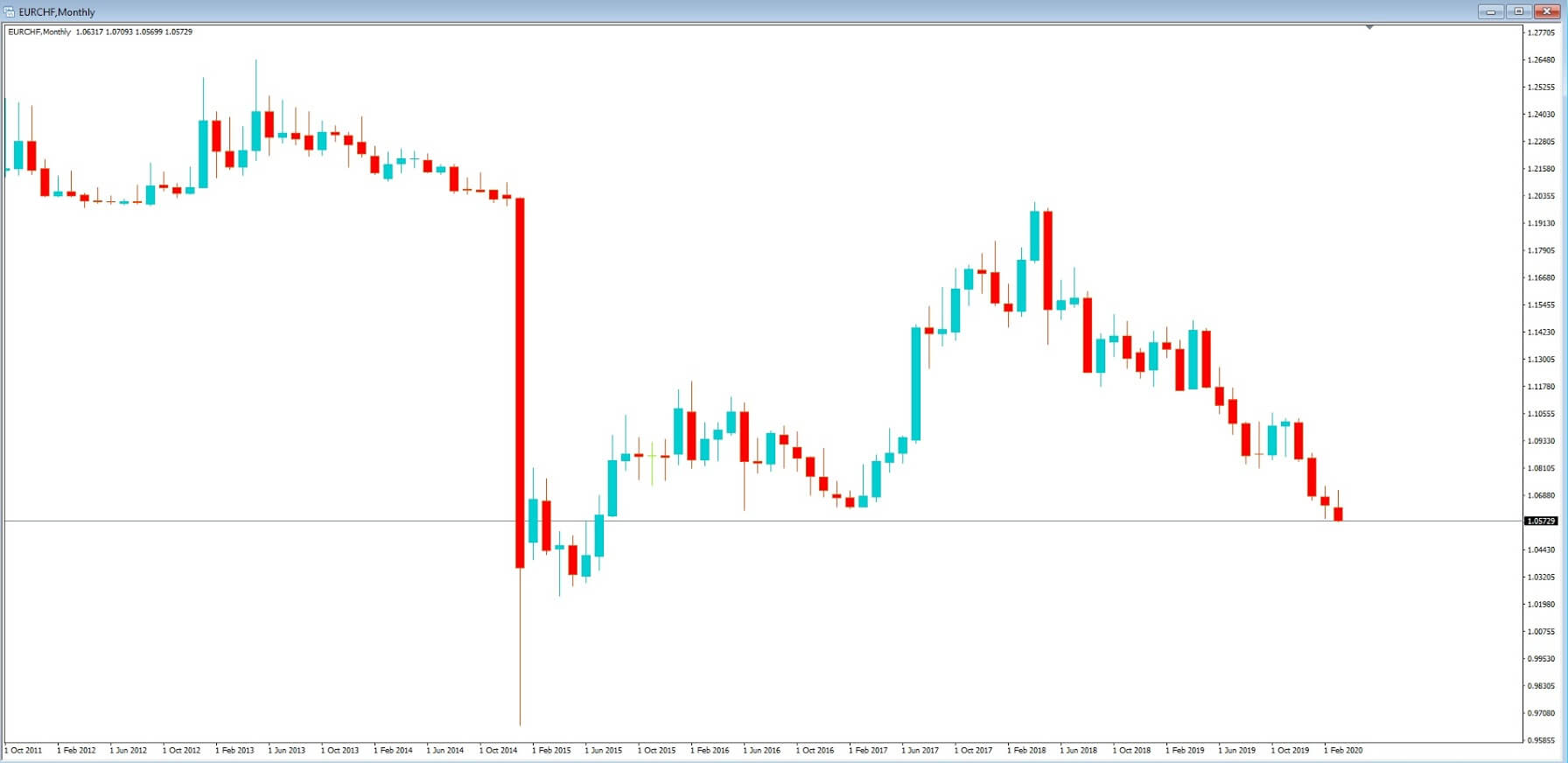 Example A is a monthly chart of the EURCHF pair, and we can see that the Euro is falling heavily against the Swiss franc. This is due to the flight to safety, whereby the Swiss franc is seen as a safe-haven currency during the Coronavirus pandemic.
However, the Swiss National Bank will be very unhappy about their currency being so strong and are threatening to intervene in the money markets to correct this. We can also see from this chart that we are approaching lows that have not been visited for five years. Therefore with the threat looming of the Swiss National Bank intervention, and previous reversals from these levels, we can hypothesize that although the continuing risks of the virus are still prevalent, there could be an argument for imminent price action reversal, particularly because of the current strength of the Euro and where the EURUSD is currently riding high around the 1.13 level.
Example B

Let's take another look at this chart as in example B. While we may see some further downside in the EURCHF pair, our particular area of focus will be on the key 1.03 level. Previously price action found support at this level for several months. We are going to look at putting in a buy limit at the 1.03 level, with a tight stop loss, which, if triggered, we will also implement an immediate sell limit order to target the 1.00 key psychological trading level, which is parity.
Example C

Example C is a one-hour chart of the EURCHF pair, and our setup for the first part of this trade. We have placed a buy limit at the key 1.03 level with a tight stop loss at the 1.0270 level and a profit target of the current trading range around the 1.0550 level.
Example D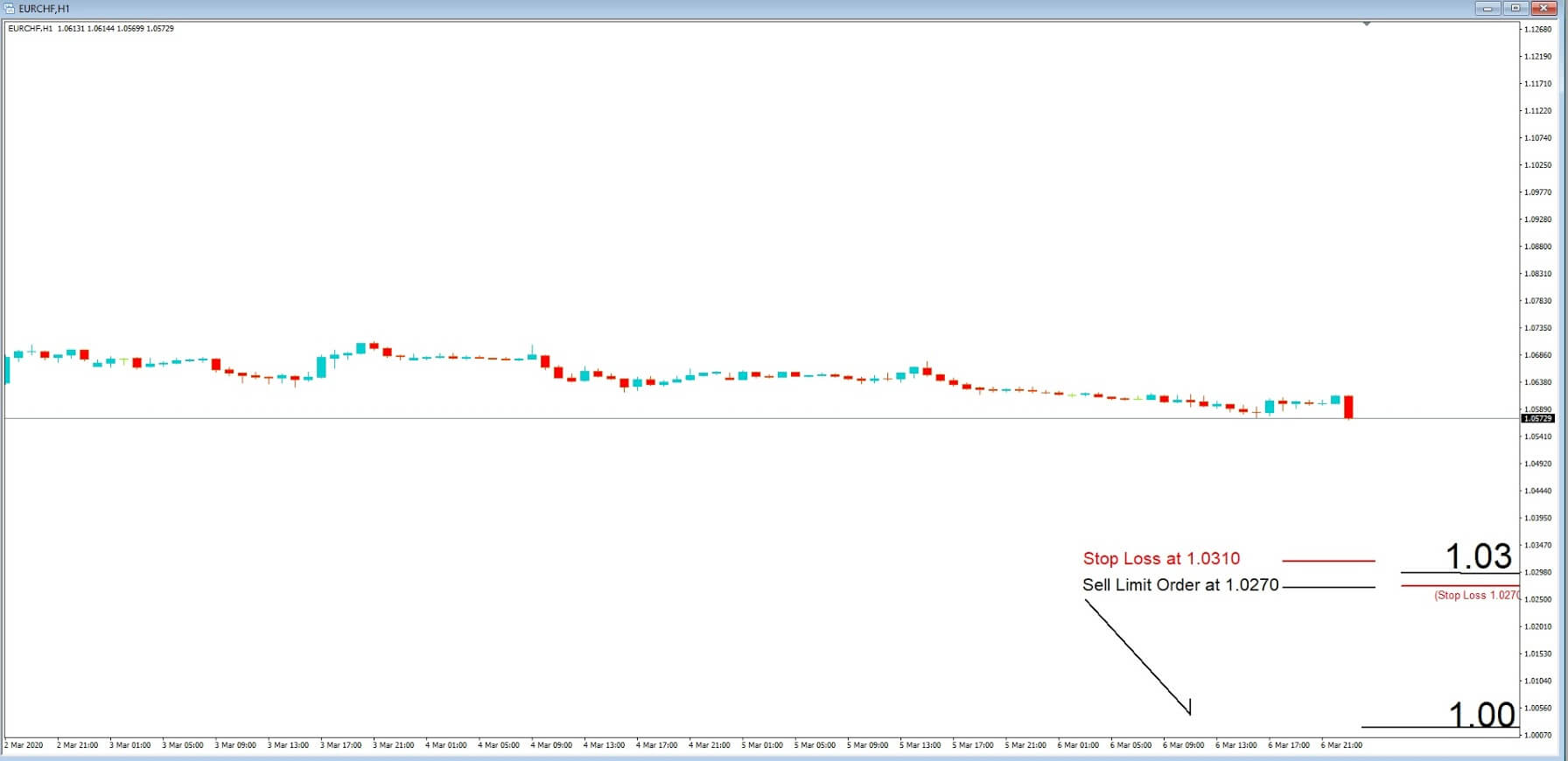 Example D, Now let's look at our backup or insurance trade in the event that price continues to fall in the pair. We want to to set up a sell limit order at the 1.0270 level which is our previous stop-loss, and this time we need a slightly wider stop loss on this new trade at 1.0310, in case the key 1.03 level is initially targeted from our entry, and where we believe it might possibly become an area of resistance before price action reverses again and where will be looking at a target of 1.000 or parity in the pair.
On the second trade, we should be looking to implement a protective profit stop at around 1.0240 level in order to, at the very least, cover the loss from our first trade.