FireworX Evolution EA is a robot created in April 2020 by German developer Michael Martens. Fireworx uses ideas from Random Walk and Mean Reversion Money Market Focus. The EA was developed in 2019 and an expanded version of professionally managed real money accounts has been used since the beginning of 2020. The available version is equally suitable for cost-effective use and has a wide range of comfort and safety features. A range of information clearly shows all major performance data on icons and portfolios.
Adjustment characteristics and parameters:
Magic number: Used to corroborate EA and its operations (portfolio).

Take Profit Pips: first trade races.

Beast Mode Multiplier: Increases package wins with multiple games.

Use Silent Mode: sends TP to the server when false (Standard: true).
FireworX EA Settings
-Read Portfolio File (Komfortfeature): Read the objectives of the text file portfolio
-Max Spread for Hedge Exit: maximum differential allowed to exit a locked position.
-Dynamic filters (safety features): prevents re-use in certain market situations.
-Max Trades L/S, 1st Step, 1st Multi, 2nd Step, 2nd Multi: Parameters for the management of subsequent stages.
-Increase Lots: dynamic increase of the reference value in the later phases (true/false).
-Use Target Trailer: Trailer Trailing Stop to ensure an elemental position (true/false).
-Use Tick Mode: if "true" it is possible to trade with each tick.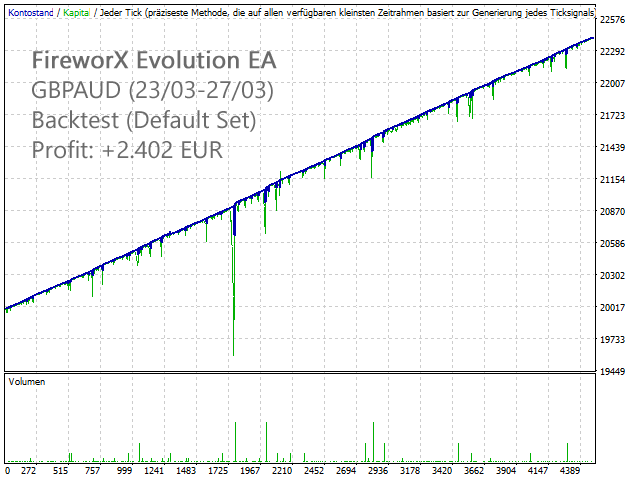 Important Observations
The predefined parameters already give good results. The recommended minimum account size for these parameters (maximum 9 operations, start 0.01 = dynamic reference value) is EUR 30,000/CHF/USD for a marketed symbol (for example, EURCAD). All (main) markets are tradable and a spread of less than 4 PIP (default value) is recommended. Currently in demo account testing, 24 different coin pairs with two different sets.
In conclusion, it seems that we are dealing with a quite professional robot, or at least the developer makes us understand that its main use was designed for portfolio management and has now developed this EA for use in private accounts. In presenting this EA, the creator provides several screenshots with alleged benefits gained from managing this EA but does not provide an audited real account which is what would be desirable, and more knowing that this system has already been used previously for the management of foreign capital.
It is advisable to download the demo version to see how this EA works and see its results before renting this EA because it is not available for sale. The rental price of Fireworx Evolution EA is USD 179 per month, certainly a major investment that will not be available to many, and that will require a fairly large balance account to make it profitable to use.