Dynamic Zigzag Levels is a piece of software that can be found within the indicators section of the MQL5 marketplace, we have provided a link to it just in case there are multiple indicators with similar names. The indicator was first uploaded on the 29th of October 2015 by Aleh Sasonka, it has received updates, the most recent update was on the 6th of May 2016, this brought it up to version 1.10.
Overview
The Dynamic Zigzavg Levels indicator can be used with the MetaTrader 4 trading platform, the indicator will display the two nearest zigzag levels. It will show the resistance and the support levels, the levels are calculated by the standard ZaigZag indicator.
The indicator should be used along with your manual trading and can be used on any timeframe, there will be an audio alert when a level s touched or broken through.
There are a number of settings available for the indicator:
-The period of history to calculate = 500 – history period, within which the levels (in bars) are searched for
-Depth – the setting indicator zigzag = 12 – ZigZag indicator parameter
-Deviation – the setting indicator zigzag = 5 – ZigZag indicator parameter
-Backstep – the setting indicator zigzag = 3 – ZigZag indicator parameter
-The color of the line-Up = SteelBlue – Up line color
-The color of the line Dn = SteelBlue – Dn line color
-An audible signal to the level crossing = false – enable the level crossing audio alert
-Sound File = "alert.wav" – select a sound file for the audio alert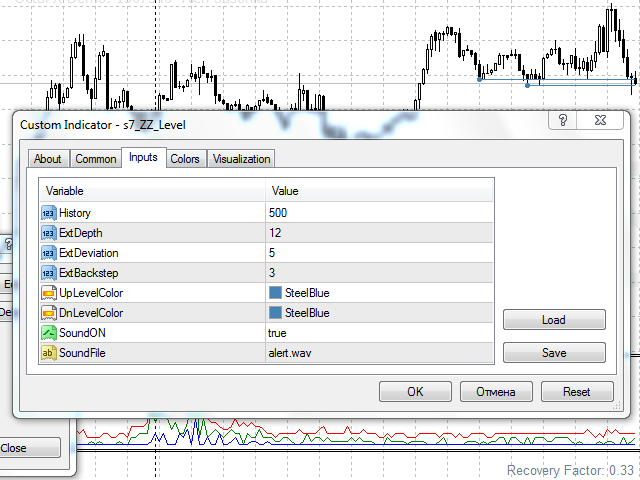 Service Cost
The indicator will cost you $10 to purchase it outright, unlike a lot of indicators on the MQL5 marketplace, there is no option to rent this indicator due to its low price. The site indicates that there is a free version available, however, we do not know what the limitations of this free version are.
Conclusion
Unfortunately, there aren't any reviews available, so we do not know if the users that are using the indicator are getting it to work properly. There are 6 comments, but all of them are from the indicators creator, as there are no reviews, we would highly recommend that you download the free version to test out, you should also contact the developer with any queries that you may have [prior to making a purchase, this way you can make sure that it will suit your needs.
This Forex service can be found at the following web address: https://www.mql5.com/en/market/product/12329