---
General overview
---
Crypto Market Cap Update:
Market Cap: $383,200,519,037
24h Vol: $19,647,906,771
BTC Dominance: 37.0%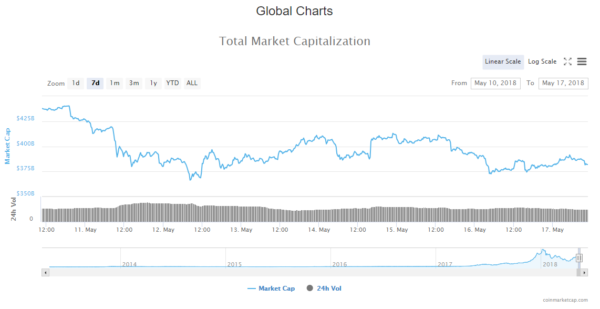 In the last 24 hours, cryptocurrency market capitalization increased from $372,910,000,000 to $391,463,000,000 and then fell back to $381,952,000,000 where it is now sitting. The market is mostly in green, with an average increase of 2-4%.  Biggest gainers among top 100 are iExec RLC +35%, Veritaseum +11%, Augur +7%, while biggest losers are Wax -13% and Gifto -14,83%. 
---
News
---
Top stories that came out in the last 24 hours are mostly positive, however, following the markets decline there are some negative as well. These are the significant headlines:
JPMorgan Co-President Jerry Pinto: Cryptocurrency "Will Play a Role" in Future
JPMorgan co-president Jerry Pinto confirmed the bank was "looking into" the Bitcoin space May 16, saying cryptocurrency "will play a role" in the future. Speaking to CNBC over two interviews, Pinto, who could be in line to succeed CEO Jamie Dimon, said that JPMorgan is able to trade Bitcoin futures but has not yet opted to do so.

"We are looking into that space. I have no doubt that in one way or another, the technology will play a role," he responded when asked about trading Bitcoin-based products.
Enterprise Ethereum Alliance Releases Client Specifications To Facilitate Interoperability
The Enterprise Ethereum Alliance (EEA) has released the Enterprise Ethereum Client Specification 1.0 today, May 16, that will enable interoperability for companies that use Ethereum blockchain-based solutions.
Russia's Digital Economy Bill Supported by State Duma Committee in Move Towards Crypto Regulation
Russian State Duma's Committee for Legislative Work will support the first reading of an initiative that will add the basic norms of digital economy to the Russian Federation Civil Code. This is the latest step on the road to regulating cryptocurrency in the country, local news outlet Izvestia reports Wednesday, May 16.
Twitter CEO Jack Dorsey Reaffirms Bullish Future on Bitcoin, Crypto as Global Payment
Twitter and Square Inc. CEO Jack Dorsey expressed optimism about cryptocurrency's role in the future of payments, saying that "the internet deserves a native currency" and "it will have a native currency," Bloomberg reports May 16.
Sberbank Completes First Blockchain-Enabled Commercial Bonds Transaction in Russia
Sberbank CIB, the corporate and investment banking business of Russia's largest bank Sberbank, conducted the first blockchain-based commercial bond transaction in Russia, according to a Sberbank announcement May 16. The transaction was completed in partnership with MTS, a leading Russian telecoms operator, and the National Settlement Depository (NSD).
PayPal CFO Says Merchants Aren't Interested in Crypto Due to Volatility
Centralized payment service PayPal was a pioneer in accepting cryptocurrencies. Merchants could opt-in to accept Bitcoin (BTC) on the platform as far back as 2014, when BTC was worth around $400. Today, Rainey stated that PayPal currently doesn't see much interest in digital currencies from their merchants, as the volatile nature of cryptocurrencies can cause contingent losses.
---
Analysis
---
BTC/USD
From yesterday's low at $8122 the price of Bitcoin has spiked to $8479 and has fallen back to $8270 which is an overall increase of 2%.
On the daily chart, things haven't changed much since yesterday. As you can see from the wicks, yesterday's candle indicated a lot of buying pressure, but those buyers failed to break sellers resistance at the 0.382 Fibonacci retracement level.
Zooming into an hourly chart, we can see the interaction with the Fibo level. The price action is starting to form what it looks like to be another upward channel.
---
Market sentiment
Bitcoin is still in the sell zone, as hourly technicals signal a sell.
Eight oscillators signal neutral and moving averages signal a strong sell.
---
Pivot points
S3 7524.2 
S2 7916.9 
S1 8126.5 

P  8309.6 

R1 8519.2 
R2 8702.3 
R3 9095.0
---
ETH/USD
From yesterday's low at $678 the price of Ethereum increased by 3% coming to around $700.
As you can see from the daily chart, yesterday's candle closed as a bullish pin bar, indicating a trend reversal. However, the price failed to come remotely close to the 0.618 Fibonacci level and exceed prior highs, which would mean that uptrend has begun. Today's candle is red, meaning that the price is below yesterday's close.
On the hourly chart, we can see that like in the case of Bitcoin. The price action is forming an upward channel. If we have in mind the fractal nature of the market, and what happened in a prior fractal, we can conclude that the price is going to fall further.
---
Market sentiment
Ethereum is still in the sell zone.
Oscillators are on neutral, and moving averages on a strong sell.
---
Pivot points
S3 557.19 
S2 622.19 
S1 664.38 

P  687.19 

R1 729.38 
R2 752.19 
R3 817.19
---
XRP/USD
From yesterdays low at $0.66, the price of Ripple has increased by 4.23% coming to $0.689 where it is now.
Looking at the daily chart, we can see that the price is on the levels of yesterdays open, which is not a good sign.
Zooming into an hourly chart, we can see the correlation with Ethereum and Bitcoin – there's an upward channel from which the price is going down.
---
Market sentiment
Ripple's hourly chart technicals signal a sell.
Oscillators indicate sell, and moving averages a strong one.
---
Pivot points
S3 0.58647
S2 0.63890 
S1 0.67322 

P  0.69133 

R1 0.72565 
R2 0.74376 
R3 0.79619
---
Conclusion
---
Crypto Market Cap Update: More down movements are expected as the prior fractal (upward channel) indicates. I have said in Thursday's conclusion that even though the corrective move is over, it might be only the first one. I think we are in for new lows, as the first corrective move to the downside was over, and the small bullish one didn't trigger a trend reversal.