General overview
Market Cap: $437,461,168,275
24h Vol: $25,972,848,078
BTC Dominance: 35.9%
In the last 24 hours the cryptocurrency market capitalization is on a steady rise. The evaluation increased from $421,551,000,000 to $437,461,168,275 where it is now.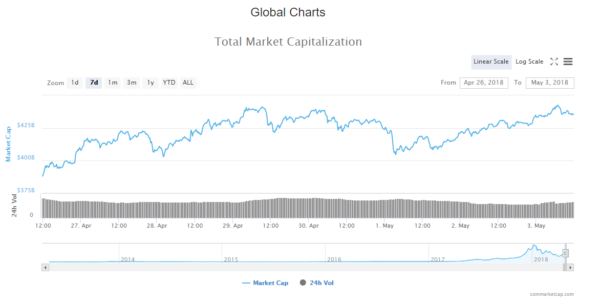 Some of the biggest gainers among top 100 are IOTA +12%, Ontology +21%, Golem +40%, Hshare +29%, BitcoinDark 131%. Eos dropped by 4.6%, and the biggest decrease in price was experienced by Mixin with a 9.14% drop.
News
Goldman Sachs to Begin Bitcoin Futures Trading Within Weeks
Investment banking giant Goldman Sachs will use its own money to trade bitcoin futures on behalf of its clients, according to the New York Times.
Source: coindesk.com
South Korea Bill Pushes Legalization of New ICOs after 2017 Ban
A group of lawmakers led by a politician from Korea's ruling political party is drafting a bill to legalize the launch of new cryptocurrencies and ICOs in the country. According to a report by The Korea Times, Rep. Hong Eui-rak of the Democratic Party of Korea, the political camp in power, is leading the charge – through the parliament – to challenge the government's ban on initial coin offerings (ICOs) in September 2017.
Source: ccn.com
Bloomberg: Crypto Not Really Comparable To Traditional Asset Classes, Future Uncertain
Bloomberg has detailed the course of cryptocurrency's volatility, trading activity, and correlation with other assets over a period of 16 months. In an article published Wednesday, May 2, they conclude that crypto's past performances are no guarantee of future ones.
Source: cointelegraph.com
Analysis
From yesterday's opening price until now, the price of Bitcoin increased by 2%, going from $9030 to $9220 where it is now sitting.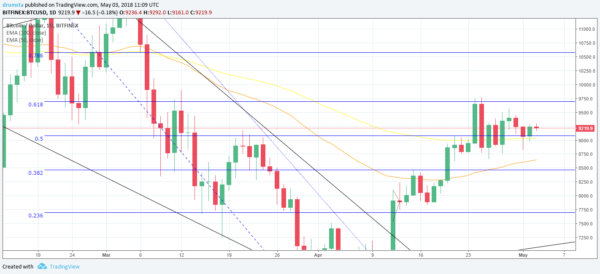 Looking at the daily chart, we can see that yesterdays candle closed above the 0.5 level as expected and is above the 100-day EMA. The price went a bit higher than yesterday but failed to move further, which can be seen as a wick.
Zooming into an hourly chart, we can see that Bitcoin's price is consolidating in this symmetrical triangle. Price is currently repealed by this upper resistance line, and likely will experience a short-term downward movement.
Hourly chart signals a buy.
Pivot points
S3 8538.3
S2 8849.9
S1 9043.2
P 9161.5
R1 9354.8
R2 9473.1
R3 9784.7
ETH/USD
In the last 24 hours, the price of Ethereum has increased by 7.24% going from $670 to $717.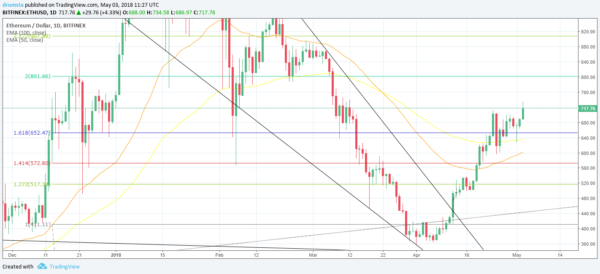 The daily chart looks bullish as the prior highs are exceeded.  The price has retraced a bit from today's opening which can be seen as a wick.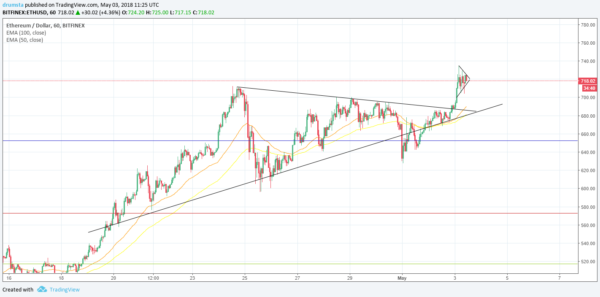 Zooming into an hourly chart, we can see that the price of Ethereums broke out of the triangle and has now created a bull flag from which it's likely going to continue the upward trajectory.
Hourly chart signals a strong buy.
Pivot points
S3 622.23
S2 651.56
S1 669.78
P 680.89
R1 699.11
R2 710.22
R3 739.55
XRP/USD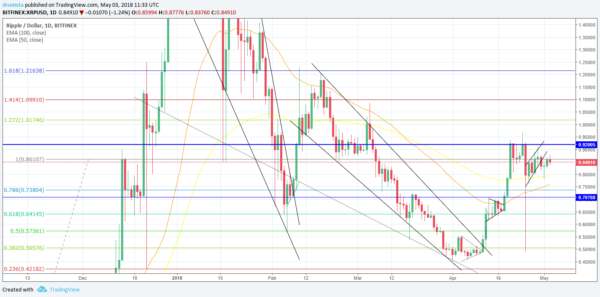 From yesterdays opening price until now the price of Ripple has increased by 2.10% from $0.83 to $0.848. The price was repealed by 100% Fibonacci level which serves as resistance.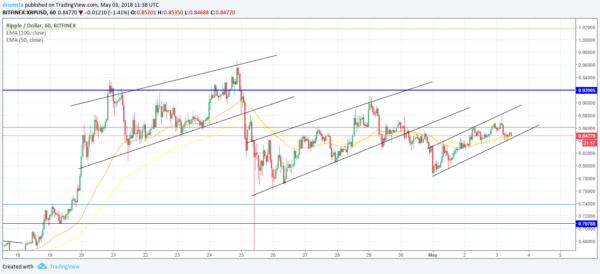 Zooming into an hourly chart, we can see that the price action formed three consecutive upward channels, the last one being the smallest one. Having seen that the prior channels were broken out of from the downside, this is likely going to happen again, as markets are fractal in nature. However, the last one is within the previous one and the moves are getting smaller so maybe we are going to see a breakout from the upside.
Hourly chart signals a buy, however, it more like neutral if you look closely at the oscillators and moving averages.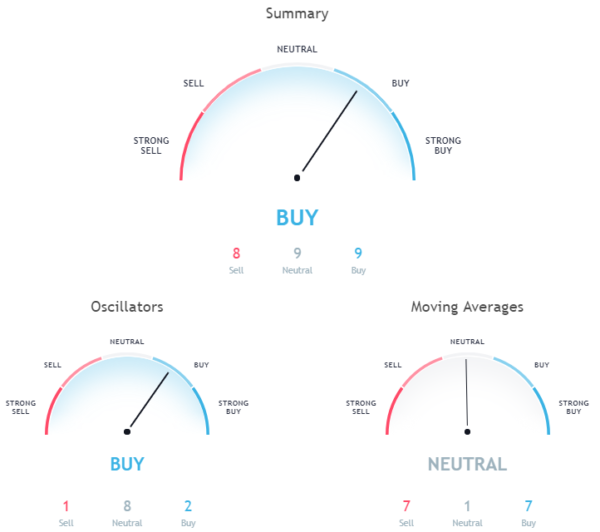 Pivot points
S3 0.76225
S2 0.80652
S1 0.83316
P 0.85079
R1 0.87743
R2 0.89506
R3 0.93933
Conclusion
Today, cryptocurrency market cap spiked to $441,836,000,000 which is the highest point since the 6th of March, but has retraced since. The cup and handle formation we see on the global chart is still at play, and if we take the spike into an account, we can conclude that the evaluation is starting to breakout to the upside which means we are in for more green days ahead.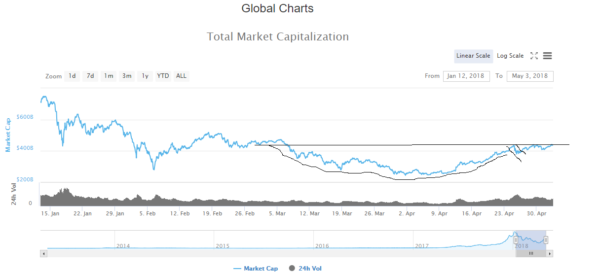 The correlation between three major cryptos is not as strong as on previous days which means that buyers are starting to diversify across the ecosystem.