Knowledge is power alright, but where do you build that knowledge matters more. There is nothing worse than learning the wrong. Many successful investors are not really different from average people, they are just well informed and act. They are willing to put their capital to risk based on the information they have. Having valid and relevant information also requires the right timing, and this is the secret sauce. 
We are about to share with you one of the best sources of forex trading information sources you can find online, it is up to you to decide if you want to act upon them. These will be diversified on different aspects of trading, some are fundamental, others deal with technical analysis while some are specialized. Note that we will also try to provide less known resources since the majors are easier to find, and some other resources not mentioned before in our articles.
We must start with the beginners' resource for learning all about forex and trading, even though it is popular. Of course, there is nothing for the seasoned investors here however, beginners would need an easy to consume resource to get literate about something serious as forex. It all starts here and it is important to deliver indulging content, forex and trading are not as complex as many people think. BabyPips portal does the job with good lined-up lesson follow-ups that just urge you to keep learning. 
Now let's go into the world of statistics. If you want to get the picture, look at the picture. Charts about every market segment are on this website, pick any economic area and there it is under the magnifying glass. Many of Statista.com charts are used in other publications and the sources are credible. There is so much variety and so much information here it is easy to get lost, so it is advised to have a plan for what you want to research. Also, if you just want general articles they are also available, for example, a report on 2020 by the numbers covers the COVID-19 stats, economy, politics, and society. Investors take special attention to trends in certain markets and based on these one could understand the long-term implications on state currencies. 
A great resource if you want customized currency heatmaps, performance charts, and other stats scaled to different timeframes. Additionally, this portal provides more information on other related markets, not just forex. A free subscription covers most of the needs but if you want specials like backtesting, advanced charting, alerts, and more, you will have to subscribe. If your forex trading is based on basket correlations and price action, this portal is a must resource. 
A well-known company with great content not found on other portals, mostly because of its sentiment index indicator on many markets, but focused on forex. The sentiment index is not an easily found indicator as precise calculation requires a good sampling of traders' positions only larger brokerage can have. Dailyfx sentiment report is just one of many other tools forex traders find useful. It is a great resource for strategies, currency data, education, market news, and more. 
A fantastic resource for indicators and technical analysis if you do not mind the lack of website makeup. Custom-made indicators are the main takeaway however the forum gold nuggets could be found in other sections. Most traders have MetaTrader clients but Station II/Marketscope 2.0 is not far behind by use. Custom indicators for this platform are made daily so be sure to check it out. Of course, it does not end with custom indicators, find automated trading solutions, strategies, and coder help if you want to learn to code and make your own indicators. MetaTrader freebies have a separate section, with equally deep and fresh content. 
Barchart does not focus only on the currency majors but on exotics too. The forex market coverage is very wide and deep where you can find a good overlook of all things forex. One of the more interesting analyses is The Commitment of Traders Report and The Commitments of Traders Financial Traders (TFF) Report. They are both structured overviews that answer who are the major movers of the specific currency or market – large speculators, commercial or other small actors. If you want to look where the "smart money" is going, this is a good window.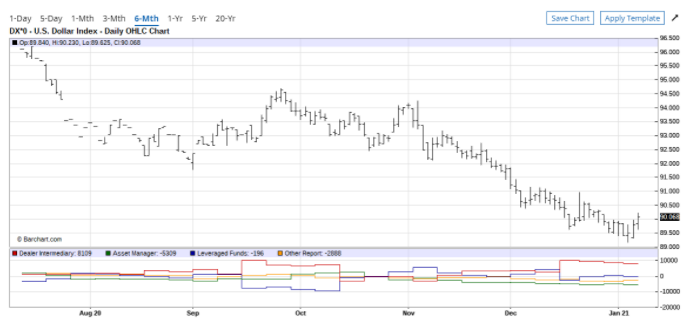 Barchart has many other interesting tools that are worth checking out, such as the Forex News section for fundamental analysis and Long term Trends charts within the Market Pulse section. 
Another interesting website featuring the sentiment type indicators like on DailyFX except there are a few additional tools to complement it. These tools are about Stop Loss clusters, similar to what some crypto exchanges feature with their charting. Then the OrderBook indicator, CurentRatio, and more. Some of these are not for free but the strategies that can be made with these are something not seen elsewhere. FXSSI is a specialized website for such contrarian trading strategies made for the MT4 platform, on top of that you will also see additional MT4 utilities for forex trading such as Sessions, Spread warner, Calendar (events), etc. Combining these will transform how your platform looks and more importantly, add analytical value to your trades. 
A rare find with thousands of indicators and the code behind them. This means that if you happen to be a coder you can also create and mix your own creations using the published coding lines. The only problem is the somewhat poor structure of the website, it is almost a list of indicators without really explaining their trading purpose. So some coding and trading knowledge is required to get some value out of the text but still a great resource, for Expert Advisor creators especially. 
If you are into indicators, this channel is one of the best when it comes to presenting them what they can do, their purpose, and what could be composed with them. The website, thesecretmindset.com has great articles too, but their videos are very well made (if you do not mind the accent) and will present trading ideas better. The videos are not biased, are not marketing anything, and very deep if you want to nerd out on strategies and indicators. Maybe the best value of this channel is that each video inspires listeners to try something of their own. Beginners will like how everything technical is explained easily but scientifically while experienced traders will enjoy new approaches that could be utilized for their strategies.