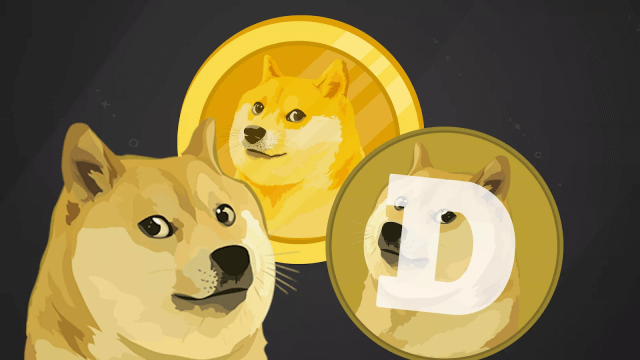 The cryptocurrency space is filled with ambitious projects, each posing as the next big thing after Bitcoin. But once in a while, the community is blessed with a simple cryptocurrency that turns out to be what parts of it truly craves. And if it's one based on a wildly popular meme, the better.
Dogecoin, which calls itself "The fun and friendly internet currency," is one such cryptocurrency. Starting as a joke in 2013, the currency, based on its massive success, is the furthest thing from a joke these days. Buoyed by an extremely passionate community – the self-appointed 'Shibes,' Dogecoin is now spotting a massive fan base of 163k on Reddit and 150k on Twitter. 
So, what is Dogecoin? How did it become a 'mainstream' coin despite its tongue-in-cheek beginnings? We unpack all that in this article. 
Fun fact: Famous techpreneur Elon Musk is a huge fan of Dogecoin. In fact, the crypto community voted him as the CEO of Dogecoin – a position he held for one day. (All in jest, obviously!)
Understanding Dogecoin
Dogecoin is an open-source and peer-to-peer digital currency that was launched in December 2013. It's based on the famous internet meme Doge: which is a picture of a Shiba Inu dog usually accompanied by text in multi-colored Comic Sans font in the background. The bits of text – often in broken English – "wow," "what r you doing," "so amaze," "much wow," e.t.c – depict the dog's imagined internal monologue. 
Dogecoin started as a cheeky riposte to Bitcoin but went on to quickly garner a very loyal following after its release. So much so that it was part of the 2017 crypto bubble of 2017 that saw many altcoins dramatically increase in value. Just like many other cryptos, Dogecoin lost much of its value after the bubble burst in 2018. 
However, its hugely loyal fanbase still uses and trades the currency. Indeed, its loyal users, the Shibes, use the phrase '1 DOGE = 1 DOGE,' – meaning they believe Dogecoin should be used for daily transactions and not solely as a store of value or a speculative asset. 
Dogecoin's supply is 100 billion DOGE, a far cry from Bitcoin's 21 million. Despite its joke status, Dogecoin is just like the next cryptocurrency. You can mine it, purchase it from exchanges, and trade it for other coins. 
Dogecoin: A History:
Beginnings of Dogecoin 
In late November 2013, Jackson Palmer, a product manager of Adobe Inc. in Australia, said in a now-deleted tweet: "Investing in Dogecoin, pretty sure it's the next big thing." 
Palmer had been a skeptic of the whole idea of cryptocurrency, and his tweet was a satirical take of the sheer number of altcoins flooding the market, with each promising to be the "next big thing." However, after receiving positive feedback, he bought the domain name dogecoin.com. 
Meanwhile, in Oregon, there was a software engineer called Billy Markus, who was interested in creating a cryptocurrency but was not lucky with his marketing efforts. However, he stumbled on the Dogecoin buzz and reached out to Palmer for permission to work on an actual cryptocurrency called Dogecoin. 
Palmer gave Markus the node, and he began work on Dogecoin. He based the code on Luckycoin, which is in itself derived from Litecoin. Dogecoin employs a proof of work consensus mechanism and uses Litecoin's Scrypt algorithm.
The duo went on to launch the coin in December 2013. The rest is history. 
Rise of Dogecoin
Two weeks after launch, Dogecoin's price saw a 300% increase, going from $0.00026 to $0.00095 in 72 hours. From then on, it continued growing, reaching a market cap of $2 billion in January 2018.
Dogecoin's success can be attributed to its presentation as a "fun" version of Bitcoin. It also arrived at a time when online memes were all the buzz, and its lighthearted take meshed well with the burgeoning cryptocurrency community. 
With its use of Scrypt and supply of 100 billion, Dogecoin hopes to be faster and more user-friendly than Bitcoin. Unlike many deflationary cryptocurrencies such as Bitcoin, Dogecoin is inflationary – meaning it has an almost endless supply. This gives miners an incentive to continue mining and securing the network.
The Dogecoin community is known to be friendly and more welcoming of new users than other crypto communities. It's also known for its charitable deeds. The same month it was created, the online wallet Dogewallet was hacked, leading to the loss of millions of coins. In response, the community rallied together and started the initiative, 'SaveDogemas' to donate coins to those who had lost funds in the attack. In about a month, enough DOGE had been donated to cover the attack. Both the hack and the initiative granted Dogecoin relentless coverage, further helping seal its place in cryptoverse.
In more charitable efforts, the community came together to donate around $30,000 worth of DOGE to the Jamaican Bobsled team, which had qualified for but could not afford to participate in the Sochi Winter Olympic games. The community also raised money for Shiva Keshavan, a Sochi Athlete. In March 2014, the community came together again to raise around $55,000 worth of DOGE to sponsor NASCAR driver Josh Wise. Around the same time, the community once again donated $11,000 to a campaign for building water wells in parts of Kenya. 
How Does Dogecoin work? 
One of the major highlights of Dogecoin is its inflationary nature, a significant departure from the majority of cryptocurrencies' deflationary policy. Deflationary currencies feature a hard-capped supply. The main contention with deflationary coins is they encourage hoarding, as investors cling to them in the hope that the value will increase in the future. Also, once the supply runs out, miners have no incentive to continue sustaining the system.
Dogecoin's inflationary approach is so designed so that miners can continue profiting from the network and hence sustaining it. Also, it ensures that lost coins will always be replaced. Dogecoin has a maximum production rate of 10,000 coins per minute.
Palmer said in 2014: "The goal for the currency is to keep approximately 100 billion coins in circulation – thus, after 100 billion Dogecoins are created, rewards will continue at 10k each block. This will help maintain mining and stabilize the number of coins in circulation (considering lost wallets and various other ways coins may be destroyed) at 100 billion."
Dogecoin's use as a transaction currency rather than just a speculative asset has also contributed to its success.
DogeCoin Controversies
Its glowing reputation notwithstanding, Dogecoin has dealt with its fair share of controversies. It all began when Palmer took an 'extended leave' from what he decried as a "toxic community" that, according to him, had begun to develop in the crypto community in general. 
According to Palmer, the cryptocurrency community was not only noninclusive; it was attracting people whose ideologies deviated from what cryptocurrency is all about. Speaking to CoinDesk, he opined that "the cryptocurrency space increasingly feels like a bunch of white libertarian bros sitting around hoping to get rich and coming up with half-baked, buzzword-filled business ideas which often fail in an effort to try and do so." 
The next blow came after a community member, Alex Green, a.k.a. Ryan Kennedy, a British national, created a Dogecoin exchange called Moolah. He convinced community members to contribute to the creation of the exchange. Still, he was exposed for a scammer when it emerged that he'd used the money to purchase over $1.5 million worth of Bitcoin through which he was now living lavishly. In unrelated events, Kennedy was convicted and sent to 11 years in prison for multiple counts of sexual assault.
Tokenomics of Dogecoin
So, what's Dogecoin's market standing today? Well, as of July 25, 2020, the coin was trading at $0.003222, with a market cap of $404, 523, 934 that placed it at #31 in market rank. The coin has a 24-hour volume of $49, 428, 177, a circulating supply of 125, 555,697,764. DOGE's all-time high was 0.018773 (Jan 07, 2018), while its all-time low was $0.000085 (May 07, 2015). 
Where to Buy and Store DOGE
You'll find DOGE as a pair with USDT, BTC, BCH, and USD in several popular exchanges that include Binance, OKEx, ZB.com, HitBTC, Huobi Global, Hoo, Gate.io, Kraken, Poloniex, YoBit, and P2PB2B. 
You can store DOGE at Jazz Liberty, Coinomi, Freewallet, Guarda Wallet, and Atomic Wallet. If you prefer the best security, you should go for hardware wallets, and the user faves Ledger and Trezor, both of which support the coin.
Final Words 
Despite starting as a lighthearted joke that poked fun at cryptocurrencies, Dogecoin has witnessed unprecedented success. One of the lessons to draw from the Dogecoin story is the importance of a strong community around a project. Dogecoin never pretended to be something it's not. Instead, it was merely a cryptocurrency for peer-to-peer digital payments. Among a sea of white papers and complicated hypotheses of the crypto world, Dogecoin is a refreshingly simple take – and the community loves it.