These are some of the topics we've covered in this series, focusing on cryptocurrencies, changes that have already taken place, and opportunities for you to be ready ahead of time. The crypto world is in the spotlight these days and we want to know what we can expect in the new year. Actually, the crypto market has been getting increased attention for quite some time now. In the past few years, we have seen a rise in investment professionals' interest in cryptocurrencies. We now have central bank digital currencies and institutional investment vehicles for crypto as well.
In the near future, we could also see some big companies buy much bitcoin. Square invested 1% of its total assets to get 50 million USD worth of bitcoin; Grayscale reported impressive inflows towards the end of 2020; and, even some affluent figures such as Paul Tudor Jones trusted bitcoin to fight against inflation in the past year. Last year also closed with unprecedented events, leaving the crypto community with renewed hope and more questions on the future of money.
At the end of 2020, with cryptocurrencies soaring to new heights and receiving more investor attention than ever before, the largest cryptocurrency exchange in the US – Coinbase – announced its plans to go public. Recognizing cryptocurrencies' long-term potential, Coinbase strived to provide investors with safe, easy, and regulated access to bitcoin from the very beginning. The significance of the company's expansion plans also lies in their ability to show us whether there is any interest in something like this. Based on this transition, which also attracted increased media coverage, 2021 could bring other companies towards achieving similar goals. Having private investors and venture capitalists recognize Coinbase's high growth potential and providing funds for its development could also signify an opportunity for the public market to value the company as well. The dynamics should render both Coinbase and its investors flushed with cash that could also be eventually reinvested smartly in 2021.  
Many people wonder if the impressive 2020 rise of bitcoin, as a global network and financial system, is going to drive an even greater spike in the market. With over trillion USD market cap public companies, gold amounting to a similar height, real estate soaring trillions upon trillion, and derivatives market equally thriving, among others, bitcoin may as well join the club at some point this year. We are still hundreds of percent away from this goal, which is why we may anticipate some expected volatility in the upcoming period.
Central bank digital currencies (CBDCs), along with the accompanying technology, comprise another important topic for 2021. As we discussed in the previous article of this series, the US Federal Reserve mainly talked about its discoveries, apparently without really putting its foot down and making any lasting commitment. Still, there may be more happening under the surface than we can see at the moment. The question of regulations comes up as the first step in trying to see how Americans can even start to rely on the Digital Dollar. 
The US central bank seems to prefer to take things slow, being cautious about its next step. However, some other central banks (e.g. China) are already testing and preparing to release their CBDCs for the public. Any information disclosed regarding these events can certainly be of use to the rest of the world, but we should also understand that central banks generally refrain from sharing everything before any product is completely ready to launch. People's reactions always pose a concern in the early stages and any misinterpretation, especially in the loud crypto community, could just hinder the process, affect safety levels, and make things more difficult for the central banks. 
In terms of blockchain, experts claim how we can always find a new use, and 2021 may be an interesting year for investable assets too. We can expect to see more discussion on immunity passports this year as well as how to track the vaccinated population and regulate their movement geographically. Interestingly enough, a decade ago, it was predicted that tokenization would be a major theme for the following 10 years, covering an array of assets from the things people own to digital money and identification as well. We have entrusted more of our information to the digital sphere than ever before, allowing our personal identification, such as medical records, to be more trackable. In the past few years, we have seen numerous nations become more open to microchip implants, happening concurrently with an elevated desire to preserve privacy. This is where blockchain comes in handy, giving you the option of sharing personal information (e.g. vaccination) only with the chosen group of people and institutions. Blockchain has the potential to draw the line between what should be shared in public databases and what should not be as transparent to greater audiences, which we can expect to see more of in 2021 and the upcoming years as well.
With all this information and ongoing events and changes, new market entrants may find it increasingly difficult to distinguish what is relevant and helpful. For these reasons, novice crypto traders should consider investing small amounts of money, professionals advise. Start trading with as little as 100—500 USD and take the learning stage seriously as if you had a much larger starting sum. After you commit to getting a small amount of bitcoin or ethereum, among others, choose an exchange such as Coinbase, Binance.US, or Kraken and seek help from them if you need it. The interest in crypto trading is definitely on the rise, which may propel these companies to establish a more user-friendly and supportive service. The post-pandemic surely supports the work from home concept and the crypto market, as we can see from the chart below, is leaving much room for more individuals to join.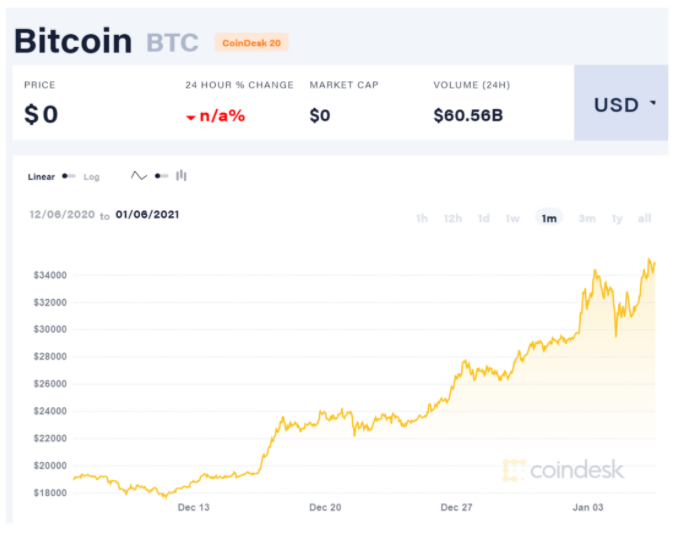 While we are all impressed with the events that are taking place as you read these lines, we also need to be mindful of the impact of news events and possible market volatility. Make sure that you are taking every possible precaution as we described in the first article of the series and strive to make smart, not fast, money. Also, as we are seeing developments in other trading markets as well, diversifying trading skills and expanding to other markets could be a rewarding and intelligent move in 2021 as well. Digital currencies are certainly not going away; as a matter of fact, some finance connoisseurs predict that digital currencies will become as important as PCs or cellphones with time. It is only expected that 2021 is likely to bring more news on the long-term changes we are going to see in terms of technologies inherent in cryptocurrencies and related regulations on the national level, as we talked about last time. While cryptocurrencies are slowly but surely increasing their footprint on the global financial system, individuals should take their portion of responsibility to ensure safe trading and maintain the right attitude.