Trading 212 is a rebranded market maker broker formerly known as Avus Capital Ltd, with not so great reputation. Based in Bulgaria, Trading 212 holds multiple regulation licenses from FCA and Bulgaria Financial Supervision Commission. As an added protection, clients will enjoy the Financial Services Compensation Scheme (FSCS) and ICF Bulgaria although limited compensation up to 90% or 20,000€ in the case of the broker insolvency.
One of the highlights is that Trading 212 regards itself as a market disruptor introducing the first zero-commission stock trading (not under the CFD) in the UK and Europe. The website is modern, using a small number of wide, large font pages with big elements promoting the zero commission, proprietary platform, ratings, media presence, instrument range, and other strong points. Visitors will see the right level of transparency but only once you find the right page. This is especially tiresome for experienced traders seeking specific data. The information is not presented immediately, but requires a bit of searching, to keep scary-looking numbers and terms away from beginners. This is common practice for large, market maker brokers, attracting beginner to intermediate traders who do not want to invest too much time on trading development and want an easy-going experience.
Trading 212 has everything right – good ratings, regulation, great asset range. But we cannot ditch the feeling we are dealing with a marketing giant and an expert in promoting their service and products. The marketing campaign scale is evident with many articles written by Forbes, Financial Times, The Telegraph, Independent, and other well-known media. Whatsmore, many users have complained about too many ads appearing in their browsers after registering. This Trading 212 review will reveal what is behind the good-looking phrases to present you just the naked quality of service.
Account Types
Opening an account is streamlined with several questionnaires you will have to fill in. A few of these ask about private income, sources, experience, and so on. Only at the end, you will be presented with 3 account types. They are called CFD, Invest and ISA and all can be selected at the same time. There is no comparison table with the details about each account. Not even in the FAQ Accounts section states any info experienced traders would want to know about. Traders will need to find the trading Conditions link on the homepage. This web page is not on the Trading 212 website menu so some visitors may never know about it. Still, once you find it, there is enough information.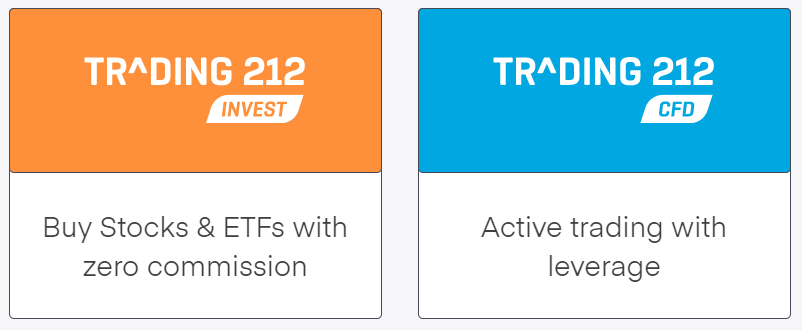 The CFD account is offering CFD contract trading with zero commissions and tight spreads as promoted. Investing Account is for trading real stocks and ETFs without commissions or fees. Shocks and Shares ISA account allows tax-free gains without commissions. We will focus on the CFD Account offer in the next sections as this is what the majority of retail traders are interested in. The broker does not classify these accounts by the minimum deposit requirement. Clients will be presented with an amount slider once they want to deposit. The starting amount required is small enough even students should be able to afford it, meaning the broker target clients pool is wide.
Platforms
Trading 212 uses proprietary platforms developed for smart devices running on Android and iOS and for all types of computers that can access their browser-based platform. Ratings on these platforms on Google Play and App Store are very good, highlighting the ease of use. As with most proprietary platforms, automated trading systems and custom-made indicators are not available as with the popular MT4 or MT5. However, Trading 212 is partnered with the ProQuant app that enables traders to build their automated scripts or follow others. This system can be connected with the trader's account with the API key.
The app is available for smart devices from App Store and Google Play and features testing, monitoring ability, and also a practice environment. Traders will need to open a ProQuant account and set up their algorithm. ProQuant is also partnered with Binance, Coinbase Pro, and HitBTC. This automated trading solution does not require coding knowledge to build one, it is more catered to wider masses and is not enough for serious automated trading programs. However, for many traders, this will be a very fun experience.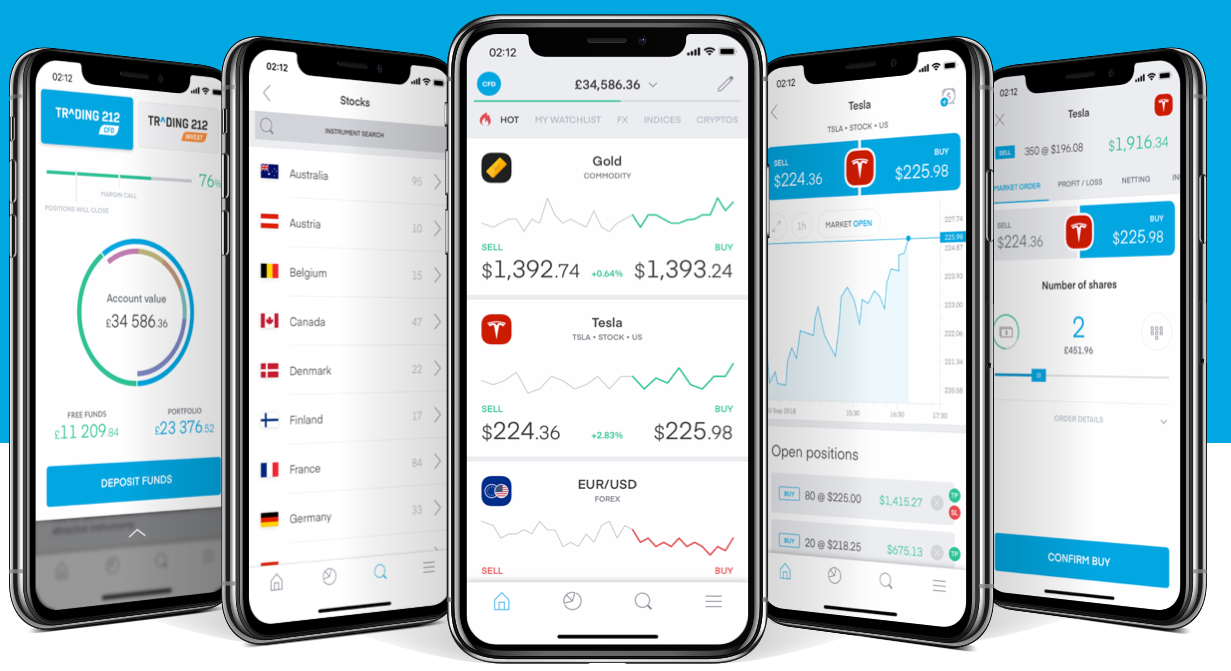 The Trading 212 platform is not promoted or described on the website but a tutorial will pop up once you log in. The web-accessible platform also has a plugin for a glance at the current market and other features. Once logged in you will see a white theme that can be changed to dark in the settings but will remind you of TradingView style. As with most platforms, there are 4 modules, the central chart window, the Watchlist module to the left side of the screen, the trading info panel to the right, and the bottom position management module. These can be resized but not detached and dragged, full screen is available and select modules can be completely hidden.
The top bar holds the opened chart tabs, a search box, the option to enter multiple chart mode, and an account management panel. Central screen charting has the same timeframe options as the familiar MT4 platform, 1, 5, 10, 15, and 30 minutes, 1H, 4H, Daily, Weekly, and Monthly. Chart types available are Candlestick, Heikin Ashi, Bar, Area and Line. What is useful are the info inserts that can show you on-chart the candle close time, candle patterns, price alerts points, position entry or close points, scale, and more. Adding indicators is possible of course, although traders will not be impressed with the selection. There are about 40 familiar indicators, they can be customized using several options including the coloring, line thickness, and other indicator specific settings. Mouse pointer can be set to show useful information and also be used as a measuring tool.
Drawing on the chart is possible with text, lines, Fibonacci lines, shapes, Elliot Waves, and so on. The Watchlist is customizable and traders can make their own. The spreads are not displayed in any mode, just the Bid/Ask prices. Traders can select the default instrument categories and also Top Winners/Losers, Cannabis, New on Trading 212, upcoming earning report companies, and Hot – most traded instruments. In Full View, the instruments list will have additional info for each, displaying a mini chart, price change in percentage and units, Low/High level, and the best of – the Sentiment indicator. This indicator does not show the sentiment chart but is still useful. You can customize what parts are displayed, so, for example, you can have only the sentiment indicator for each instrument or just the mini chart.
Entering a trade is possible from the Watchlist where you can also set the trade size and lock it. The right side Info panel shows stats such as price movements, the sentiment, price change on various timeframes, the instrument specification that has enough information about the trading conditions, and the trading hours chart. This module also has the option to open trades, set price alerts, and new pending orders. Additional goodies are integrated into this module, traders will find videos, news, analysis, Economic Calendar, notifications, and the ProQuant setup. Videos section contains videos from 2019, with good quality explanations, narration, and infographics. Some of the topics covered are "How To Make a Foreign Investment", "The Different Ways Commission Free May Cost You Money", "How To Use A Tight-Stop Strategy to Trade a Breakout" and many more about indicators, fundamentals, risk management, and other trading categories. They are all of great quality.
Trade 212 Chat service is also integrated here. Trade Box has a trade size slider, Once Cancels the Other -OCO, and Pending Orders tab. Stop Loss and TakeProfit are set by distance. Margin and Swap charge/credit is also displayed. The bottom Positions overview panel is simple but has enough information about the trader's exposure also having the option to aggregate close positions on selected parameters. Pending orders and Price alerts tabs will show the current status and options to create new alerts or orders. The Trading 212 platform is very easy to use, in some areas is more advanced than the MT4 although it is not designed to serve experienced traders. Some key information is missing, such as the actual spread. The instrument details will show the Target spread that may not be the actual, real-time spread. In the Spread section of the Trading 212 review, we will disclose real-time spreads.
As for the mobile version app, it is very similar and has an intuitive design. User reviews show good ratings. However, several users complain about the inability to close positions on some high volatility scenarios. This issue is even reported on the benchmark websites that severely hit the Trading 212 image. The execution times are hard to measure although we have not experienced a single hiccup in the order execution, about less than 0.2 seconds. During the weekends, when markets are closed, except Crypto, the platform will simulate price movements on the practice accounts.
Leverage
Trading 212 applies the ESMA policy that limits the leverage level to 1:30 maximum for retail traders. Professional traders have the maximum leverage of 1:500. To qualify as a professional trader, the client will need to pass certain criteria and this will also void certain benefits such as FSCS compensation. Trading 212 leverage level also depends on the instrument specifics, so exotics currency pairs have lower leverage. The page about the trading conditions contains the leverage data for each traded instrument.
Forex currency pairs have 1:20 leverage, the exceptions are more liquid pairs such as CAD/CHF, CAD/JPY, CHF/JPY, EUR/CAD, EUR/CHF, EUR/GBP, EUR/JPY, EUR/USD, GBP/CAD, GBP/CHF, GBP/JPY, GBP/USD, USD/CAD, USD/CHF, and USD/JPY all with 1:30 leverage. Cryptocurrency leverage is 1:2 while Professional clients mostly have 1:20. Precious metals have varying leverage, Gold against the USD, GBP, EUR, TRY, JPY, and AUD has 1:20 maximum leverage but Silver has 1:10. Professional clients mostly have 1:100 leverage. Palladium and Platinum are under the CFD futures contracts and are against the USD with 1:10 maximum leverage. Commodities all have a maximum of 1:10 leverage, including the Copper, Oil, and other commodity types. Equities including ETFs have 1:5 leverage for Retail traders, while Indexes can have 1:20 to 1:5 maximum leverage depending on the Index liquidity tier. For example, Hong Kong 50 has 1:5, but Australia 200 has 1:20.
Note that Trading 212 also preserves dynamic leverage based on the total balance on the client's account. As stated, "for accounts with equity over €25 000, Trading 212 reserves the right to require a higher margin. Margin requirements are subject to changes, that you will be notified about in advance."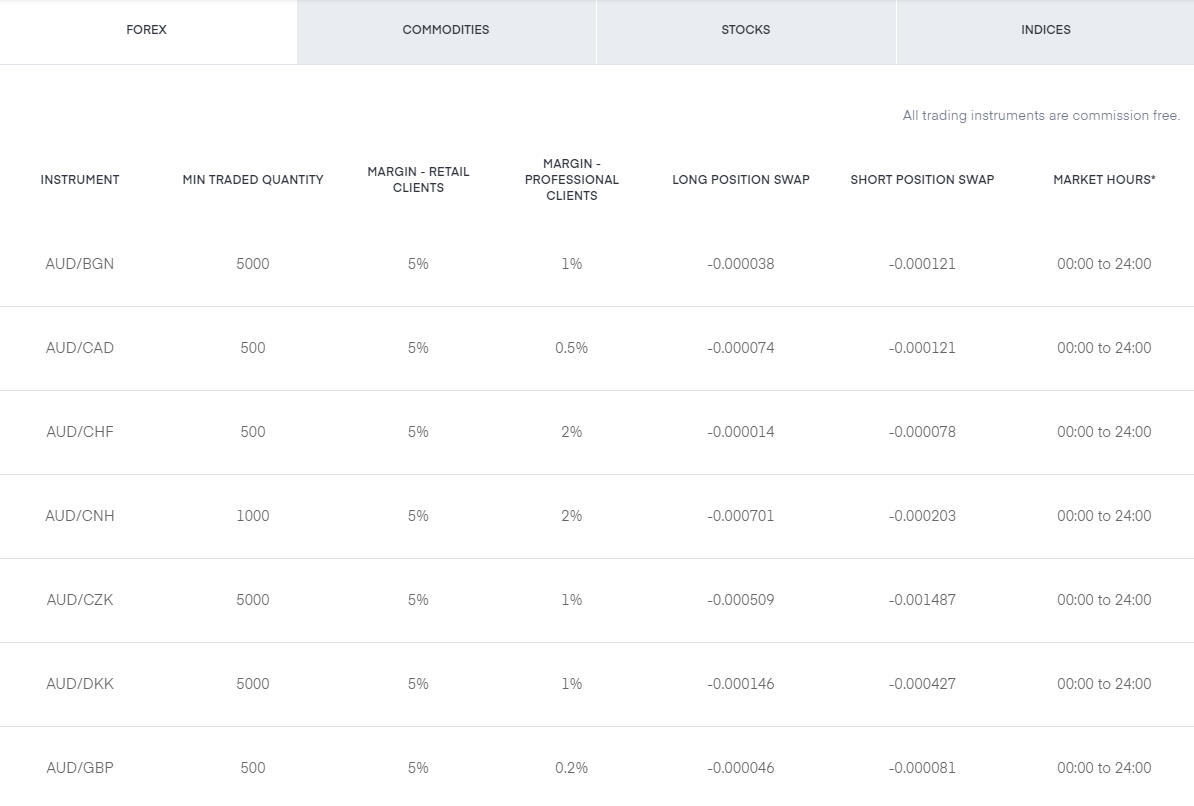 Trade Sizes
Trading 212 does not have standardized minimum trading volume sizes, instruments in the same category will have various minimums. The trade volume is calculated in units, not in lots for Forex. Currency pairs trade minimum sizes start from 500 to 50000 units. We could not discern why, for example, USD/CAD has 500 units minimum but USD/CHF or USD/TRY have 1000. Anyways, most majors have 500 units minimum trade sizes such as EUR/USD, AUD/USD, or GBP/USD. Exotics will have a minimum of 1000 to 50000 units.
The biggest minimum trade sizes are for DKK/JPY, DKK/ZAR with 25000 units, MXN/JPY, NOK/JPY, NOK/PLN, NOK/SEK, NOK/ZAR, SEK/JPY, ZAR/CZK, and ZAR/JPY all have 50000 units minimum. Additional trades or scale-ins have the same minimum volume trade size policy. The maximum trade size seems to have no limits. As for cryptocurrency, the minimum trade sizes are in lots for some and others may be calculated in units. Bitcoin against the USD has a minimum of 0.01 lots, Ripple has 250 units, Ethereum 0.1 lots, Dash has 1 lot, NEO – 2, and so on.
As for the Gold against the USD, the minimum is 0.1 lots following the standard contract size of 100 Oz. This minimum trade size is in mini-lots, larger than usual. The broker also has the Gold Mini instrument with a smaller trade size minimum, but the trading is suspended for this one. Stops level information is not available but based on the Order panel, for major Forex instruments, it is 10 points. This level is not too wide for traders that apply fast trading methods or automated systems from the ProQuant app. Margin Call is set to 50% and Stop Out is at a 25% level.
Trading Costs
Trading 212 does not charge commissions although a currency conversion fee of 0.5% is charged. This means if you are trading an instrument in a different currency than your account currency the fee will apply to the trade order amount. The Swap costs are disclosed on the Trading Conditions page and also in the instrument details window in the platform. We have noticed that most of the swaps are negative, and positive ones are very small. Apparently, the absence of commission is compensated by the conversions fee, spreads, and the negative swaps for overnight positions.
The Swaps are presented in points, tripled on Fridays, but this info is not disclosed. Swaps are above-average in our opinion, comparing to other brokers, and in some cases extreme. To give some examples, EUR/USD has -14.2 on long side position and 0.2 points on the short, GBP/USD has -8.2 long and -2.6 points for short, and AUD/USD has -1.8 on long and -2.8 short. USD/JPY has an abnormal swap of -153.7 points on the long and -465.8 points on short, NZD/USD -2.6 long and -3 short.

Some notable exotic currency pairs swaps are for the USD/HUF with -684.7 points long and -1112.7 short side, USD/RUB with -2021.6 on long, 205.9 positive swap on short, USD/TRY has just -130.5 on long and 13.9 on short, EUR/MXN with -385.6 and 50.5, and EUR/JPY with an abnormal -1363.9 on long and -149 on short side. Precious metals traders will be shocked, especially the ones that leave overnight Gold positions. XAU/USD has an abnormal -15861.1 points swap for the long position and -7357.8 points for short.
XAU/EUR is similar, with -21134.7 on long and -9989.1 points on short. As for the crypto assets, BTC/USD Mini does not have identical swap rates on both sides. On the long side, the swap charge is -37310.1 points and 0 on the short. Interestingly, the JPY, Gold, and BTC have extreme swaps, yet they are commonly used for day trading. Traders should pay attention and open order details in the ordering panel to see the calculated swap value. The swap will not be presented in the Trading Terminal for open positions. 
The inactivity fee is charged by Trading 212. As per the Client Agreement document, "an inactivity fee may become payable by you in case there are no generated transactions on your Account for at least six consecutive months". It is not disclosed what amount is paid anywhere. 
Assets
Trading 212 has over 1800 instruments across 6 categories. This great range is available only with well developed, large capital brokers. The Forex range consists of more than 160 currency pairs. All majors are present of course, and an astonishing number of exotics. Most interesting are the very rare ZAR/RUB, ZAR/CZK, USD/BGN, TRY/JPY, TRY/HKD, TRY/DKK, TRY/CNH, SGD/ZAR, PLN/MXN, NZD/ZAR, NZD/RON, NZD/MXN, HKD/ZAR, CHF/MZN, CAD/RUB, BGN/MXN, and many more. Forex range that offers so many opportunities makes Trading 212 unique. 
Precious metals range is also extended featuring Palladium and Platinum under futures CFD, Gold quoted in many major currencies and even some exotics. Traders will find XAU/RUB, XAU/AUD, XAU/EUR, XAU/GBP, XAU/JPY, and XAU/TRY aside from the USD. The same currencies are combined with spot Silver. Gold Mini and Silver Mini instruments are also on the list. 
Commodities range is the least developed compared to other categories, although you will find 9 assets under the futures CFD. This includes both Oil types, Brent and WTI, other commodities such as Sugar, Natural Gas, Copper, Coffee, Cocoa, and Cotton. 

Indices range is great that includes ETF Indexes and some other hard fo find instruments. Apart from major and minor Indexes, traders will find USD Index, Lyxor Stoxx Europe 600 Telecoms, Media, Insurance, Tech, Healthcare, Banks, and Financial Services ETF Indexes. Whatsmore, the ETF Index range is extended to Lyxor Russia DJ Russia GDR, Lyxor MSCI Korea, Lyxor MSCI India, Lyxor HSI Hong Kong, iShares MSCI Brazil, Canada ETF, Crypto 30, Global Cannabis Giants Index, US Biotech Giants, US Cybersecurity Giants, and Lyxor Hang Seng China Enterprise.
The number of company stocks listed is very high. There are so many stock instruments that it will take some time just to scroll to the end. The focus of Trading 212 is equities, especially knowing they are the first to offer zero-commission stock trading service in the UK and Europe for retail clients. All of the equity assets are diversified and liquid.
The cryptocurrencies list is relatively short. This category is not promoted on the website but as per the Trading 212 platform, cryptocurrencies take the first 4 positions as most traded. These assets are included in the Forex category on the Trading Instruments page. There are a total of 16 instruments, major coins are listed and other, interesting additions are NEO, Dash, EOS, Monero, IOTA, Litecoin, and Bitcoin Cash. Mini size instruments are available for Bitcoin, Dash, Ethereum, Litecoin, and Monero. Crypto 30 Index could also be very interesting for crypto traders. This asset category has 24/7 trading sessions.
Spreads
Trading 212 has mostly floating spreads although fixed spreads are set for certain instruments. On the broker's Trading Instruments page and the platform, visitors may see the Target Spread for each instrument. This spread is not actual and could be regarded as a reference value. So, for the EUR/USD the target spread is 8 points but in reality, it is 11 points. USD/JPY has 8 points both target and real spread, AUD/USD has 15 points real spread and 25 points stated as the target, GBP/USD has 26 points real spread and 15 points stated as the target, USD/CHF has 20 points real spread, and NZD/USD with 26 points. Note that the actual spread has to be calculated manually as traders will not have it displayed anywhere on the platform. Spot Gold real spread is 48 pips, Silver 25, Palladium 229 pips, and Platinum 32 pips. In the crypto category, Bitcoin against the USD has a $35 spread, Ripple 35 points, and Ethereum has 111 points ($1.11). 
Minimum Deposit
Trading 212 minimum deposit amount is $10 or €10 regardless of the account type selection. Upon registering, traders will have a slider for the deposit amount showing $10 minimum and $30,000 maximum. 
Deposit Methods & Costs
According to the broker, the methods are bank transfers, credit/debit card payments, Skrill, Dotpay, Giropay, Carte Bleue, Direct eBanking, Google Pay, Apple Pay, and iDEAL.  In the platform, where account funding is integrated, presents Credit/Debit Card, Bank Transfer, Skrill, and Google Pay. Therefore, some deposit options are not available for all clients. There are no fees charged by Trading 212 for deposits. 
Withdrawal Methods & Costs
Withdrawal channels are the same as with the deposits. Trading 212 will send funds using the same method the client used for the deposit. If a client has used various deposit methods, the broker will return the funds to the credit/debit card. No fees are charged for withdrawals.
Withdrawal Processing & Wait Time
Withdrawals are made within the platform under the account settings. Trading 212 will process the request and settle the funds in 2 to 3 days to the investor's bank account or card. Other methods could be faster although the exact wait time is not disclosed.
Bonuses & Promotions
Trading 212 does not currently offer any bonuses or promotions.
Educational & Trading Tools
Trading 212 has a well-developed educational section consisting of videos, articles, FAQ, and Blog posts. There are 7 videos covering topics like "How to Start Investing", "RSI: Understanding Divergence", and "The Stochastic Oscillator Explained". These are solid although there is some marketing involved and the content does not include anything interesting for intermediate or advanced traders. The latest video is published in December 2019. 
Articles are well organized but there are only two apparently, about Technical Analysis and about the platform's abilities to have Hedging or Aggregation. The latter is not useful although the Technical Analysis covers some topics that are interesting to beginners. Still, they are not deep enough to be considered as a prime source for skill development. 
The Blog seems to just announce what is new with the platform, the broker, or what assets are introduced. The latest post is from August 2019.  Probably the most usable part for beginners is the Community Forum. There are many topics here and what is more important, they are active, updated, and made by users. The forum is well designed and organized.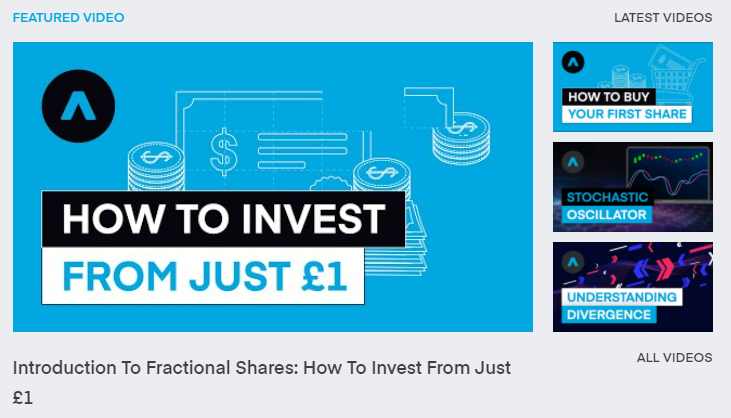 The analysis section contains The News, Economic Calendar and in-house made Daily Analysis content. Trading 212 daily Analysis covers multiple major assets from the metals, forex, indices, and commodities category. The content is short and mostly is influenced by the support and resistance levels. To some traders, Trading 212 hint will be enough to make a decision. 
The Economic Calendar is also integrated into the platform and available on the website. The one in the platform is more versatile with the option to see the historical change chart. There is no sorting or filtering on either location, traders can only select the day events are covered for and the timezone.
Customer Service
Trading 212 invested into Customer Service that is available 24/7. Contact Form, email, chat and a UK phone line is available. The chat app is integrated into the platform and is not available on the website alone. So this service is only available once you fill in the KYC questionnaire and register. The staff response time is up to 5 minutes maximum. They are polite and have enough knowledge, but will not always respond fully, especially if it is not positive for the broker. 
Demo Account
The demo or Practice account is made immediately once you register. Traders will have $50,000 funds and the same conditions as real money trading. The platform is on the same server for both accounts and does not have any restrictions.
Countries Accepted
According to the broker support agents, the US, Canada, Turkey, Syria, and Northern Cyprus are the countries that do not have access to Trading 212. 
Conclusion
This section will summarize and conclude this Trading 212 review with additional important information. Trading 212 has an average general success rate as 76% of retail investor accounts lose money trading with this broker. Although it should be noted the broker is beginner-friendly and not very appealing to senior traders. Traders should vary that large, market makers of brokers with proprietary platforms have complete control over the orders and the trading conditions. This may pose a conflict of interest, regardless of the strong regulation.
According to the benchmark websites, Trading 212 occasionally blocks trading, leaving the traders unable to close their opened positions in the platform. Still, the broker does not have a bad reputation, clients recognize the good, intuitive platform packed with numerous instruments. Whatsmore, the minimum deposit is small enough for most traders and with the fractional sized assets, anyone can trade. If you are just begging into CFD trading, Trading 212 is the right choice. Senior traders will probably choose the MT4 platform, for example, expert advisors, customization, and direct access conditions.