Stochastic Trader EA is an automated system created in April 2020 by developer Ciprian Ghebanoa. The Stochastic Trader EA is a fully automated tool. This system opens positions after receiving the signal of 2 indicators: the Stochastic indicator and envelopes. This system also works with stop loss and take profit.
Stochastic Trader is a fully automatic professional trading robot. This Ea has been designed specifically for the foreign exchange market, and more specifically for use with the pair of split USDJPY, in a time frame of H1, which is where it has proven to have the best results.
This system has been tested for over 2 years of backtesting, with USDJPY's historical data in H1 time frames. In the product fiche, you can check the results that this EA had in this period, which were, more than 3.000% in 2 years of profitability. A result that is hardly credible.
This expert advisor is optimized for use with USDJPY. This does not mean that it does not work well with other currency pairs. Only the creator of the EA has tested it on this pair of currencies only. Each pair has its own characteristics, and could also work on any other major. It would be a matter of users testing it and sharing their experiences.
Recommendations for Use
-Minimum deposit required for a good operation from the start: 500 USD.
-Entry lots: from 0.01 to 0.1 lots or apply the account management depending on the available balance.
-Recommended account type with 5-digit quotes.
-It is advisable, as in any EA, to use a VPS, or if no VPS is available, you will have to leave the computer on while working the EA for 24/7.
-It is also highly recommended to choose a broker with an ECN account and low latency in transactions so that orders are executed as quickly as possible.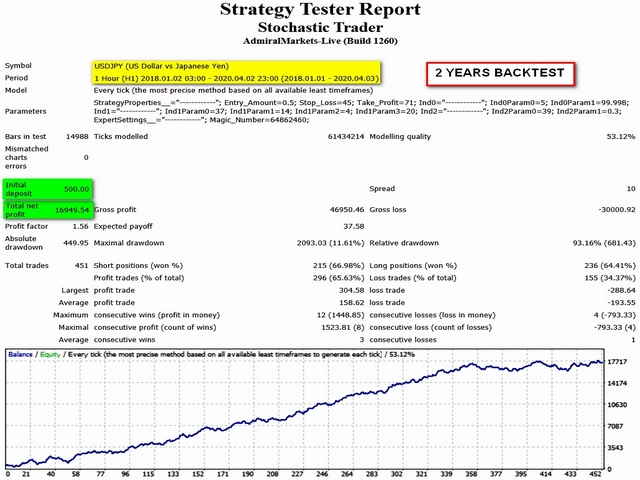 Advantages
Does not use: martingale, grid, averaged, and other risk strategies.
Trading is done using an order with a tight stop loss.
In summary, we are talking about a fairly simple automated system, based only on 2 indicators and which has apparently given good results in the tests done with the USDJPY pair. This EA is suitable for all types of traders, even for the most novice, for its easy understanding and quick configuration.
Being a newly created EA, there are no user reviews that have tested it, so we cannot give an assessment in this regard. We believe that it is most reasonable to wait a while and see how the EA develops with the experience created in other users, or at least to download the demo version to test and evaluate it before incorporating it into our trading.
Stochastic Trader is located in the MQL market at a selling price of 69 USD, and it is also possible to rent it for 3 months at a price of 10 USD, a reasonable enough price to test it for a sufficient period of time to test other currency pairs and see their behavior outside the USDJPY.