Green Eye EA is an automated system created in April 2010 by developer Aliaksandr Kryvanos. The system is a fully automated professional trading advisor that applies a medium-term trading system. Green Eye EA does not use martingale, grid, averaged, coverage, and is not a scalper. Each operation is protected by a fixed stop-loss.
Three strategies are applied in this expert adviser, each of which operates separately from the other. Each of the strategies has a unique magic number, which is generated based on a common with the sum of several numbers at the end.
A trend tracking trading system with floor work, this system can coexist with up to and including 3 commands in the same direction. High business activity, up to 80-90% of the time Expert Advisor is working in the market.
Recommendations for Green Eye EA:
Recommended currency pair, EURUSD.

Working time, time frame of H1.

The recommended leverage is: 1/500
The recommended batch of operations is 0.03 per 1000 USD (each strategy 0.03 lot, 3 strategies, ~0.1 lot for 1000 USD in total). This estimate is for average risk.
For a profit, each trade is provided with its take profit and there is also the possibility to use an end stop. Depending on volatility, there may be up to 40 x 3 offers per month on average. The time to hold positions varies from a few minutes to a few days.
The trading advisor is not sensitive to spread and does not require the rapid execution of trading orders. However, it is highly recommended to work with ECN brokers with minor differential and minimum stop levels to set Stop Loss and Take Profit. It only works with 5-digit quotes.
The robot is easy to use and can be used by both experienced traders and beginners. The Expert Advisor comes with optimized parameters and the user establishes the only lot negotiated according to their particular balance, magic number, time compensation, and other settings. The optimization is carried out by the author.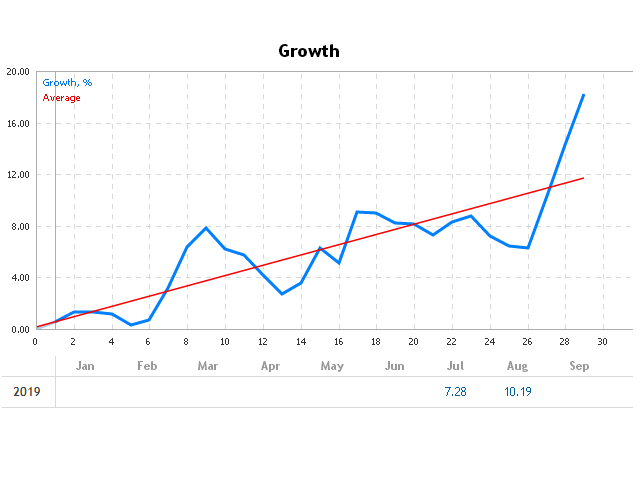 Here you can find more specifications:
-The robot does not need to be user-optimized. Green EYE works with a genuine strategy correction system based on hash strings (command lines).
-On the part of the author, hash strings are generated for each strategy that slightly changes the behavior of the EA in the current and evolving market.
-Set files with hash strings are posted as needed on the author's blog. During the operation of Green Eye EA, the user must download the instructions for the strategies that exist, adapting their work to the changing market.
-Expert Advisor does not depend on the trading mode (demo/real), both in demo account and in real trading is identical. However, in the case of different intermediaries, trade may differ slightly due to the difference in the quotations of various intermediaries.
-In a strategy tester, you cannot use an open price test model and checkpoints, as this will give a wrong result.
In short, we are talking about an EA of very recent creation, where we lack all information. The developer comments that the EA works according to 3 strategies, but does not reveal details of any of them. The most advisable would be to wait a while to see how the EA develops and see if there are other users who can share information about its results. There is currently no criticism of this tool, given its recent creation. A good option might be to download the trial version and do a few tests on our own and see how the EA works and performs.
This EA is for sale on the MQL market at a price of 375 USD. It is also possible to rent it at a price of 95 USD for 3 months, or 145 USD for 6 months.