PZ Trade Pad EA is an automated system created in December 2016 by Arturo López Pérez. Arturo López Pérez is a private investor and speculator, software engineer, and founder of Point Zero Trading Solutions. This simple expert visual consultant allows you to trade from the chart easily. Manage risk management for you and can perform several useful tasks with your existing operations, saving time, and facilitating risk management for each individual operation.
Overview
The main features of the PZ Trade Pad EA are:
Trade easily from the chart.

Trading with accurate risk management without problems.

Determine your desired stop loss and take advantage of profit levels.

Close all existing operations with one click.

Remove all pending orders with one click.

Reap partial benefits with one click.
The input parameters of this EA are:
Lot size: Write the lot size or risk per operation you want to take.

Fixed Lot: The EA will negotiate its manual lot size

% of equity: Will calculate the lot size to risk a given percentage of the free margin.

Stoploss: Stop-loss in pips for your operations.

Takeprofit: Take-profit pips for your operations.
Please note that EA will carry out risk management using the free margin, not equity or balance.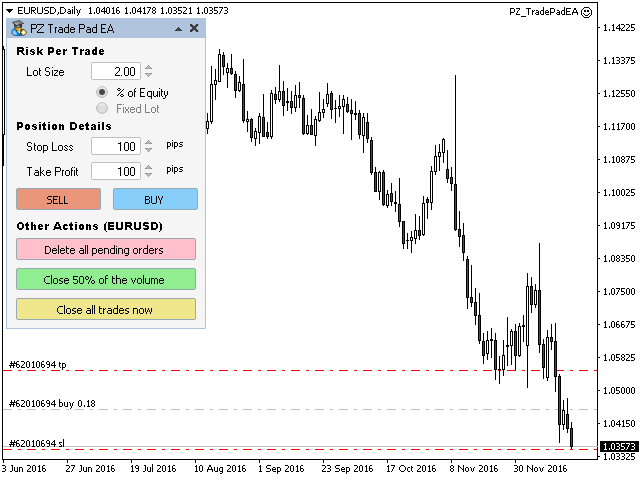 Available actions:
Purchase: Will carry out risk management for this trade, and buy on the market.

Sell: The EA will carry out risk management for this trade and sell on the market.

Remove all pending commands: Will remove all pending commands from the table.

About 50% of the volume: Will close 50% of the operations currently at a profit.

Close all operations now: The EA will close all transactions on the graph.

Note that about 50% of the volume will ignore operations currently at a loss.

All actions will ignore operations performed by other EAs.
Service Cost
If you want to buy this EA, you'll be pleased because PZ Trade Pad is a free EA and is available on the MQL market for download. It is not known if this service will remain free, so if you are interested in testing or using it, download it as soon as possible. 
Conclusion
In short, we are talking about a complete EA, but at the same time, one that is easy to use, and that can be convenient for all types of traders. As we have mentioned in other reviews, it is convenient to complement the EAs and to have at least 2 or 3 operating at the same time, in order to trade with different assets, and in different time frames. This practice will make our risk more diversified and we can obtain, a priori, better results.
Despite being a product that has been on the market for several years, we have not found many opinions from users who have tried this EA and can guide us about its usefulness. There are positive and negative comments, but they are very few and we believe that we should not take them into account. What we can do is test this EA to see how it works and see if we can add it to our trading.