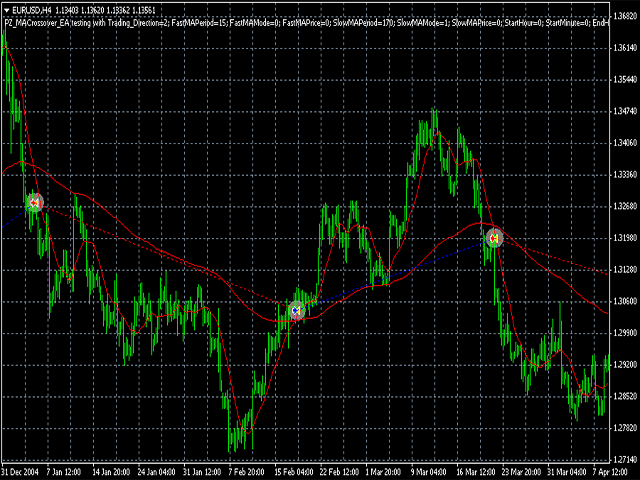 PZ MA Crossover EA was created by Arturo Lopez Perez and can be found on the MQL5 marketplace. It was first uploaded on the 29th of January 2019, it was originally uploaded as version 3.0 and it has not had any further updates.
Overview
The PZ MA Crossover EA is an expert advisor created for the MetaTrader 4 trading platform, it was created as an EA to trade moving average crossovers, it is fully automated and has a lot of customizable options.
A few of the key features of the expert advisor include that ut is easy to use/supervise, full customizable moving averages settings, customizable break even, take profits and stop losses, can trade FIFO style, can use martingale and reverse martingale, and more.
The EA has a number of behaviors:
Regular: Buy on bullish crossovers and sell on bearish crossovers

Inverse: Sell on bullish crossovers and buy on bearish crossovers

Only buy: Buy on bullish crossovers and disregard bearish crossovers

Only sell: Sell on bearish crossovers and disregard bullish crossovers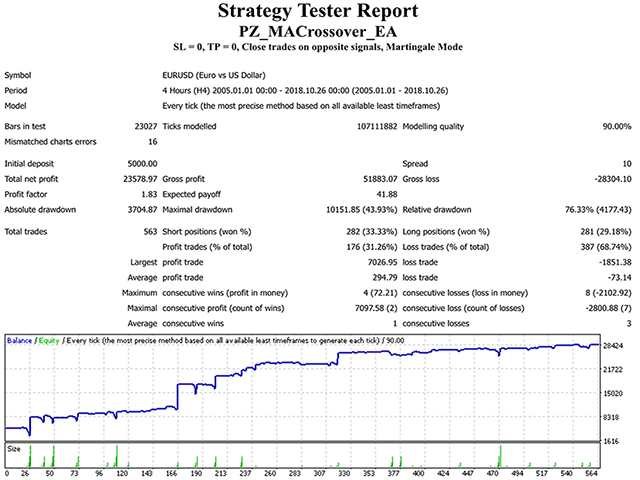 There are also a few different money management modes available:
Trade manual lot size: The EA will trade a fixed lot size on each trade

Auto-calculation of lot sizes: The EA will risk % of the account on each trade

Martingale: The EA will double the lot size after a losing trade

Inverse Martingale: The EA will double the lot size after a winning trade
There are a few different parameters that can be altered, these include things like the trading direction, moving averages settings, session settings, position management, session settings, money management, and EA settings.
Service Cost
The expert advisor is completely free to download so there is no cost and no rental options. Due to it being free, there is also no need for there to be a free demo version.
Conclusion
There have been four reviews from its users, they have given the PZ MA Crossover EA an overall rating of 4.5 out of 5.
"Excellent EA! EA seems to trade the crossovers for my strategy a 2-3 bars sooner than the crossovers visually appear on the charts which makes a huge difference to profits/sl when trading intraday. Thanks to the author for releasing it for free. I will try some of your other products soon!"

– A 5-star review.
The other reviews did not give any written comments, the only other written review did not leave a rating. The majority are very positive, there are also a few comments, the developer was replying to them but has not responded to any of the last few and none from the year 2020 so it is not clear if the EA is still being supported. If you are planning on using it, we would suggest contacting the developer with any questions, just to make sure that he will be there to offer support should you decide to download it.