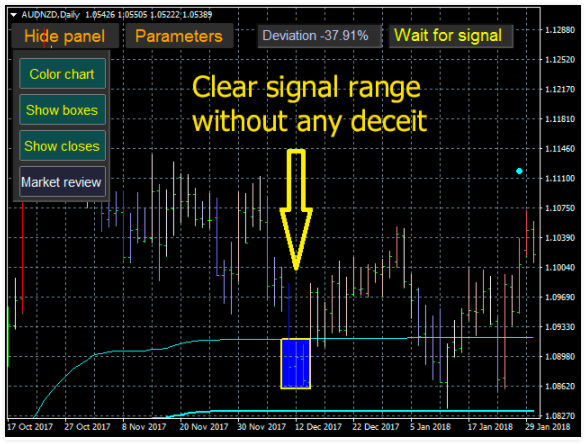 Pro Scalping System can be found within the indicators section of the MQL5 marketplace, it was uploaded by Vitaliy Kryukov on the 24th of June 2019, it has not had any updates so the indicator is still at version 1.0.
Overview
Pro Scalping System is an indicator that was designed for the MetaTrader 4 platform, its main purpose is to allow you to trade the markets during any kind of market conditions on all instruments and timeframes.
The main advantages of the indicator:
Doesn't repaint closed candles.

Rough entry and exit rules.

Flexible setup of visualization releases from chart overloading.

The system has a dashboard enabling one to look after 28 pairs at time frames from M5 to D1.

You can change the main parameters of the system right from the chart.

The optimization of parameters of the trend determination by pressing the "Find Best Parameters" button.
The visualization of signals by rectangles provides the most accurate information about system efficiency previously. Rectangles clearly indicate the asset price range of signal life, unlike arrows which often point either at the Low or High point of the candle.
There are also a number of different parameters available, these include things like showing the signal boxes, the color of the bars, the bar count, scalping period, different alerts and notifications, colors, sizes, fonts, and more.
Service Cost
The indicator can be purchased with a one-off payment of $150, this will get you up to 10 activations of the software with no other limitations. If you would prefer, there is also the option not to rent it, this can be done on a monthly basis which will cost you $50 per month, or you can rent it for three months which will cost you $90 for the three months.
There is a free demo version available, the limitations are not stated on the site so there is a chance that it can only be used with the strategy tester within MT4.
Conclusion
Unfortunately, there aren't any user reviews or ratings so it is hard to work out how people are finding it or if it is doing what it is meant to do. There is a comment section with few comments, the developer has replied to some but not the most recent one which is someone with some errors, not having a reply makes it seem that there is not any active support, due to this, we would suggest contacting the developer before purchasing or renting just to make sure that there will be some support should you need it.