Pivot Prof MT4 can be located on the MQL5 marketplace under the indicators section. It was first uploaded on the 15th of January 2014 by its creator Paul Anscombe, it has received many different updates, the most recent update was on the 28th of November 2019 and it is currently at version 13.3.
Overview
Pivot Prof MT4 is an indicator that was designed to be used with the MetaTrader 4 trading platform. The indicator can work with all asset types including currency pairs, indices, commodities, shares, CFDs, and more.
There are plenty of features available including:
Choice of five different popular pivot formulas (Standard, Fibonacci, Camarilla, Woody's, and DeMark).

Hourly, Daily, Weekly, Monthly, Quarterly, and Custom Pivots, as well as Support & Resistance levels.

Mid-Pivot levels included.

Previous high/low and current open levels shown.

Custom starting hours to allow for tuning into the levels to the market.

Customize the way Sunday rates are calculated.

Select any or all time-frames to be displayed simultaneously.

AutoHide feature works to keep your charts organized by hiding levels that are irrelevant to the chart time-frame.

Customize the line styles, colors, fonts, and visibility.
There are some additional parameters that come with the indicator, these can be viewed within the manual that comes with a purchase or rental of the indicator.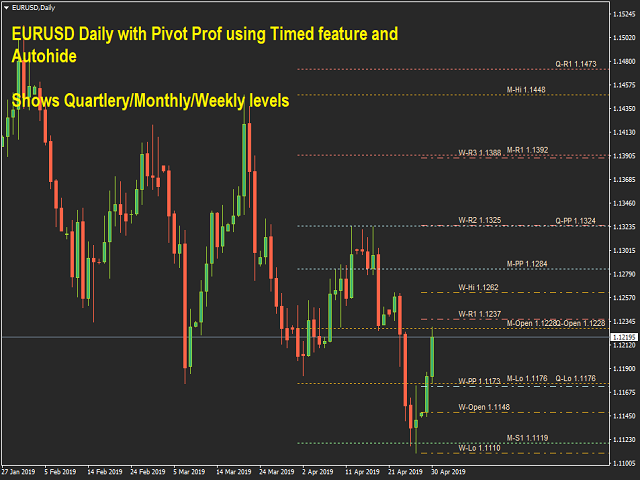 Service Cost
The indicator will cost you $59 to purchase it outright, there is also an option to rent it on a monthly basis which will cost you $19 per month. Both ways of purchasing the indicator will give you up to 5 activations of it. There is a free demo version that can be used with the strategy tester within the MetaTrader 4 platform.
Conclusion
There are 16 user reviews, they all seem very positive and have given the indicator an overall rating of 5 out of 5.
"10 March 2016 The Windows upgrade needed PivtProf to be reinstalled. This is really no big deal normally. However, instructions on reinstalling PivotProf are not easy to get. "Help" does not respond !! (Very useful indicator indeed)"

– A 4-star review.

"Best indicator ever doesn't matter what strategy you have it works and fits with all methods which will save time"

– A 5-star review.

"Excellent, very helpful tool, Thank you"

– A 5-star review.
The reviews are all very positive, there are also over 150 comments, the developer has been very active in replying to questions and queries, the last comment was from December 2019 so it has been a few months, we would suggest sending your queries to the creator in order to ensure that it is still being actively supported before you make a purchase or a rental.