With many popular trading platform markets on the market, like MetaTrader 4 (MT4) and MetaTrader 5 (MT5), Trade Station brings its own creation to the mix, known as TradeStation. You can download the TradeStation platform on your desktop, use mobile apps for iOS and Android devices, or access the platform through your internet browser for the ultimate accessibility. Here are some of the platform's most impressive features:
Work-optimized interface.
New update process that provides seamless updates.
99.999% uptime.
Access to stocks, options, futures, and cryptocurrencies.
Advanced tools that allow one to customize and test trading strategies before entering them on a live account using Simulated Trading Mode.
Market-scanning tools.
Customizable charting tools.
More than 12 built-in apps + a TradingApp store that offers hundreds of options, including many free choices.
Scan for trading opportunities in real-time using the platform's RadarScreen®, which continually monitors and ranks up to 1,000 symbols in real-time.
The Matrix trading tool combines market depth, advanced order-entry tool, and a precise order tracking system into one convenient window.
Visualize the market in a new way using the platform's OptionStation Pro® tool.
If you don't make a $2,000 deposit, then all of these options cannot be accessed for free. Any trade that is placed using the desktop application will be charged a $10 fee, or $1.40 surcharge per contract will apply for futures trades. Other fees may apply unless you use the broker's TS Select package.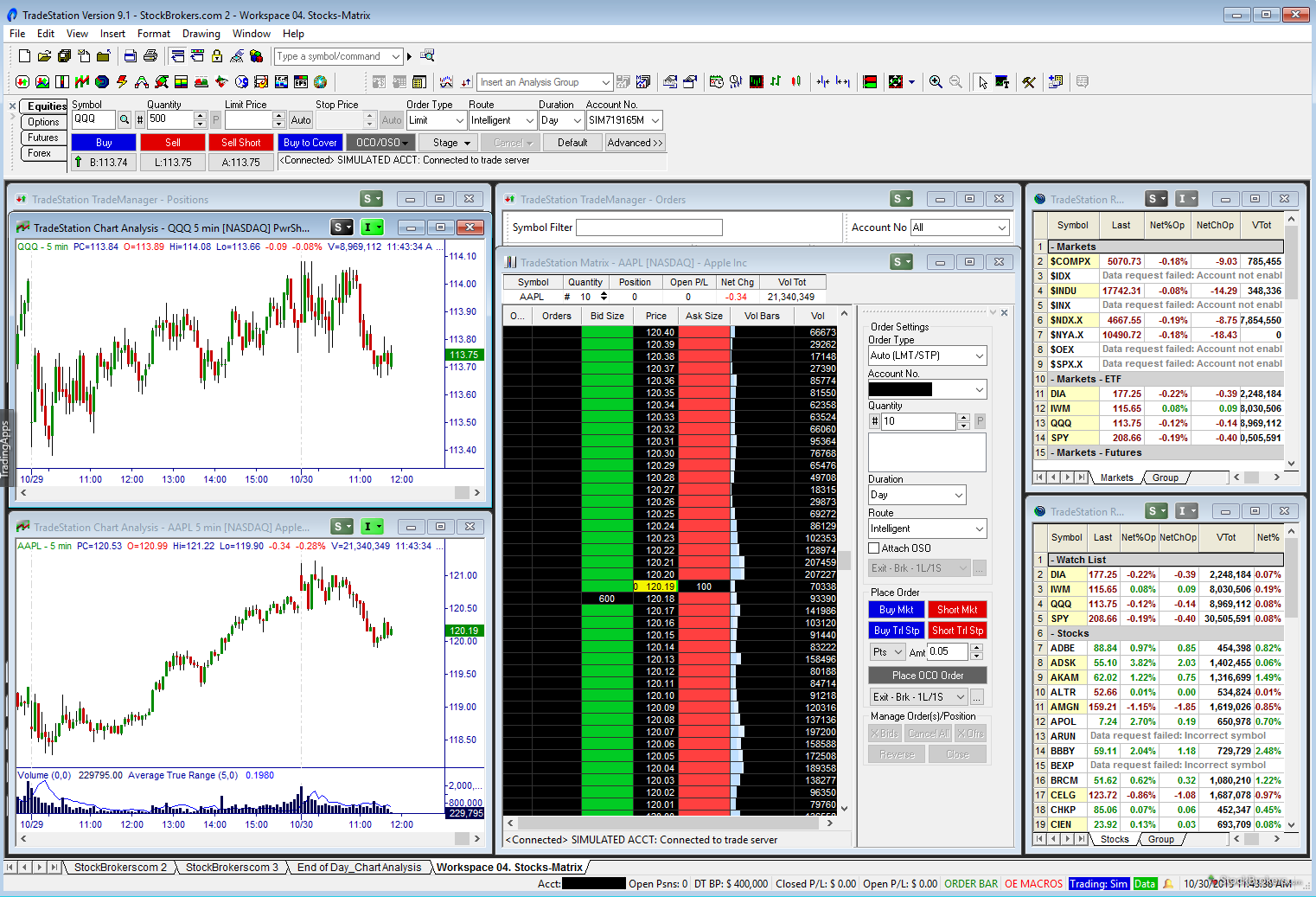 TradeStation Brokerage
The TradeStation platform was created by TradeStation, a powerful online broker that offers investment choices in stocks, options, futures, and even cryptocurrency options. Here are a few important facts about this broker:
$0 commissions on stocks & ETFs.
Different account options for no minimum entry deposit or $2,000 for the TS Select.
Charges extra fees on trades if the TS Select package isn't being used.
Charges service fees, market data fees, premium service fees, and other fees.
Before deciding, you'll want to check out the broker's website for yourself to access all of the necessary information you'll need to know before opening an account.
The Bottom Line
There's no denying the fact that TradeStation has created an innovative trading platform with unique tools and features you won't find elsewhere. This makes their creation stand out from the crowd, thanks to its resourcefulness and convenience. On the downside, this broker does tack on several extra charges, like service fees and market data fees, along with fees of $1.40 or $10 per trade if you aren't using the TS Select package when trading. Before choosing this broker, you'll want to break down all of the fees and seriously consider choosing the TS Select option with a $2,000 deposit to avoid extra unnecessary fees. The TradeStation platform is a solid option that only loses points with us under the shadow of its broker's excessive hidden fees.