Oil Pumper H4 was first uploaded to the MQL5 marketplace on the 15th of August 2019 by Marek Kupka. It has not received any further updates since being uploaded and so it is still on version 1.0 of the expert advisor.
Overview
Oil Pumper H4 is an expert advisor that was created for the MetaTrader 4 trading platform. The EA works by looking for breakouts from the highest level, it will use stop pending orders with a fixed stop loss, it will also use trailing stops to maximize profits. It has been designed to work with Light Crude Oil (WTI) and will function on the H4 timeframe.
The main features of the EA:
At 9:00 pm we are closing trading every Friday to prevent from weekly gaps.
Adjust these times to your broker time. Preset values are for UTC+2 only
For every candle, the pending orders are modified to adapt the market behavior.
Everything is already set up for the H4 timeframe.
You need to set only the lot size depending on the amount of capital in relation to the expected risk.
Some additional features of the EA:
Each trade is protected by Stop Loss.
No martingale, no grid, no scalp, no hedge, no latency, no-arbitrage.
No excessive consumption of CPU resources.
User-friendly settings.
All settings optimized.
Long-term strategy.
There are also some settings and parameters available to change, there are a few options available. These include lot sizes, magic numbers, custom comments, email notifications, and to display the info panel.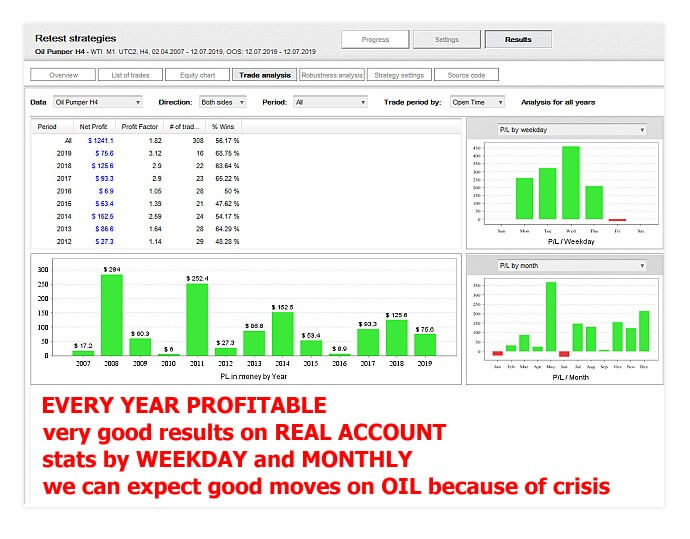 Service Cost
The Oil Pumper H4 EA can be purchased for $99, this is a one-time payment that will get you up to 10 activations and no other limitations. There is not an option to rent the EA, so purchasing it is the only option available. There is also a free demo version, the features of the free version are not stated which often means that it can only be used with the strategy tester.
Conclusion
There aren't any user reviews or comments so we do not know if those that have purchased it are finding that it does what it is intended to do or what sort of results they are getting. It also does not give us an indication as to the sort of support that you will receive if you were to purchase the EA. We would suggest contacting the developer with any questions you may have, this way you can make sure that it will, in fact, do what you need and that the developer will be there to offer support once the EA has been purchased.
This Forex Indicator is currently available in the MQL5 marketplace: https://www.mql5.com/en/market/product/41284